As of now, there are many names to analyze when you need an antivirus suite to protect your computer or the other devices such as Smartphones and tablet PCs! The list includes both the popular and non-popular ones. In the case of popular, well-trusted and proven-effective antivirus solutions, however, we can certainly find Bitdefender, which has been a standard solution for advanced computer users who require additional protection than what Windows offers with the OS. Currently, the company offers three versions for Microsoft Windows OS — Let's see Bitdefender Antivirus Plus Vs Internet Security Vs Total Security. Each version is supposed to provide a different level of protection from different threats out there, though they seem confusing for the common user.
If you're a person who's doubtful about choosing one from this trio — Bitdefender Antivirus Plus Vs Internet Security Vs Total Security —, you are in the right place. Here, we are going to compare three versions of Bitdefender security suites so as to help you choose well. Shall we start?
About Bitdefender
A company headquartered in Romania, Bitdefender has been in the security software field since 2001. It has been an impressive and well-reputed name when it comes to the case of protection packages, available for various platforms, such as Windows, Mac and Android. As of now, the company focuses on both personal and enterprise level security solutions, enriched with state-of-the-art technology and the theories of lower resource consumption and intuitive UI for ease of use. As per the statistics of September 2014, Bitdefender products are protecting more than 500 million devices, in different platforms such as the above mentioned ones.
Recalling what we mentioned, there are three security packages available for Microsoft Windows from Bitdefender, each enriched with special care for special kinds of threats. What has to be noted here is that there are some things common in Bitdefender Antivirus Plus, Internet Security and Total Security. For instance, it offers the powerful scan-based algorithms and the Bitdefender Photon technology in all the versions. Similarly, you get Bitdefender Safepay, which is a secured platform to deal with sensitive transactions.
Read: Things you Should Know About Bitdefender Antivirus Products
About the Versions — Antivirus Plus Vs Internet Security Vs Total Security
Antivirus Plus is the first premium package available from the Bitdefender antivirus family. This version is meant for those who need basic protection from the commonly-seen threats, such as viruses, malware and online threats. As it has been mentioned earlier, Antivirus Plus consists of superb features such as the zero performance impact and one-click security. It also gives you the perks of having Bitdefender account compatibility, such as the remote scans. If we take these features together, Antivirus Plus is for the basic computer user, with standard feature.
Read: Bitdefender Antivirus Plus Vs Bitdefender Internet Security
If you are a person who spends a lot of time in Internet, Bitdefender Internet Security has been developed for you — as it can help you with many web-based threats, ranging from spam to the different phishing websites out there. In addition to the common Bitdefender features such as one-click security and lower impact on performance, you can get features such as parental control, enhanced anti-spam and advanced firewall. Also, its in-built password manager is also a worth-going-for feature, we bet. We repeat, Bitdefender Internet Security is for the internet freaks.
Read: Bitdefender Internet Security Vs Bitdefender Total Security
When you are not satisfied with the antivirus protection and security from the web-based threats, you should better consider Bitdefender Total Security, which is the most advanced plan from the Bitdefender home security range. It's to be noted that the package comes with plenty of features, such as the one-click system optimizer and well-trusted options of file encryption. Altogether, when you don't want a single bit of compromise made in terms of the security of your PC, Bitdefender Total Security has all the option to cover you completely. It's for the ultra-security-conscious.
Read: Bitdefender Free Edition Vs Paid Which One to Buy
Pricing & Plans
Bitdefender Antivirus Plus has a license-per-PC pricing plan to offer. Depending on the validity of the license, there is a difference in terms of pricing. Basically, if you are going to purchase Bitdefender Antivirus Plus license of one PC for one year, you have to pay $39.95. That having said, for just $38.97, you can install Bitdefender Antivirus Plus in up to three devices, which is a matter of profit. The highest plan, which lets you install Bitdefender Antivirus Plus in up to 10 devices, you can have the package for just $159.95. This pricing plan is quite affordable, we'd say.
Bitdefender Internet Security is priced at a higher rate, as you can guess. If you want to get it installed in one PC for 1 year, you need to pay $59.95. By the way, if you want to increase the maximum amount of PCs to 3, you have to pay $51.97, which quite surprisingly is very lower than expected. At its maximum level, you can pay $209.95 for one year if you want to install Bitdefender Internet Security in up to ten devices.
Bitdefender Total Security is the most expensive plan from the Bitdefender and offers superb features. The basic one among its plans is available for $69.95, which is substantial too. However, quite notably, if you purchase the three-PC license for one year, you have to pay just $58.47 — thus saving an amount around $30! The topmost plan of version costs you $229.95 per year and thus letting you install Bitdefender Total Security in ten devices at maximum.
It has to be noted that all the prices can be brought down if you use the right promotions which can give upto 70-80% of discount, here are all available Bitdefender coupon code you can check.
Difference in terms of Features
Check the image below: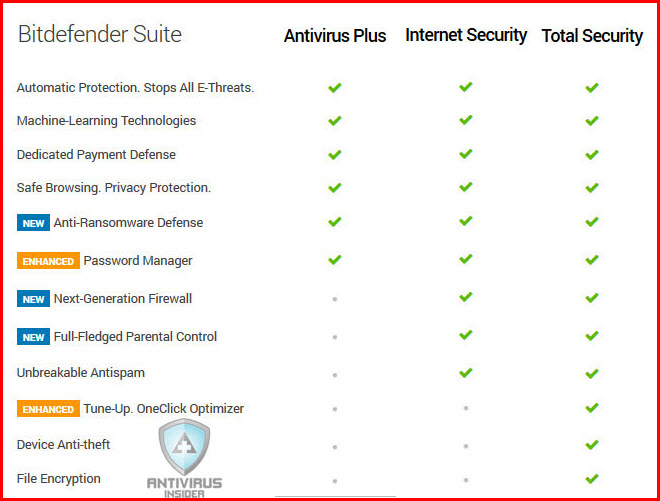 Bitdefender Antivirus Plus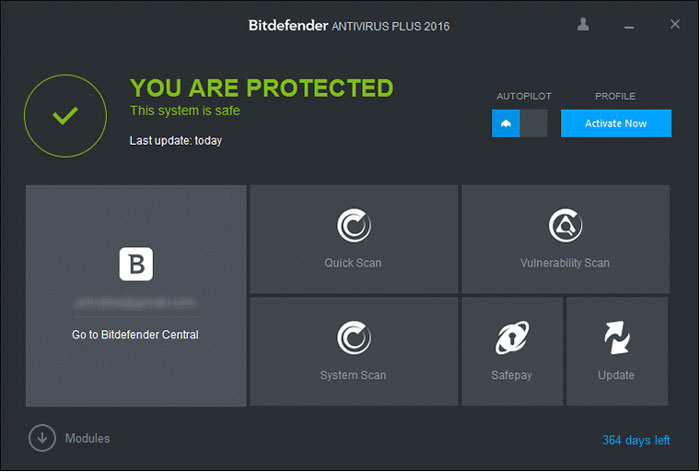 Recalling what we mentioned, Bitdefender Antivirus Plus is offering the standard features you can expect from paid antivirus software seen commonly. For instance, there are its Bitdefender-exclusive options — such as Photon and AI-based decision making trends. Also, the company has introduced some privacy protection options and a dedicated browser for handling sensitive information such as transactions and all. Other notable features of Bitdefender Antivirus Plus include the password manager, social network protection, USB Immunizer etc.
Read: Bitdefender Antivirus Plus 2016 Review
Bitdefender Internet Security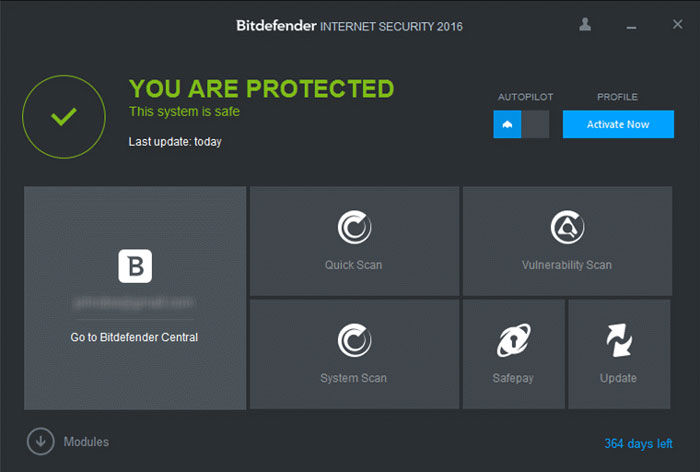 On the other hand, as we come to the case of Bitdefender Internet Security, you have plenty of web-based security options — apart from the standard options of antivirus protection. It means that you get all the features that we've talked about in Bitdefender Antivirus Plus; in addition to that, you get options such as the enhanced firewall, an anti-spam protection feature, weekly security reports etc. Also, when you are a parent, you are going to love the Parental Advisor feature as well.
Read: Bitdefender Internet Security 2016 Review
Bitdefender Total Security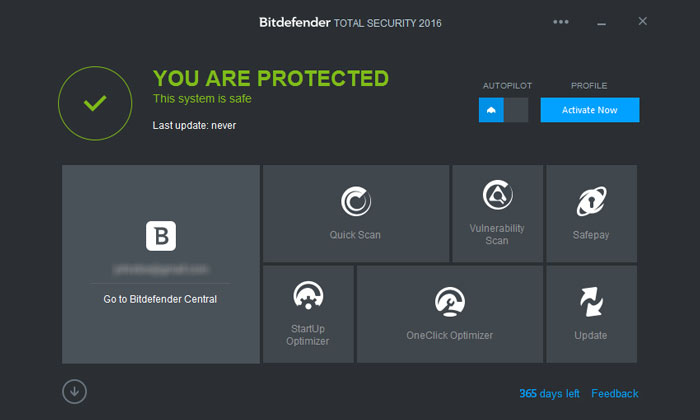 Bitdefender Total Security has been packed with a lot of features that make sense when you need best performance from your computer. All the features we mentioned in the two prior packages are there in Bitdefender Total Security but there are some other things too. On top of all, you get System Tune-Up, which is the method to boost PC speed in an unseen manner. Also, there's a battery mode that maximizes your system's battery backup. Altogether, Total Security gets you the best security along with best-possible protection as well.
Read: Bitdefender Total Security 2016 Review
To Conclude
So, we have compared the different aspects of Bitdefender Antivirus Plus, Internet Security and Total Security, which are the three major packages for home security. We hope it's clear which products offer which kinds of features; for instance, you get superb performance-boosting features in Total Security whereas the Antivirus Plus is for the basic needs. It is up to you to choose the one according to your requirement, and the pricing plans are quite flexible too.