So, you want to know how securing your smartphone can be done, right?
Smartphones are like mini-computers for everyone that we do important tasks on it which are meant to be done only on computer in the past. As far as I am concerned, my smartphone contains a lot of personal details like banking info, client information, etc.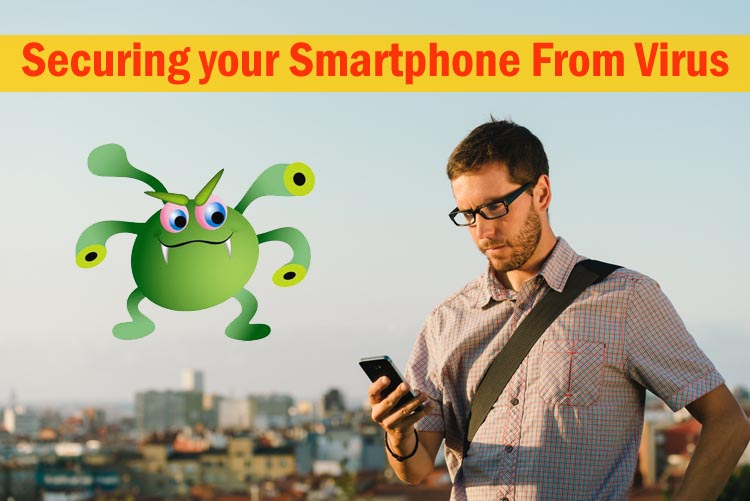 Hence, it will be a big blow to be affected by a Virus. Different types of Viruses are made to carry out various tasks. They can easily make your smartphone slow and can steal all your info. To add salt to injury, an intelligently programmed Virus can send your information to anyone around the world.
That's where securing your smartphone from Virus becomes crucial.
Tips for Securing Your Smartphone from Virus
Here, I am going to share six tips with you that will add an extra layer of security to your phone.
#1. Install an Antivirus App
At first, let me tell you something. Consider doing this task only if you have got a smartphone with ample amount of RAM. Otherwise, with a background antivirus app, your smartphone will struggle to provide you a smooth experience. Check the necessity of antivirus for Android or iPhone in our other articles.
An antivirus app can protect your phone from malicious programs to a certain limit. It regularly observes everything you do on your device. If any threat is found out, you will get a notification about the same.
Play Store and iOS app store has got a lot of free antivirus apps, which can protect you from malware and malicious URLs. Some can even help you find the device using GPS technology.
Check our list of apps for your smartphones
#2. Install Apps from Trusted Sources Only
By default, Android does not allow anyone to install apps that are not downloaded from Play Store. But if you turn on Unknown Sources feature, installing any app from an APK file will be a walk in the park.
Not every app available on the web is safe. If you have a habit of installing pirated premium apps, you should be extra vigilant of the tasks it does.
Always try to install applications from Play Store only. Never allow apps from external sources to be run in the background.
#3. Always Update Your Android (or any OS)
Smartphone manufacturers are keen in bringing out occasional Android updates these days. Even if an update doesn't get you the latest Android version, you must install it because every update contains several bug fixes.
Even though I said it specifically for Android, this method is applicable to any mobile platform. From this moment, don't be blind towards the OTA updates from companies. Install them for a smoother experience.
#4. Use Password, PIN or Pattern for Your Device
A password, PIN or pattern lock is essential for your device especially if you are a security freak. Sometimes your phone contains details that you don't want others to see. In this case, using a lock method comes to your rescue.
Sometimes, people use our phone without our permission. We don't have an idea that whether they visit any malicious website or not (hey, it's possible to clear the history). Here also, setting up a pattern can be a method of securing your phone from Virus.
#5. Encrypt Your Files and Apps
If you don't want to lock phone completely, then encrypting individual files and apps can suit you the best. An encrypted file can't be opened without the password.
So download apps like App Lock and Hide it Pro for this purpose. Some phones come with built-in encryption facility so that you don't have to install a third-party app.
#6. Stay Away from Suspicious Websites
The web contains a lot of malicious sites that spreads viruses to the devices on visiting the same. So whenever you land on a website, use your senses to realize whether it is a malicious one or not. Close the tab abruptly if the website leads you to several unwanted pages and asks you to install apps.
Never open email attachments from unknown people. Use a good antivirus program on your computers also so it will minimize the risk of such issues while you connect your phone to PC
Bottom Line
That's all. These are my six tips for securing your smartphone from the virus. In my opinion, we are responsible for our own hell. If you follow the methods I gave above, I am sure that your phone will be safe for ages.