It's been a long while since antivirus software developers have given importance to user privacy! Kaspersky antivirus products, which has been in the industry for more than a few decades, isn't lagging behind either. As you know, Kaspersky Lab develops and distributes different protective suites for both home and business users. And, when you purchase the Kaspersky Internet Security, you get an awesome feature named Safe Money! which is similar to Bitdefender's Safepay.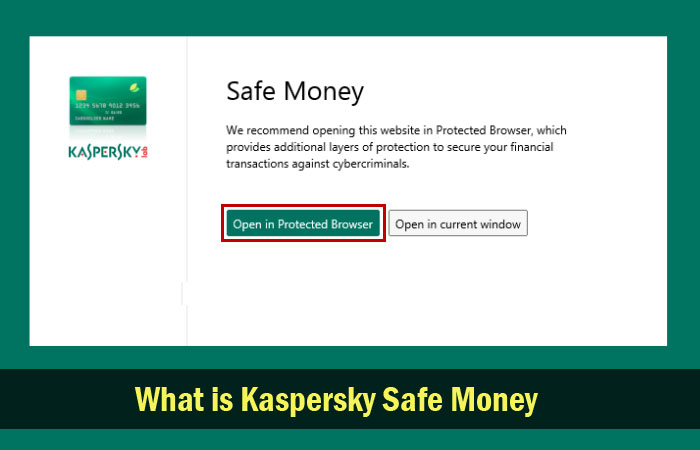 As you would have guessed from that name, it's meant to protect your identity and sensitive data during web browser; that is, when you're doing payment or when handling some extraordinarily confidential data. In this article, we will give you a brief introduction to Safe Money, and why it is useful.
What is Kaspersky Safe Money?
Technically speaking, Safe Money from Kaspersky is a specially-designed web browser for sensitive data handling. Kaspersky Safe Money comes with the Kaspersky Antivirus products. Its main function is that it can be confidently used for processing payments and dealing with sensitive information, such as your official documents or so. As you know, there are many internet-based frauds going on right now and we have to be afraid of the evil hands accessing your credentials and thus causing all problems. Nevertheless, when you make use of Kaspersky Safe Money, you don't have to be afraid of these evil hands. It's been strictly designed to get users the best online shopping and data handling experience, whatever be the situations around.
Read: Bitdefender Vs Kaspersky: Which One is More Efficient?
How Kaspersky Safe Money Works?
Obviously, you will be thinking how a single web browser is capable of reducing the risks of online frauds. Well, there are various sections taken care of by Safe Money to bring about a safe, trustworthy and efficient online shopping. Its main areas of focus are:
Trusted Site Database is an important factor of Safe Money, and the database is used as a reference. If there is no customization made from user, the URL is cross-checked with the database before proceeding. It needs to be noted that Kaspersky Trusted Site is quite efficient and regularly updated. If two URLs match, the Safe Money browser will be launched. There's another perk of escaping from phishing and all, because the site is opened through the Kaspersky database.
Your Connection is also checked for trustworthiness before proceeding. That is, several factors such as site's certificate will be analyzed by Safe Money. If there are some issues with site's in-bound security, you will be blocked.
PC Environment is also taken into consideration by Safe Money! The OS will be scanned for possible threats, errors and vulnerabilities. It's done so carefully that nothing would interfere the functioning of Safe Money.
After confirming these factors, Kaspersky Internet Security launches Safe Money that allows no interruption from PC, your ISP or anything else.
By the way, talking of the trusted sites database, there are some things to note. First of all, you have the freedom to customize the list. For instance, if you want to run your local bank's internet banking service in the secure browser, it is possible to add the URL into the list. Similarly, if you want to exempt one site from getting run on Safe Money, you can just disable it there.
Launching Kaspersky Safe Money
The best part of Safe Money is that it works alongside your favorite web browsers like Mozilla Firefox, Chrome and IE — last but not least. Given that you have installed the corresponding extensions/add-ons on your browser, running Safe Money is an easy task. Whenever you enter the URL of a website that requires/handles sensitive data, the Safe Money browser will be opened automatically.
Why Safe Money is Useful?
Safe Money can help you from phishing attacks. Websites are loaded depending on the URL stored in trusted site's database. So, hackers cannot fool you with those fake websites and URL spoofing.
Because there's no intervention from other applications, adware or anything else, transactions done via Safe Money are 100% safe and secure.
While using Kaspersky Safe Money, your identity is completely protected, thanks to the well-developed UI & Architecture.
Concluding
So, we have talked about the different aspects of Kaspersky Safe Money! In the current scenario, when we confront lots of internet-based threats towards identity and data, it's necessary to have an effective tool like this. Considering all these, using Safe Money makes enough sense, for the common security-conscious users out there. As we said elaier Kasprsky Safe Money is the part of Kaspersky Antivirus products (Antivirus, Internet security and Total security), you don't need to install or buy it separately. Feel free to check our discount section for great Kaspersky deals. Anything more required? Feel free to comment here to let us know.