As you know, there is a huge number of malware we always come across. There are Trojans, Spyware, Ransomware and wider variety of viruses. Then, there are some malware that use third-party programs for infecting a computer. These sets of malware will focus on individual computer programs, or some modules of the program.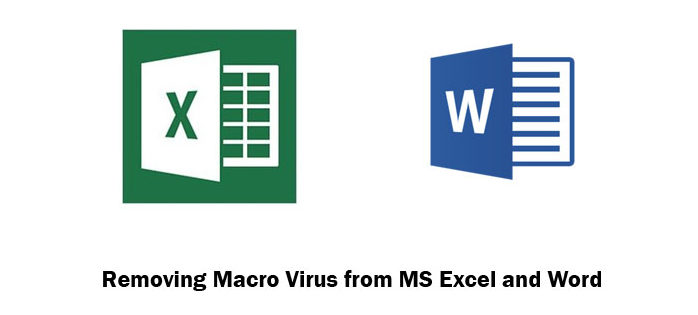 The most important virus that falls in the category is the Macro Virus. It's a virus that infects your computer via vulnerabilities of Microsoft Office Macro feature. In this article, we will tell you about Macro Viruses in Microsoft Office and some ways to remove them.
About Macro Viruses
Macro Viruses are written in the Macro language. Macros are, as you may know, a particular set of commands used in MS Office applications, such as MS Word and MS Excel. Infection of these viruses are done through internet. If you download a Macro from the web and install, your PC may become infected. The signs include not being able to save the file or some changes in icons. That having said, Macro Viruses may infect your computer via removable media as well. As a precaution, you can disable macros in your Office suite. But, don't worry if you got affected by a Macro Virus. Here are some methods to remove that virus and have a recovered PC.
P.S. If you had been running a premium antivirus suite, chances are very low of getting infected by Macro Virus. Well, now that you are infected, we will talk about solution.
How to Remove Macro Virus from MS Excel or Word?
Well, there are three methods you can use right now.
#1 Use an Antivirus
If you are running a popular antivirus tool with scanning options, you can run a full scan of your computer. This should be able to detect the Macro Virus and quarantine it right away. In a few minutes, you can have a clean PC. But, make sure that you are running an up-to-date version of security suite, along with latest virus definitions. This is the simplest method that makes sense.
#2 Manual Removal of Macro Virus in MS Word
This is an effective method to remove the Macro virus if virus scanning does not work. However, this method works only in Microsoft Word and not excel. Just follow these steps for complete removal.
First, you have to open Word in Safe Mode. To do that, you have to press Shift Key and select the file.
This way, you can stop Word from loading the infected Macro commands.
Now, you can go to this Support Section of Microsoft
That tutorial should help you remove Macro Virus in a complete manner.
#3 Manual Removal in MS Excel
If you think the infected Macro is in MS Excel, you can go to this Knowledge Base Article from Microsoft. Just follow these steps to clean your PC from the Macro Virus.
#4 Try Repairing MS Office
This is an option if all the methods mentioned above don't work for you. MS Office comes with a default repairing option. If there's something wrong with the software, you can simply repair it. To do that, you have to go to Control Panel. From the list of programs, right click on Microsoft Office and select Repair. This should remove the Macro virus and its effects on your MS Office software package.
Wrapping Up
This is how you can get away from Macro Virus in MS Office. If you have noticed, there should be something. Best way to stay away is to install a premium antivirus suite. This is an awesome option, especially if you use MS Office regularly. Well, what do you think about these methods?