At different instances, we need different levels of performance and dedicated resources in a PC! Running an antivirus can be a major contradiction to these performance-based requirements. As you know, most antivirus solutions work on basis of a common algorithm, which often puts a throttle on performance factor. However, if you are using Bitdefender Security products, you don't have to worry much.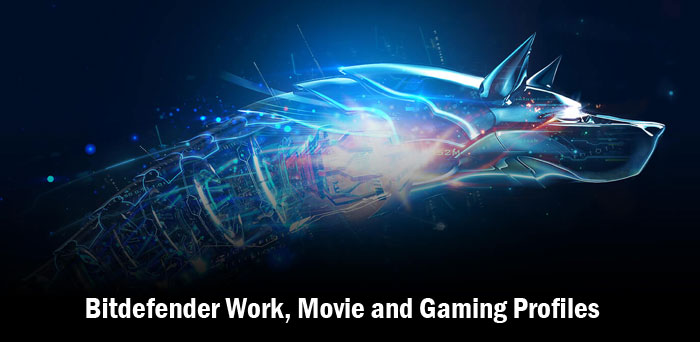 It's because Bitdefender Security comes with a bunch of usage profiles. These are called Work, Movie and Gaming profiles of Bitdefender. On corresponding instances, you can use these profiles to get optimal performance and resources, by minimizing the impact of Bitdefender protection locations.
Read: Can Bitdefender Antivirus Slow your PC?
In this article, we shall have an overview of Bitdefender Work, Movie and Gaming Profiles to get a clear idea. We will also tell you how you can configure these profiles for a better PC experience.
About Work, Movie and Gaming Profiles and Battery Mode
Now, we shall have a quick look on the three profiles included in Bitdefender Security products.
Work Profile
While you are working, multi-tasking is surely a necessity! You may have to keep your Email Inbox open even while you're preparing a Word document. All these time, another software may be running in background. In all these instances, you'll need better performance. So, when you enable the Bitdefender Work profile, not-so-major background services would be turned off to release resources. At the same time, performance of resource-consuming apps will be throttled.
Movie Profile
A good movie experience should be interrupted and visually appealing. And your PC needs to be optimized for both these tasks. By enabling the Movie profile, you can get rid of annoying interruptions during the playback. Also, it takes an effort to optimize power consumption as per your visual preferences. In short, it manages to bring about an effective watching experience for your favourite movies.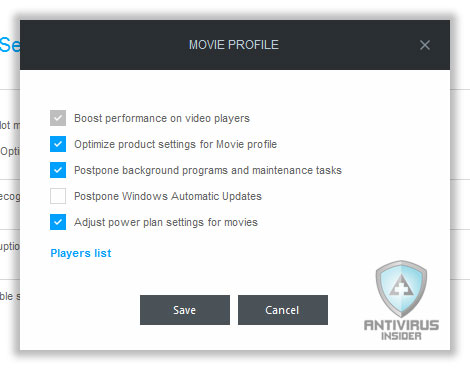 Gaming Profile
It does not matter which game you are playing – performance is a must-have factor. The best part about Gaming Profile is that Bitdefender will detect when you are running a game on the PC. That is, if there is a sense of full-screen activity, it will turn the PC into Gaming Profile. When you are in the Gaming Profile, background actions will be limited and product settings are optimized and Windows Updates are postponed. In the long run, the PC can unleash the best performance.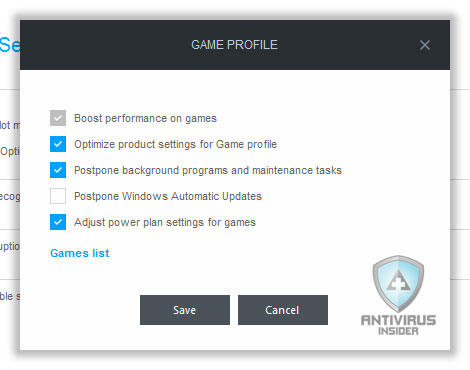 Battery Mode
When you are running out of battery, this Battery Mode of Bitdefender will surely help you. This mode will be activated if your PC has lower battery than a particular level. It will be deactivated when you plug into AC Power. Several steps will be taken in order to minimize resource consumption.
How to Enable Bitdefender Profiles?
Work, Movie and Gaming
You can configure the Work, Movie or Gaming profiles using these steps:
1)  You have to open the Bitdefender Security Dashboard and go to Modules
2) In the window, go to 'Tools' tab.
3) Click on the Settings icon next to 'Profiles'
4) Now, you can see another window named 'Profiles Settings'. In this page, you can see the list of available profiles. Right to each of the profiles, there is a button named 'Configure'. You can hit that button to make changes.
For instance, if you are trying to configure the Work profile of Bitdefender, you can try disabling the 'Postpone Windows Updates' button. Similarly, you can adjust the power plan when you are in the Movie profile.
5) Once you have configured, you can click the 'OK' button and move on.
It needs to be noted that the profiles are chosen depending on Bitdefender Autopilot algorithms. That is, you need to turn on Bitdefender Autopilot if you want to automatically shift to these profiles in the corresponding situations.
By the way, if you want to manually shift to Bitdefender profiles, you have to disable Autopilot first. After that, you will be able to pick the required profile from the drop-down menu of Bitdefender Main Interface.
Battery Mode
Bitdefender Main Interface => Modules => Tools Tab => Profile.
From the window, go to the 'Battery Mode' tab.
Here, you can change the different aspects of the Bitdefender Battery Mode. You can set the threshold for activating the mode, choose whether Updates will be postponed and choose whether you want to disable external devices. These all are available in the single window and hit 'Save' after that.
Conclusion
So, this is how Bitdefender Profiles work and how you can configure them for best performance. At certain times, these modes will surely be beneficial for you. But, make sure that you have optimized the profiles for best results. Also, do not forget to turn off Bitdefender Autopilot if you want manual control over these profiles.