When it comes to device security, there are many names you see. Every day, we see the rise of some new security software developer, with more and more features. Even now, there's an extremely huge competition going on if we are considering the case of home security range. Nevertheless, Bitdefender was the first one to bring a meaningful change to the scenario of device security — via Bitdefender Autopilot Mode. It's certainly a bigger deal for those who are seeking the automation touch in security aspect. Wouldn't that be awesome if you can keep calm and just not think about security while you anti-virus suite is taking care of everything?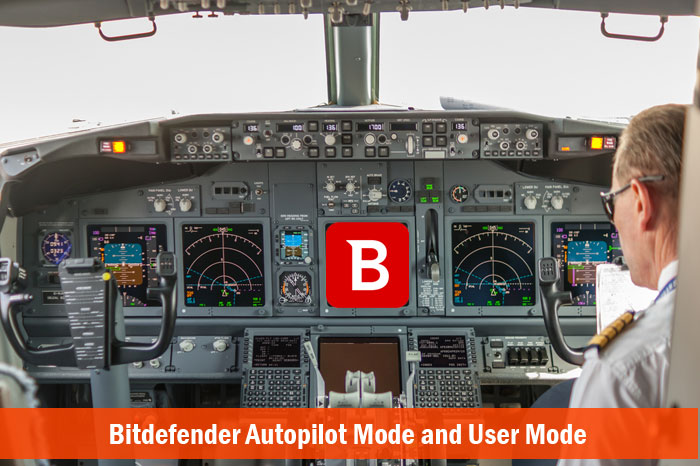 That's what Bitdefender Autopilot Mode promises in the claims. In this article, we shall have a deeper look on the concepts and working methods of Bitdefender Autopilot Mode and User Mode. So, in the end, you would know which mode you've to use in your computer, according to your time and requirements.
What is Bitdefender Autopilot?
Bitdefender Autopilot is a promising feature that we've been seeing in recent versions of Bitdefender Security products. It is the result of Bitdefender's efforts to bring the power of Artificial Intelligence and Machine Learning into the scenes of device security. In simple words, Bitdefender Autopilot is a kind of automated layer of protection for your devices. You do not have to worry about the security aspects of your computer. On the other hand, Bitdefender Antivirus Suite will analyze your device and take necessary actions towards security and privacy protection. This feature is included in almost all plans of Bitdefender, including the Bitdefender Total Security.
You can turn on Bitdefender Autopilot from the main interface of Bitdefender Products. For instance, in Bitdefender Total Security, you can see a toggle button on the top-right portion of the interface. Just click on that to enable or disable this feature.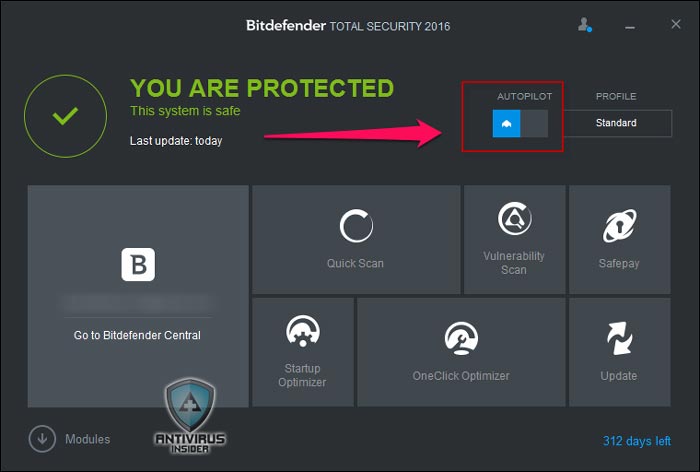 In normal cases of antivirus, you would see pop-ups when there are issues in the device. For instance, if the antivirus finds a virus or Trojan in your computer, you will be notified. The case is same when someone is trying to trespass into your PC. However, it's not possible to take care of these pop-ups and take necessary actions all the time. Once you have enabled Bitdefender Autopilot mode, you won't see these pop-ups anymore. Instead of showing you all these, Bitdefender Antivirus can take necessary sections as to protect your privacy and security. Don't you think that's a cool feature when you're into some serious games and all?
What Bitdefender Autopilot Mode Does?
When enabled, the Autopilot Mode will take care of the following things in your device.
Antivirus Protection
Firewall Protection:
Privacy Protection
Automated Updates are also included.
Thanks to other technologies in use — such as Bitdefender Photon —, this feature won't have impact on PC performance. Actually, security-based actions are taken depending on the current configuration of your device and changes made.
About Bitdefender User Mode
Bitdefender Products do not actually limit you into the automated mode. You have a choice to choose the User Mode too. In this mode, you are the one who decides security-based actions and related stuff. To enable this User Mode, you have to disable the Autopilot Mode first. You can do that using the toggle switch.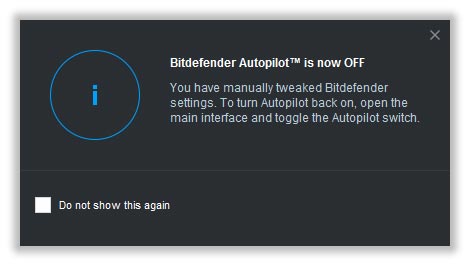 Once you see this message, it means User Mode has been enabled in your Bitdefender Security Suite. Now, you can see another active menu, right to the toggle button. It actually shows you a list of available security profiles. So, when you've enabled the User Mode, you need to pick the appropriate user profile as well. Standard, Work, Game and Movie are the four main profiles you'd find in Bitdefender.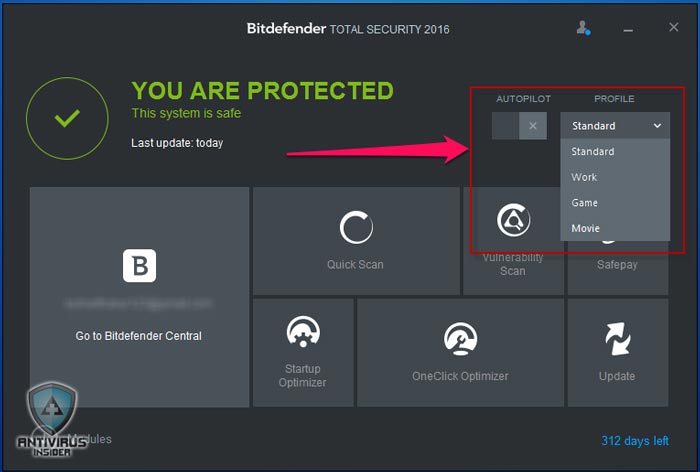 Managing and Using User Mode Profiles
As we said, there are four Modes in Bitdefender Security Suites. However, at times, you may need better configuration to get the best out of protection software. So, Bitdefender has added an option to manually configure the User Profiles. To do that, you need to follow some simple steps.
Step 1:
Go to the 'Tools' tab of Bitdefender Security product you're using. There, you will find an option which is named 'Profiles. Click on that to move forward.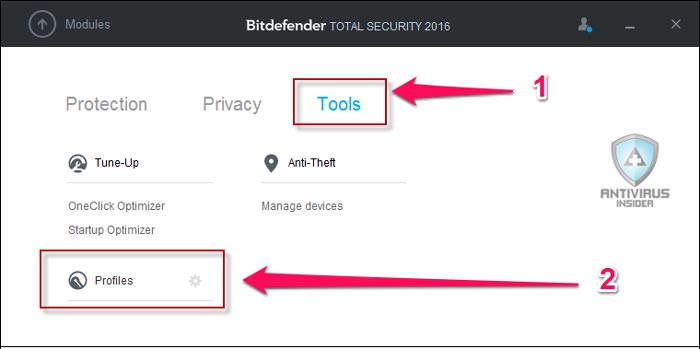 Step 2:
In the upcoming window, you can see the list of available User Profiles. It also has some options to let you select the other features of Bitdefender antivirus. For instance, you can decide whether you need Real-time scanning enabled.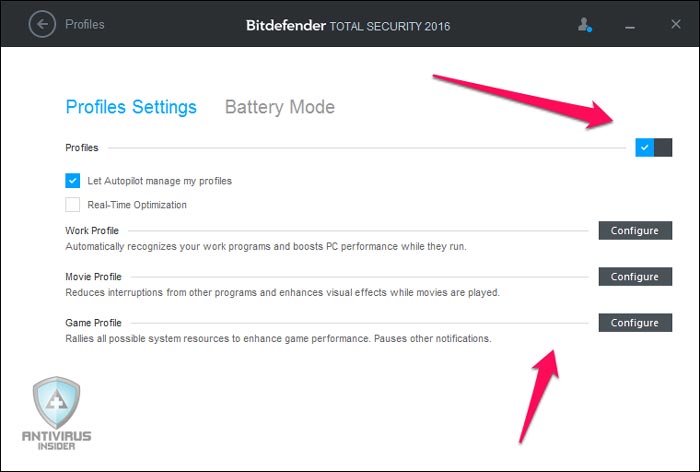 To edit a profile, click on the 'Configure' button.
Step 3:
Now, you can see a pop-up window, with a bunch of options. Here, we are configuring the 'Work' profile and you can see the changeable options. You can manage background apps, windows updates etc to get more performance.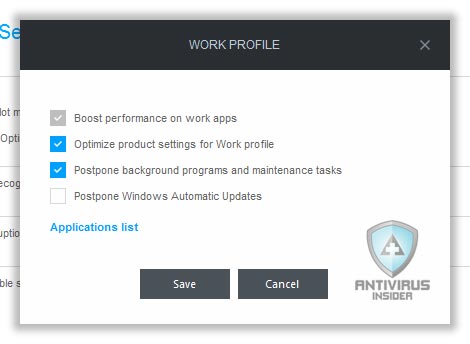 Once you have changed the settings, just hit 'Save'.
In addition to the User Profiles, Bitdefender also has a Battery Mode. Obviously, this is meant to prolong battery life by reducing the resource consumption. You can change this in the same 'Profiles' window.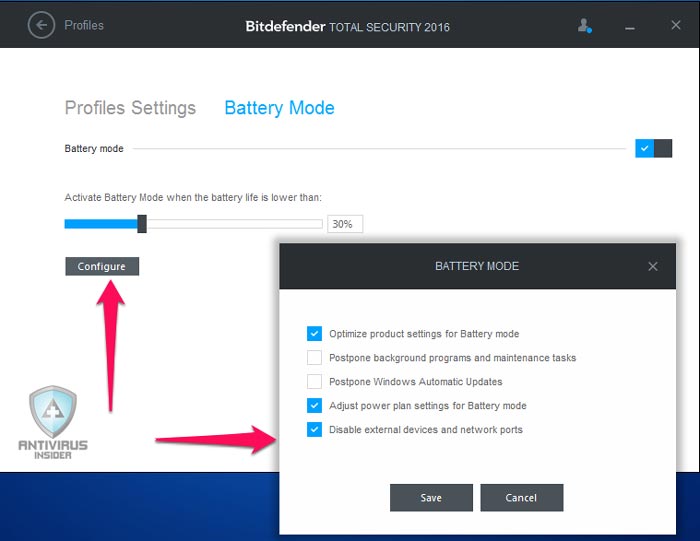 In the Battery Mode tab, you have two options. First, you can decide at which battery level the Battery Mode is turned on. Second, you can configure the Battery Mode. You can decide what all actions are made when you turn on the mode.
Wrapping Up
So, this is what you should know about Bitdefender Autopilot Mode and User Mode. When you use a Bitdefender product to protect your device, you should choose the best mode from the duo. For instance, as we said, if you don't have in-depth knowledge about computers and security, you should stick onto Autopilot Mode. That way, you can get rid of some pop-ups as well. On the other hand, User Mode is for you when you are confident about protecting yourself. There, you also get some cool User Profiles like Work, Game and Movie etc. These are good for protection and resource consumption control. Moreover, you'll have a better layer of customization too.