One of the chief claims used to blame antivirus solutions is that they can slow down your computer to an extent that you cannot use any other apps when the antivirus is running! Well, that's more or less correct if we are to consider a wide variety of antivirus software, including the established ones. In that respect, though, Bitdefender Total Security 2016 is a bit different — not only does not slow down your PC, but it also makes sure that your PC has best environment in order to serve the best results. If you are still dubious about the most powerful version of paid range of Bitdefender Antivirus, you can get most of your doubts cleared at the end of the review.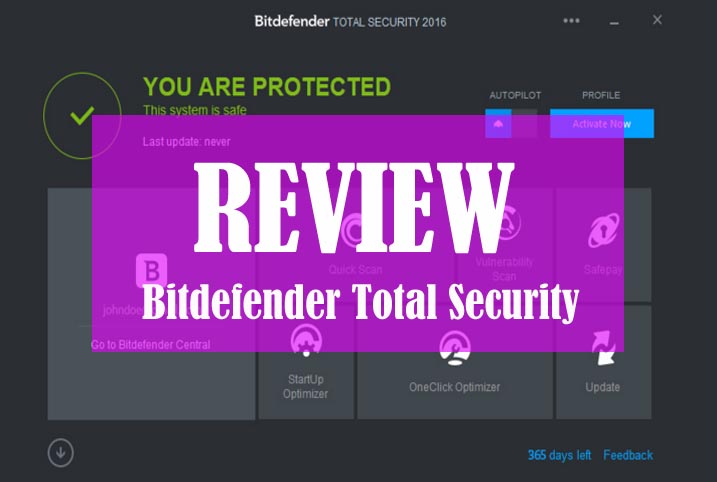 An Intro into Bitdefender Total Security
As we mentioned earlier, Bitdefender Total Security is the best antivirus solution you'd get from the premium range of Bitdefender antivirus products for home users. Packed with different features for different needs, it's indeed one 'total' package of protection, covering the various aspects of security. It does not matter whether you are looking for protection from local threats or the ultimate safety from cyber crimes, Bitdefender Total Security 2016 has a way-out. The tool, in short, has you covered from all the sides, which is a justifiable reason to prefer it to many other total security suites out there. Now, however, we shall have a glance over the different aspects of the security suite.
The User Interface
While choosing an antivirus solution for your PC, understanding the User Interface is a prominent factor. In this case, however, Bitdefender won't let you down — it's so because Bitdefender Total Security has all the required features, arranged in a fruitful form, accessible at anytime. So, even with such a richness of features, you won't feel that Total Security has been stuffed with bulkiness. On the other hand, you can always give a five-star for the intuitive UI of it.
Pricing
Indeed, the pricing of Bitdefender Total Security 2016 will be the primary concern of yours, because people still doubt how much they ought to pay for safety. Well, we would say that the pricing of Bitdefender Total Security is affordable. In the basic license that costs $58.47, you can install the security suite in a maximum of three computers, and it will be valid for one year. When compared to other security suites, it's pretty much cheap by using discount coupons, we can say.
The Features to Love
Of course, there is no doubt in the fact that Bitdefender Total Security can protect your computer from the different kinds of offline threats, including viruses, malware, spyware etc. It's so because Bitdefender has a regularly updated and feature-rich algorithm and virus database. Along with that, Active Threat Control and Bitdefender Photon make the antivirus effective, from the user point of view. Once installed, the security suite itself will decide what should be done in sensitive situations, which is a good feature. Altogether, it's an install-and-forget scenario, we'd say.
Likewise, since Total Security is a package that combines all features of the preceding ones — Antivirus Plus and Internet Security —, you also get some stunning features to get rid of the various cyber crimes. You have, for instance, a fully-fledged parental control and unbreakable anti-spam, along with a new-generation firewall that would help you when connected to public connections. However, apart from these, it has some exclusive features.
Tune-Up One-Click Optimizer of Bitdefender Total Security is meant to boost your computer, by clearing the unwanted stuff and bringing out the best performance. Using different methods of optimizations, your disk space would be conserved — per se.
Device Anti-Theft is useful when you have lost your device somewhere. Using this, you can track the device or lock or wipe it. it's so effective that you don't have to doubt the confidentiality of your data and safety.
File Encryption is perhaps the most noted feature of Bitdefender Total Security, for sure. If there is some sort of data you want to protect from exposure, you can encrypt those files — as simple as that.
Considering all these, Bitdefender Total Security is a feature-rich solution for security.
System Requirements
In spite of the availability of these many features, it's surprising to find that Bitdefender Total Security has a minimal amount of system requirements. If your computer is running Windows 7 SP1 or later versions, the security suite can work fine, and the support has been extended up to Windows 10. Also, talking of resource requirements, it needs 1GB of RAM, a Dual Core processor with a preferable frequency of 1.6GHz. In addition, if you have storage space of 1 GB, you can confidently move forward with Bitdefender Total Security.
Pros & Cons of Bitdefender Total Security
Pros
A truly simplified User Interface
File Encryption
Tune-Up Optimizer for better performance
Cons
Slow downloading of setup for the first time.
The Bottom Line
While reviewing the feature-list and other aspects such as UI, Bitdefender Total Security is just up to the mark. You can not only protect the computer from various threats, but you can also make sure that the protection doesn't have a negative impact on performance of your system. Altogether, there are enough reasons to prefer Bitdefender Total Security to others. And, given that there is not a big difference in terms of pricing, you can opt for it instead of the previous versions like Antivirus Plus and Internet Security.