It doesn't matter whether you decide to stick on to Windows Defender — if you're using Windows 8 or later versions — or turn off Windows Defender, to purchase a premium security package from a renowned developer! What really matters is that whether you are using an effective antivirus solution for your computer. However, regardless the antivirus you use, you would have seen two scanning options — Quick Scan and Full Scan. One of the common questions most readers have about antivirus is regarding Quick Scan vs Full Scan. Since regular scanning is a must-do thing for security of your computer, you need to have a clear idea about both the options, so that you can choose one according to the requirement.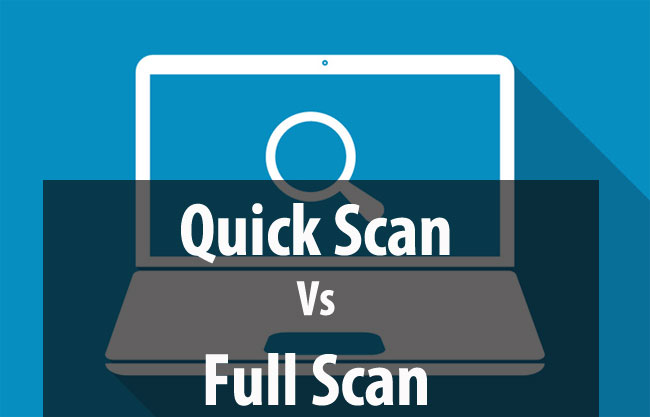 In this post, we'll have a comparison between Quick Scan vs Full Scan, comparing the way both methods work and the possible results you get. First, before we begin the comparison, it is advisable to have a brief introduction to both the scanning methods, we suppose.
What is Quick Scan?
Quick Scan option is present in all the antivirus solutions you'd possibly find, and it's also the widely-used option! Of course, this scanning method doesn't take much time and will be completed in a maximum time of a few minutes. In fact, we would say Quick Scan of your antivirus solutions is limited, in many ways.
It has to be noted that locations scanned using Quick Scan is limited. Of course, in the Quick Scan scenario, not every scan is being scanned. On the other hand, there are some objects and files that are loaded during system startup. If you run a quick scan, these locations will be scanned, including boot sectors as well as system memory. So, if there is a virus that loads automatically during system startup, you can find it out using Quick Scan. These common locations are decided based on where viruses are commonly found. This ensures basic protection, per se.
What is Full Scan?
You can find the Full Scan option from the main dashboard of any antivirus program itself! As per what the name says, Full Scan is a complete-level scan, which takes into account all the sections of your computer. In common cases, full scan of your computer will take up to hours, depending upon amount of data you've stored in your PC.
When you perform a full scan of your computer, various sectors of the system would be scanned. For instance, your system memory, system backup files, objects loaded during startup etc will be subjected to scanning. Along with the configuration-based files, the files you've stored in your hard drive will also be scanned by the antivirus. So, we want to say again, the entire computer of yours will be thoroughly scanned if you choose Full Scan. It's because of its scan-all-files-policy that Full Scan consumes a lot of time and resources. Your system MAY become a bit slow during full scans, to be noted.
Let's compare: Quick Scan vs Full Scan
Let's talk in the practical manner.
If you want the scanning process to be completed in a few seconds or minutes and just need an overview of your PC security, you should go with Quick Scan. For instance, if you are a security-conscious person — who does not open non-trusted documents or download malicious software — that needs to confirm safety. In that scenario, just to get a confirmation, you can use the Quick Scan scenario. Also, if you are sure that it's a basic virus, you can go with it.
On the other hand, Full Scan is about being thorough! Not only all the files will be scanned but likely locations will be observed too. So, if you have enough time to spend and want the scanning to be complete, you can choose the Full Scan option. Well, you can think about leaving the computer in Full Scan when you go to sleep or going out.
So, we think we've sorted out the differences between Full Scan and Quick Scan. It's up to you to choose the one you find most useful, depending upon the intensity of protection you want.
A bit More: Custom Scan
Custom Scan is another scanning method you'd find in your antivirus solution. In this, you have to select the location you want to scan. For instance, if you think there is a virus or malware in the D drive of your PC, you can select that particular drive and scan it, thoroughly.
Concluding
If we are to recall what we have said, Full Scan is the complete scanning solution, but it takes time. Quick Scan, on an other hand, is supposed to scan the likely-to-be-present areas of your computer, thus securing the basic things. For a security-conscious person, Quick Scan would be enough for day-to-day security. However, as your activities become diverse, we prefer going with the Full Scan antivirus scan, at least twice a month. How often do you run scans in your PC?