There is no doubt that Norton is an effective antivirus package available in the current market. It does not mean the antivirus is perfect. So, it's natural if you have a doubt whether Norton Antivirus can slow down your PC in the course of time. Nevertheless, there is another point to be noted: there may be a few factors that cause the slow-down your PC, including but not limited to old hardware and junk files. Even so, at some point or other, Norton can be a problem for PC slow-down.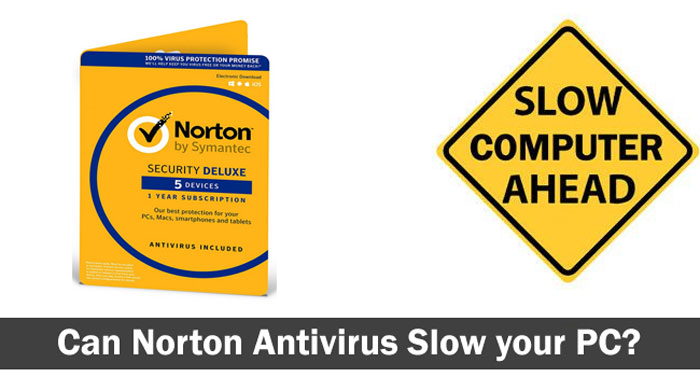 In this article, we will take an in-depth look on this matter. That is, we would find out whether Norton Anti-Virus can slow down your PC. Don't worry if it does; we will suggest some way-outs as well.
What Do Statistics Say
Obviously, Norton does not require an introduction for most people. It's a widely-used antivirus program – with an impressive user-base. So, in order to understand how it affects most computers, we would have an overview on the results of AV-Test.org.
According to the results – which is the collective output from many devices, Norton has received a score of 5.5 out of 6.0, which is just incredible. It means that Norton does not cause much slowing down to majority of installed PCs. Well, we don't refute the claim of exceptions. However, according to the results, it does not cause much issues in launching of popular websites or start-up of frequently used apps.
Therefore, summing these up, we can say that Norton Antivirus has minimal impact on performance of your PC and installed programs.
Also Read:
Let's Confirm It
As said earlier, many factors can cause PC slow-down. So, before we begin fixing Norton, let's see if the real problem is because of Norton.
The easiest thing you can do is to disable Norton Antivirus for a particular period of time. We recommend a reboot after you have disabled the antivirus program. After rebooting, check whether there is a noticeable decrease in the slow-down. If there is, it means that Norton Antivirus is a reason why your computer is facing slow-down issues. Otherwise, you are good to go.
P.S. You must not download anything while you have disabled Norton Antivirus program. Despite the slow-down issue you are facing, Norton is offering the best protection in town. So, if you download anything from non-trusted sources or run an unfamiliar program, you're at the risk of security breach. In case if you did not know, Norton is offering a 100% Virus-free environment in your devices.
Some Possible Solutions
Well, have you found that Norton is really the issue behind slow-down? Well, then, here are some methods you can try to fix the issues.
Don't take us wrong, here, but there's a fact about PC slow-downs. Make sure that you have a PC with latest or standard hardware specifications. For instance, if you have a single-core Processor inside the PC, there is no chance that you would run Norton – or any other antivirus program, for that matter — without glitches. Similarly, the amount of storage space and RAM can meddle with antivirus functioning.
Windows Defender is the in-built anti-malware protection suite in Windows PCs and it should be turned off before you install and run Norton. In most cases, Windows Defender gets turned off when you install a third-party antivirus program. However, there can be some exceptional cases too. So, one thing for confirmation you can do is to check whether Windows Defender is completely turned off, and that all its features are quite disabled. If they are not, it can be a reason for PC slow-downs.
Here's the catch about free antivirus programs, not just Norton. When compared to premium counterparts, the free versions will consume a lot of resources. It might be used to download antivirus ads or some other purposes. Regardless the purpose, it can cause some issues as far as the user is concerned. So, it makes a lot more sense to upgrade to the premium version of antivirus program if you can. Well, what's more, you are going to have a bunch of awesome features if you can upgrade to premium packages from Norton.
Check for Problem-Causing Programs
Have you installed another antivirus program along with Norton? Or, are you using a security package that is said to be an extra layer? Well, such programs can be harmful for the functioning of Norton Antivirus, and would probably cause extreme PC slow-downs. Keeping that in mind, you should see if there are any program that is incompatible with Norton. If there are, don't think twice to remove them. And, you would surely see an upgrade in terms of speed.
Wrapping Up
Judging by authentic statistics and our own experience, Norton would not slow down your computer. If you still think it does, it's probably because of the other issues we've mentioned. Check each of these possibilities and have a secure-and-performance-friendly PC of your own.