Many Kaspersky users complain about the bad effect of the software on system performance. They say it is the antivirus's fault that makes their system slow.
Today, you are going to read how to overcome the dip in performance of your PC after the installation of Kaspersky antivirus. It is not really the issue with the antivirus. Most probably, the problem arises due to the activation of extra features on Kaspersky that your system hardware can't tolerate.
Read: Can Bitdefender Antivirus Slow your PC?
Can Kaspersky Antivirus Slow Your PC?
As you read earlier, Kaspersky antivirus's optimum usage does not slow down your computer. Read our previous post: can Antivirus Programs Slow your Computer? When you use it to the fullest without having proper hardware configuration may lead to slowing down the PC.
So here you are going to read some remedies on doing which your computer will work as fast as it used to be.
#1. Run Scans when You are Away
Do you know that an antivirus uses system resources the most during the scanning process?
Since the scanning process consumes system resources the most, it is recommended not running scans when you are doing any important or heavy things. If you run heavy processes alongside with scanning, the slowdown will be apparent.
So you should run virus scans in your free time. Just open the computer, start the scanning and leave your computer alone. You can keep on doing your things on it after the scanning is completed.
It is possible to pause and resume scans on Kaspersky.
#2. Update Kaspersky Manually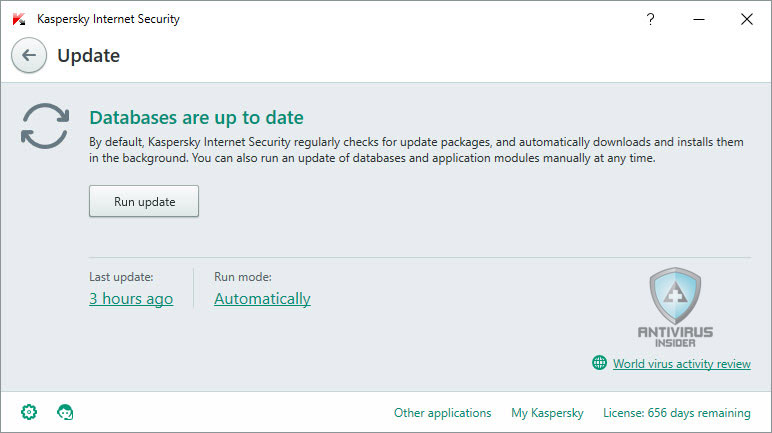 As Kaspersky downloads every update automatically, slow internet users' connection becomes even slower. Chances are it does not ask for your permission before downloading updates (You can change the option though).
That's why you should change the settings to update manually. Stay away from the database update process while you are using the internet for other purposes.
It is also recommended setting a specific time on each day for downloading updates if any. Make sure that the fixed time comes in your leisure period.
Note: If you have a decent internet connection, then keep it on auto update. It wont make any different in terms of internet speed. Since auto update makes your computer secure.
#3. Enable Battery Saving and Gaming Modes
In any software or gadget, we all know that battery saving mode is intended for less resource usage. Here in Kaspersky, it's not different. The antivirus keeps the core features enabled without using much of system memory.
Similarly, gaming mode also boosts performance by not displaying popups and messages from Kaspersky when running full- screen applications like games.
Follow the procedure given below to enable both the features.
Open Kaspersky antivirus and go to Settings. Clicking on the Performance tab will lead you to the Battery Saving and Gaming Profile screen.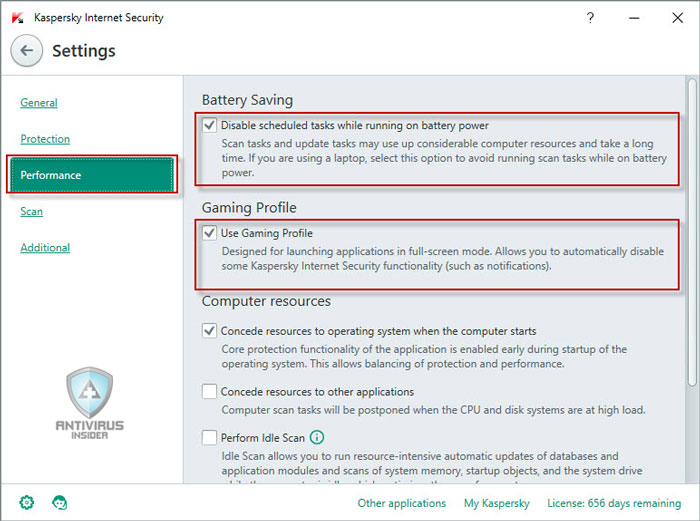 If you are sure about the slowdown process of your computer, you can enable both the features to power up the performance.
You can try that four options (Concede resources to operating system when the computer starts, Concede resources to other applications, Perform Idle Scan, Search for software that is intended to conceal traces of a malicious program in the system (rootkits)) under System Resources for the optimum usage.
Wrapping Up
I hope you now know how to overcome the Kaspersky slow down the issue. Along with the actions, I gave above, you can try using the computer by disabling the additional features like Parental Guard, Safe Run for websites, etc. Feel free to check our Kaspersky coupons if you are planning to buy it.