Virus.
A name all the computer users are afraid of. It really hurts to see our computers as malware-affected. That's why everyone uses antivirus software.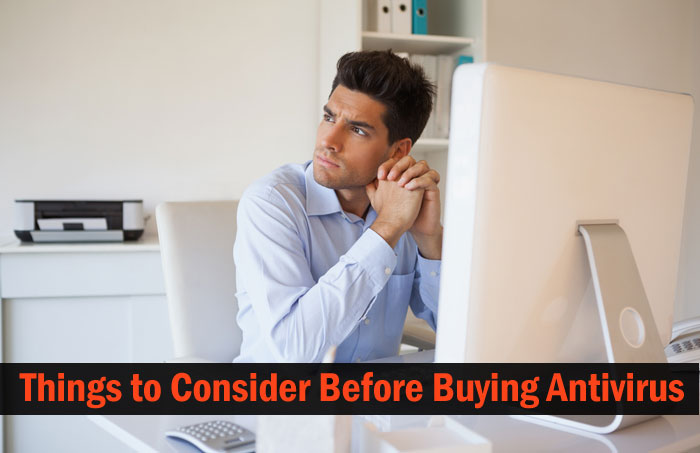 I hope you are not a noob to use a free antivirus. Free antivirus can't protect your computer completely. But even though you made up your mind to purchase a premium antivirus, the road to choose one is not flowery because it's not a walk in the park to pick a single item from a lot of options.
So today, I am going to share some tips you should bear in mind while buying an antivirus.
Things to Consider Before Buying Antivirus Software
A blog post is not enough to list out the things to consider before buying antivirus software. So, I am listing out only the important ones.
Here we go.
1) Price
Today, we can't expect anything to be cheaper if it's worth our time. And, security is our primary concern. Hence, I don't think spending a decent amount for good antivirus software is foolish.
I admit that some security utilities are over-priced. In order to land on a perfect one, you have to open your eyes wide and watch the things around you. Good news is that there are many antivirus deals and discounts are available you can check before buying any premium antivirus. The very first task is to list out a bunch of AV tools you want to purchase. Then compare the costs of each.
At this point, you will get the ideal price of an antivirus utility. Don't pick the cheaper one here, just follow the rest of this article before landing on one.
2) Features
A lot of things are there to explain under this heading.
Good antivirus comes up with a lot of safety features. Along with protection from viruses, it includes malware/ spyware protection, malicious URL protection, real-time protection, email protection, etc.
If you are an internet user, URL protection and email protection are mandatory for your antivirus. We can't judge the reliability of each website we visit daily. So, the best thing is handing over this task to software. An antivirus tool can do this in an uncompromising manner. For power internet users it is always better to use Internet Security suits.
Theft prevention, rescue feature, data protection, social networking protection, parental control, data backup, antispam are some other features we can't avoid. As we are paying for the software, it's our right to get the best out of it.
So, do a price to features comparison for each of the antivirus tools on your list.
3) Compatibility
All of us are not using the same platform on our machines, if not the same versions. With time, every single platform gets updated. Sadly that's why the compatibility issue arises.
So, whenever you purchase an antivirus, make sure that it is compatible with the OS you are using. If you don't do so, your money will go in vain as the antivirus turns out to be useless.
Read and watch online reviews. Don't forget to visit product website also. These are the places from where you get the compatibility details.
4) Speed
Performance is the biggest issue of most of the top rated antivirus utilities. Being big memory drainers, those tools affect the overall speed of the system. As a result, at the time of a system scan, we can't do anything with it.
Is that what you want? I know it's not.
You can easily find out reviews of antivirus tools on YouTube. Watch them. And compare the performance of each antivirus. Then, you will get to know what to take what not to.
5) Support
If a free antivirus doesn't work, we can switch on to another one. But what if a paid AV doesn't work?
We can't let it go as we value our money. In such situations, we need a responsive support system.
Visit the websites of each antivirus company. There you can find how they offer support to customers. It's possible to check their responsiveness via live chat or some other means.
Make sure they have multiple support options.
Bottom Line
I hope you now know how to land on the best-paid antivirus software. The biggest thing you should always eye on is features, secondly performance. If a large number of features doesn't affect the performance of your computer, that antivirus will be a great buy.
Consider whether they can deal with threats such as ransomware. Ransomware is a type of malware that encrypts a victim's files. The attackers then demand a ransom from the victim to restore access to the files upon payment. Ransomware attacks are often carried out using a Trojan that is disguised as a legitimate file that the user is tricked into downloading or opening when it is actually malicious. Use anti-ransomware software: Several anti-ransomware services and tools are available that can help you unlock your files or remove the ransomware from your computer. These tools often rely on recognizing patterns in the ransomware code or on behavior-based detection to identify and block the ransomware.