What if I give you a brand new iPhone 6S for free? Will you take it?
I know you will. Even if I demand any precious thing in return, you will take the phone.
That's our mindset. We don't miss even a single thing that comes free of cost. The same mindset doesn't allow us to think of the cons of freebies.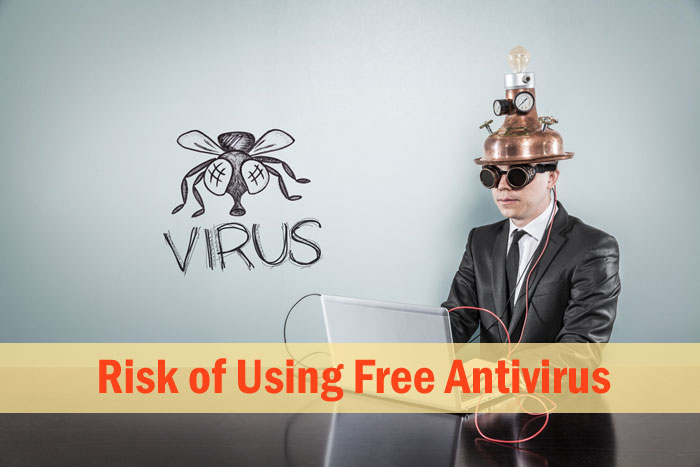 Would you mind me asking another question?
Are you using free antivirus software? I think you are not a fool to use a cracked antivirus.
Read:
If you are using a free antivirus, I am talking directly to you. Don't miss to read this entire article.
Risks of Free Antivirus
Almost every paid antivirus tool has a free version. But you think there's no difference between both the paid and free versions? Not at all. Read this post further to understand the risks of free antivirus utilities.
1. Limited Protection
Do you know why the big antivirus companies provide a free version? It's just to compel you to buy their premium product. You might have already seen notices saying 'This is a basic version only, click here to protect your computer completely' right from the first day of your free antivirus usage.
See, the companies itself say that their free version is not offering complete protection. They don't incorporate some advanced at the same time most-needed features with the free versions. As a result, your machine is more prone to threats.
And, it's already proved that the malicious programs, being created these days can bypass any free antivirus available today, no matter how alluring their promises are.
2. No Customer Support
That really sucks. And I think this one is the severe risk of free antivirus.
Sometimes, we need expert advice or opinion to use an antivirus utility on our computer especially if it comes overloaded with a lot of geeky features.
Sadly, most of the free antivirus tools do not allow us to have customer support. I saw one antivirus utility as an exception with email support. But I can't assure you that all your queries will be solved.
In fact, this one is the second risk you need to take if you decide to go with a free malware protection tool.
3. Not Many Scanning Options
If you have been using any antivirus software for a while now, you would know several scanning options including full, quick, custom, removable media, root kit etc. Unfortunately, you can't find all of this on a free antivirus utility that serves the purpose of basic scanning.
Apart from these scanning options, an antivirus tool works relentlessly to scan every files that are getting opened and every emails (attachments as well) you receive. A good antivirus does not allow you to land on a malicious website. But all these features are not present on most of the free antivirus tools.
4. Lack of Frequent Updates
Each day, many new viruses are getting released. Every day, tons of systems are getting affected. So it's important for an antivirus to update its database.
If you are a free antivirus user, you won't be able to get regular updates and thus being exposed to a large number of threats.
But paid antivirus software warns you if no updates have been installed for a long time. And, when you provide it an internet connection, it will be updated itself without disturbing you.
5. Some Free Antivirus may Contain Malware
Yes! It's a fact. I am not talking about the antivirus from reputed companies.
But whenever you find a new free antivirus on market, you should be extra vigilant about the same. Never install it all of a sudden. The crooked guys behind it might have integrated some malicious codes into their programs, so that they can steal our banking or private details.
So, don't trust all new free antivirus.
Wrapping Up
I hope you got an idea of the risks of free antivirus tools. It's no different than a gambling game to use a free antivirus on your computer. Why because free antivirus can't defend a strong malware attack. If your system gets affected by a strong malware, no free malware protection tools can help you.
So, always try to use premium antivirus. There's nothing wrong in spending some bucks for safety.