There is one problem with almost all the PC optimization software you find in the market. In one way or the other, such software can tamper with your privacy and safety. In the worst cases, people have found serious adware and spyware in the bundle of such software. In the case of Advanced SystemCare Ultimate, however, you don't have to worry about any of these issues – not even for a single second. The reason is simple too: Advanced SystemCare Ultimate 10 is a package that equally focuses on performance, security and your web & digital privacy. It's the same reason why it's dubbed as one of the best PC utilities out there. Well, you may still be wondering whether Advanced SystemCare Ultimate is worth all that hype. If that's the case, you can better read along.
In this detailed IObit Advanced SystemCare Ultimate 10 2017 review, we can take into account the different parts of the program and what you should bother in those aspects. For instance, we can talk about its performance and impact on your normal PC usage. We can also consider its effectiveness when it comes to preventing an immense variety of threats from infecting your PC. To say the least, at the end of the article, you will have a proper idea about whether you should go for Advanced SystemCare Ultimate 10. By the way, we understand that some of you are hearing the name for the first time. For the sake of newbies – who, we guess, want to enhance their PC, we can have a quick introduction to Advanced SystemCare Ultimate 10 and then move onto the other areas of discussions.
Advanced SystemCare Ultimate 10 – A Combo for Performance and Security
Technically speaking, Advanced SystemCare Ultimate 10 falls under a category of PC Cleaning & Optimization software. It is developed for the purpose of fighting off the gradual slowdown that we see in Windows PCs, especially in the course of time. Along with that, without compromising any bit of focus, IObit has added an extra layer of security as well. In short, by installing a single software, you can have the benefits of PC speed boost, anti-malware protection and privacy securement. It should be noted that IObit produces three various products in the Advanced SystemCare range – free, Pro and Ultimate. Out of these, Ultimate is the powerful and most feature-rich one, and we are going to test the version for this review.
We hope you know that Advanced SystemCare Ultimate 10 is available for Windows devices only. It should be working fine with every Windows device that runs XP or later versions. As far as compatibility goes, you'd not have to worry about anything – as the Advanced SystemCare Ultimate 10 is found to be working in even the oldest devices used for testing. It also means that, no matter how old and used your system can be, it's possible to install the program and start getting the best security and privacy, along with a taste of speed. It is pretty much for an intro, right?
Noticeable Features – Or, What Advanced SystemCare Ultimate 10 Does
We think it's better to avoid a familiar list of features. Instead, we can categorize the features based on what they can do to your PC. Thinking from that perspective, by installing Advanced SystemCare Ultimate 10, you can have the following benefits.
Complete Protection from Threats
Advanced SystemCare Ultimate offers better level of protection from the most types of threats you've seen, such as malware, viruses, spyware and more. At the same time, this tool work as a malware remover as well as a real-time protection solution. However, for the time being, we can focus on the scanning option. It scans your PC really quickly, without compromising the process of threat-detection or removal.
Real-Time Protection and All-System Coverage
Just like an antivirus program, if not better, Advanced SystemCare Ultimate 10 keeps an eye on all the system activities out there. You just need to enable the Real-Time Protection feature, and boom. Because the tool has some in-built cleaning utilities, it will thoroughly clean your RAM, processes etc. if something is wrong.
Keeping Your System Ad-Free and Adware-Free
At some point or other, we have hated ads and adware. And, the latter is undoubtedly a threat today, as lots of privacy issues are present in the back. Once you enable the anti-ad features in Advanced SystemCare Ultimate, you don't have to worry about any of these. You can even deal with issues like browser hijacking, malicious extensions and bad code.
PC Cleaning and Speed Boosting
As per what the developers say, Advanced SystemCare Ultimate 10 can make your PC 300% faster than it is. In other words, you can use the device just as you have bought it yesterday or so. It follows a modular system for management and there are different ones for startup optimization, privacy cleaning, internet booster as well as some simple others.
These are the common areas where Advanced SystemCare Ultimate 10 can help your device. Indeed, a few minute features are there. For instance, there is something called FaceID, which is used for preventing intruders from your PC. It uses your webcam and recognizes the person who's trying to log in. As we said, it is not viable to list out all the features you will find in Advanced SystemCare Ultimate. So, let's move into the other aspects.
Also Read:
Installation and Getting Started
Despite the huge amount of features, Advanced SystemCare Ultimate 10 is easy to install. You don't have to worry about anything technical, because the installation wizard is ultra-simple. You can just go and download the setup file from official IObit website, followed by the seconds-long installation. In a minute or so, you'll find Advanced SystemCare Ultimate 10 completely installed and functional on your PC. It pretty much sums up everything you should do. Even if you are someone who hasn't tried an antivirus so far, there is nothing to worry about installation and maintenance.
Another important factor has to deal with its compatibility. Despite being a fully-fledged security suite that has a lot of features, Advanced SystemCare Ultimate 10 works alongside almost every antivirus suite you will have. Suppose you want to keep some features from the antivirus program while having the features we've mentioned above. As long as you have Advanced SystemCare Ultimate 10 with you, there is nothing to worry. Everything is going to work as smoothly as ever.
Performance Impact
You would probably be concerned about the impact of Advanced SystemCare Ultimate 10 on your PC. If you are worried about it, it's time to start staying cool. When compared to most of the other PC enhancing tools out there, Advanced SystemCare Ultimate brings the least amount of impact on your PC.
Even if you want to install the program alongside your existing antivirus program, there will be nothing to worry about. Every module from Advanced SystemCare Ultimate will be functional, and you have the freedom to choose which work and which don't. In short, we'd say that it's completely safe and comfortable to use the PC optimizing program as far as performance is concerned.
User Interface
Advanced SystemCare Ultimate 10 follows the same User Interface that you will find in free and PRO versions of the program. It means that you don't have to worry about anything complex. The whole system of it has been based on simplicity and you can choose between different sections. For instance, if you want to check out the multitude of available tools, you can go to the section named Toolbox. There, a few useful tools are included, such as Disk Defragmenter, Startup Manager, Registry Cleaner, Disk Cleaner, Empty Folder Scanner and Program Deactivator etc. All of these are useful at some point or other, given that you need to enhance your PC performance as much as you can.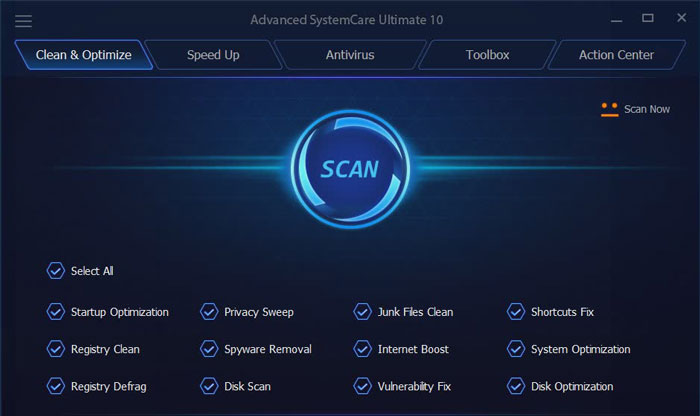 The reason we don't do a complete list of features is that the list will be incredibly longer. If you want to get a look on all the features of Advanced SystemCare Ultimate 10, you should better have a look at its official webpage. We are sure that you will be amazed in no time, because it had almost all the features we'd thought there will be in a perfect case of PC optimization tool.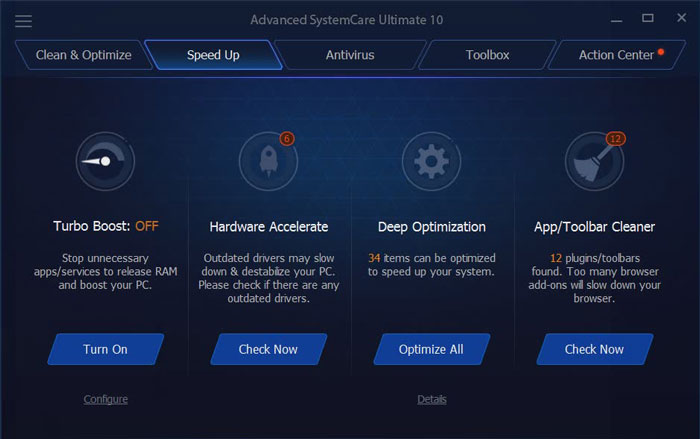 The Final Verdict
We believe that, in our Advanced SystemCare Ultimate review, we have covered almost all the doubts you'd have about this product. And, if you ask us, we'd surely recommend this program to all our readers — for a bunch of obvious reasons. First of all, Advanced SystemCare Ultimate offers the best performance and speed your PC can ever have in its lifetime. Even if it's an old PC, the program seems to be working fine. Second of all, when compared to the other programs, the pricing of Advanced SystemCare Ultimate 10 — $29.99 for a year —using our IObit Advance System Care coupon codes is pretty much reasonable.
Advanced SystemCare Ultimate 10
IObit Advanced SystemCare Ultimate10 PRO 2017.
Verified 2 Hours Ago. Very Hot Deal. Only: $29.99
Advanced SystemCare PRO
IObit Advanced SystemCare 10 PRO 2017.
Verified 2 Hours Ago. Only: $14.99.
Considering all these points, Advanced SystemCare Ultimate 10 is surely the best PC optimization and security tool you can get. According to our experience and independent tests, the security aspect is actually impressive. So, the verdict is, you can go ahead and purchase it.