When it comes to PCs, everyone has their own requirements. Some give preference to Graphics while others are concerned about overall performance. In spite of this ever-growing diversity, there is one common issue that we hear from almost every PC user out there: System Slow-Down. The complaint is simple. In the course of time, computers become really slow and unable to be used. You may even have to wait a few minutes to open a simple Web Browser. Things become worsened if you have a powerful antivirus program installed in your system. So, how do you come out of this dilemma between speed, performance and protection?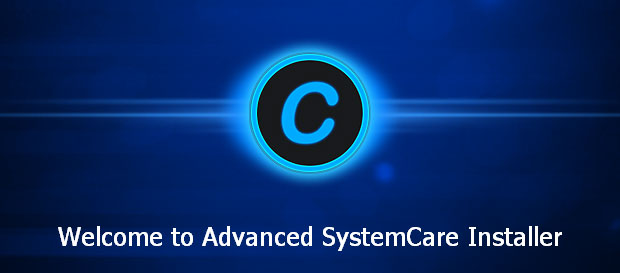 It seems IObit has found an effective way to get around this issue. That's why they come forward with an all-new solution named IObit Advanced SystemCare 10 Pro. It's said to be a complete solution for all the issues we mentioned earlier, such as system slowdown, lack of protection and other miscellaneous ones. But, the question is something else: does IObit Advanced SystemCare 10 Pro really keep its promises? We are going to find that out in our detailed IObit Advanced SystemCare 10 Pro 2017 Review and we have some special coupons for it. We will go through various aspects of the program, such as Usability, Impact on Performance and the many features you get.
We will have an introduction to IObit and IObit Advanced SystemCare 10 Pro for those who are not familiar with the product. Shall we start, then?
An Introduction to IObit Advanced SystemCare 10
In the official terms, IObit Advanced SystemCare 10 Pro is an all-in-one PC optimization utility. It also provides the benefits of Privacy Protection and Anti-Tracking. That is, through a single installation, you get many kinds of utilities for speeding up your computer, protecting your privacy and preventing tracking-based threats. It is currently available for Microsoft Windows, from Windows XP to Windows 10. It means you can use IObit Advanced SystemCare 10 Pro for enhancing the performance of almost every Windows PC out there. As we go deeper into the program and its features, it seems to be offering much more than the claims.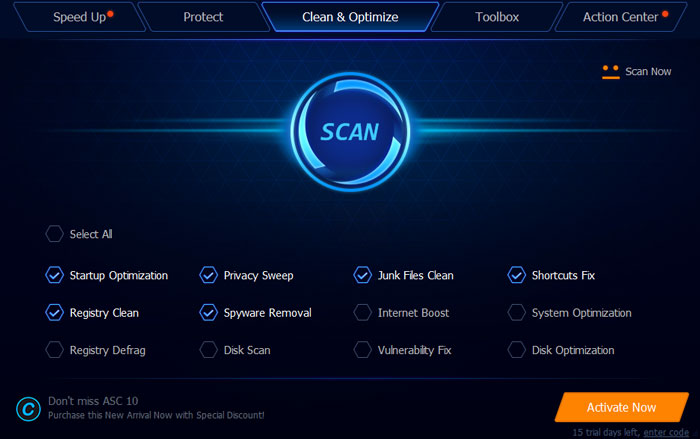 We came across a few simple yet really-useful programs that can have bigger impacts on better PC usage. In this Advanced SystemCare Review, we will discuss each and every important feature in offer. So, when it comes to getting the program for your computer, you can stay 100% confident. By the way, here, we will be reviewing the Pro version of IObit Advanced SystemCare. If you are okay with limited functionalities, you can check out the free version. Chances are, you would gradually upgrade to the premium version if you like to have a better.
Getting Started with IObit Advanced SystemCare 10 Pro
Installation file of IObit Advanced SystemCare 10 Pro weighs just 37.8MB. It's much lower than most of those other performance-booster utilities out there. For installation, you can download the set up from the official website of IObit. Thanks to the developers, it's an offline installer. You can get the job done in a few seconds and IObit Advanced SystemCare 10 Pro will be functional from the next second.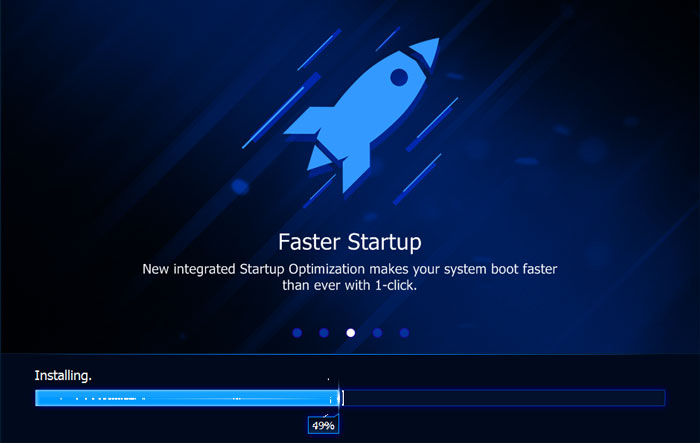 As it goes without saying, it takes less than a minute to get started with IObit Advanced SystemCare 10 Pro. And, that's something we value so much, especially when it comes to a PC optimization utility. The concept here was simple: if the program cannot optimize its own installation, how is it going to optimize the total PC and its high-end load? At the end of the day, we had an awesome initial impression to start with.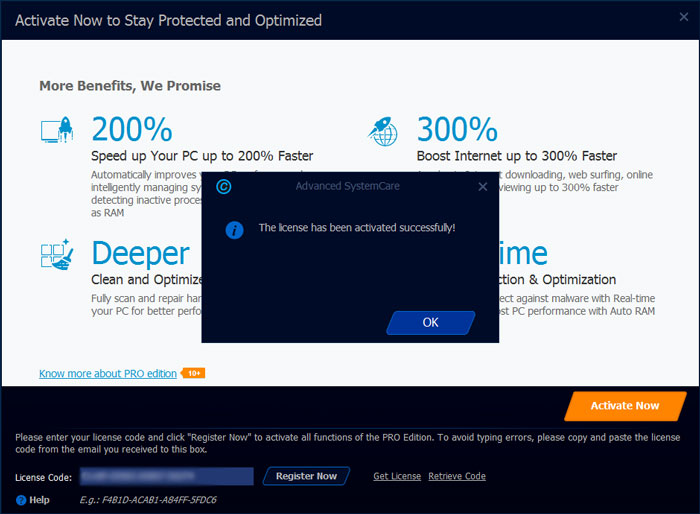 We'd surely give a 5-Star rating for simplicity of installation and the process of getting started. It all goes like clockwork, you know.
The First Thing to Do: Scanning your PC
Now that you have successfully installed IObit Advanced SystemCare 10 Pro in your computer, you have to do the first thing: perform a fully-fledged system scan. Through this scan, you can find out the several issues that cause system slowdown, privacy threats and tracking. You'll also get suggestions to fix those issues.
There is something awesome about the scanning process in IObit Advanced SystemCare 10 Pro. You have to perform a single scan to fix all the issues. However, as a matter of fact, you have an option to pick what the optimizer is scanning for. By default, you can use IObit Advanced SystemCare 10 Pro to scan things such as Spyware Removal, Registry Clean, Privacy Sweep, Junk Files Clean, Internet Boost, Shortcuts Fix, Vulnerability Fix, Registry Defrag, System Optimization, Security Defense, Disk Scan and Disk Optimization. You can either choose selective scanning modes or go for a complete scanning experience.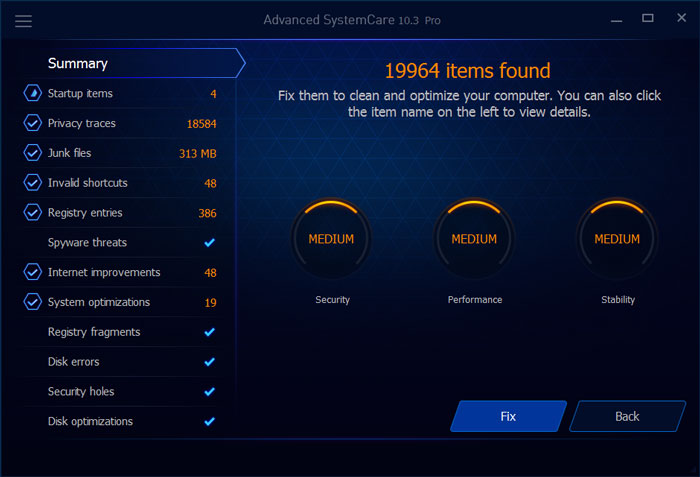 So, in a single button, IObit Advanced SystemCare 10 Pro will analyze almost every aspect of your computer. Of course, it's after such a thorough inspection that a tool can optimize the performance and speed of your computer. It needs to be noted that we are talking about the single section named Clean and Optimize. It is coming four different sections, arranged in four different tabs. So, even those who are using it for the first time, navigation won't be a tough task. Moreover, if you are trying to make sure that the PC is in a proper working condition, this comprehensive Advanced SystemCare should do the job very well.
The other sections — namely Speed Up, Protect and Toolbox — are for advanced PC optimization. We'll do a clean roundup of those sections later.
The Take on Performance Impact
After using IObit Advanced SystemCare 10 Pro for around a week, we have been seeing a noticeable increase of speed in the device. The important thing was that our PC took less than a few seconds to start up. It was not the case before we had used all sections of the optimization program. IObit Advanced SystemCare 10 Pro starts working whenever you turn on your computer. It runs in the background, without making much of noise — until something important pops up. If you are using less-resource-intensive apps like Word and other processors, you can see the difference. In fact, the whole process becomes seamless in the course of time. To make this happen, however, you need to use all the four sections of the utility package.
That having said, there have been some negative reports too. A friend of mine has been using IObit Advanced SystemCare 10 Pro for almost a year. Although the speed ups were impressive in the starting, he started to face some system lags in future. The irony was that the program took more time to load. We understand it's a non-common issue, but it should be mentioned in this Advanced SystemCare 10 review. So, in 90% of cases, you won't see a negative impact on your PC due to IObit Advanced SystemCare 10 Pro. That having said, if anything comes ahead, you have to take the right decisions of re-installation or repairing.
A Quick Look on IObit Advanced SystemCare 10 Features
As we mentioned earlier, IObit Advanced SystemCare 10 Pro has divided itself into four sections. We have already mentioned the functionalities of the first section — which is named Clean & Optimize. Still, we would tell you how those features can help you in a practical world. Obviously, we are covering the important ones only.
Clean & Optimize — For a Cleaned PC
Just as you can see, this section is used for cleaning your PC and optimizing it for awesome performance. Its impressive features are as follows.
Junk Files Cleaner will take care of temporary files stored in your computer. Trust us, you can see an incredible increase in terms of speed.
Internet Boost will find out the different issues with your internet connection and fix them to increase speed. In the best cases, you can have up to 300% of speed boosting.
System Optimization is a multi-faceted process. Several areas of the PC are analyzed and fixed to do the best performance for resource-hungry apps.
Last but not least, Spyware Removal module will pick the dangerous spying stuff from the list and get them removed forever.
Speed Up — Let's Boost Them
Here, all the utilities are for improving the overall speed of your computer.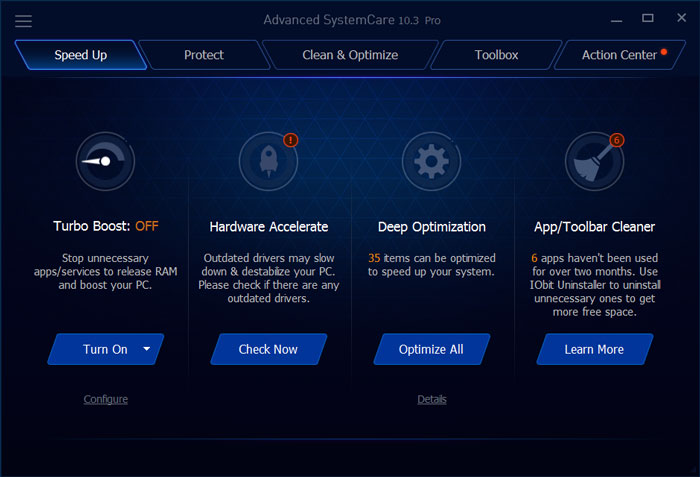 Turbo Boost will find the resource-hungry apps and close them when they aren't necessary. It claims to offer a lot of RAM.
App/Toolbar Cleaner for Browsers is a heaven-like feature. It removes dangerous toolbars, add-ons and apps from your browser, for protecting privacy and ensuring speeds.
Hardware Accelerator of IObit Advanced SystemCare 10 Pro will look in your PC for outdated drivers. If found, they will be fixed for increasing the speed like never before.
Protect — Allows You Stay Safe
While IObit Advanced SystemCare 10 Pro cannot be a replacement for an antivirus, it has some cool features to boast about.
FaceID makes sure that only you can access your computer, thanks to Face Detection technology.
Real-Time Protector will keep looking in your computer for potential threats like spyware and adware
Surfing Protection and Ad Removal are useful for having a seamless internet experience — free from distractions and malicious ads.
You can also enable Browser Anti-Tracking if you want to be protected from many privacy issues out there.
Toolbox — a Bunch of Utilities that do Help
IObit Advanced SystemCare 10 Pro has included some really useful utilities in this section. Because they are too much, we are mentioning the noteworthy ones only.
Startup Manager for knowing which all apps are loaded while you start your Windows PC
Disk Doctor for finding the many issues that may be present with your HDD
Auto-Shutdown for smart automation of your computer power
Program Deactivator for preventing the functioning of a particular program
IObit Uninstaller for no-strings-attached uninstalling of apps and programs
Undelete for recovering important data that you accidentally deleted.
Apart from these, there are tens of small utilities in IObit Advanced SystemCare 10 Pro. Most of them would come in handy — at one point or another. Also, IObit Advanced SystemCare 10 Pro comes with a section you can call the Action Center. There, you can receive important notifications regarding the safety and speed of your protected computer. It's an easy way to keep everything in the right place.
Pros and Cons of IObit Advanced SystemCare 10 Pro
Pros
Simple UI with Multiple Tabs
Noticeable Increase of PC Speed and Performance
Overall protection from web-based threats
Useful utilities for Ad-Removal and miscellaneous options
Small package and offline installer
Cons
In some devices, IObit Advanced SystemCare 10 Pro causes slowdown issues after some time.
IObit Advanced SystemCare 10 Pro for 50%
Also Read: IObit Advanced Systemcare 10 PRO vs Ultimate PRO
Advanced SystemCare Ultimate 10
IObit Advanced SystemCare Ultimate10 PRO 2017.
Verified 2 Hours Ago. Very Hot Deal. Only: $29.99
Advanced SystemCare PRO
IObit Advanced SystemCare 10 PRO 2017.
Verified 2 Hours Ago. Only: $14.99.
The Bottom Line
So, above, we have discussed all the important aspects of IObit Advanced SystemCare 10 Pro. As you can see clearly, the options are well-arranged and have a positive impact on your system speed and performance. it needs to be noted that all the features are available in IObit Advanced SystemCare 10 Pro version only. You can have the basic options with the free version, if you want, but that's never going to be enough. Detection of Security Threats, for example, is a Pro-only feature. So, keeping in mind the importance of speed as well as privacy, we would recommend our readers to go for the premium version.
Let's keep aside the minor complaints, and IObit Advanced SystemCare 10 Pro is a must-have PC optimization solution for most people out there. At the least, when the program is running, you don't have to worry about extra threats like Spyware and Ransomware too. Isn't that great, folks?