Are you planning to purchase Bitdefender Security products for your devices? We would say that's a good decision. As you know, Bitdefender products are just awesome when it comes to securing devices from various threats. Also, you'd get plenty of features like Bitdefender Central, Bitdefender Photon and Anti-Ransomware Protection etc. By the way, what do you think about purchasing Bitdefender online  and getting a Digital Delivery? If you think that's a tough task, you're wrong. In this article, we will show you how you can buy Bitdefender Online using Digital Delivery method no actual box shipment to your home — that too, at the lowest price.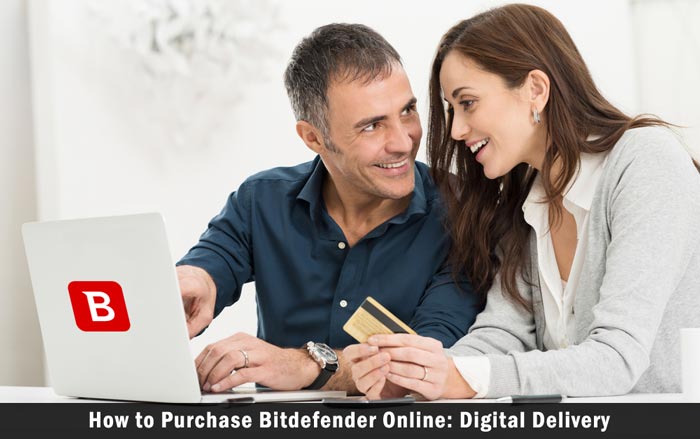 Step 1 : Choose the Product You Need
Bitdefender develops a variety of products for different platforms and devices. In our case, we are considering its products for Windows PCs. And, there are three major variants of Bitdefender Security you can choose.
Bitdefender Antivirus Plus is the basic level of premium protection. It's suitable for basic users who need best anti-virus protection and basic web protection. You also get Anti-Ransomware protection and Password Manager.
Bitdefender Internet Security is the all-in-one solution that gives you offline and online protection. It has Parental Control support, better Digital protection and Data Stealth protection.
Bitdefender Total Security is a Multi-Device package, offering protection for Windows, Mac and Android. In all these tools, you get cool features for offline security, digital protection and performance optimization.
Read:
So, these are the three options you have in Bitdefender Security inventory. In addition, to avail the best promotions from Bitdefender, you can choose the products from This Page.
Make sure that you select a tool that you really need. As soon as you hit the 'Get Deal' button, you will be lead to another page.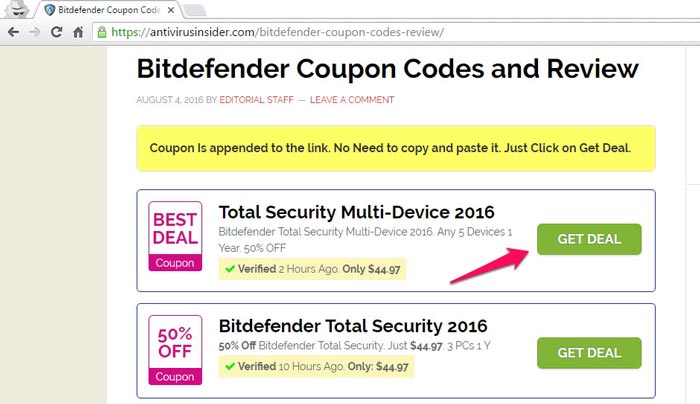 Step 2 : Confirm Shopping Cart
Now, you should be in the Shopping Cart page of Bitdefender Security. Here, you can see the details about the Bitdefender product you have purchased. You can see the actual amount, special price discount and the total amount to be paid. You can also select the quantity of the products before proceeding. In the page, you can add extra features such as the System Repair, PC Optimizer etc.
Once you have confirmed the amount, you can go to Billing and Payment Info page.
Step 3 : Decide Auto-Renewal
Instantly, you will see a pop-up window from Bitdefender page. As you can see, it's a notification about the Auto-Renewal feature of Bitdefender products. If you enable Auto-Renewal, your Bitdefender subscription will be renewed automatically when there's a new release in the range. So, it's up to you to enable or disable Bitdefender Auto-Renewal.
Step 4 : Process Payment
Now, you are in the Billing and Payment page of Bitdefender. You have to provide a bunch of details such as your email address, your shipping address and the preferred method of payment. As of now, VISA, Mastercard, PayPal, Wire Transfer etc are supported by the platform. Hit on the 'Place Order' button after you have provided necessary payment details.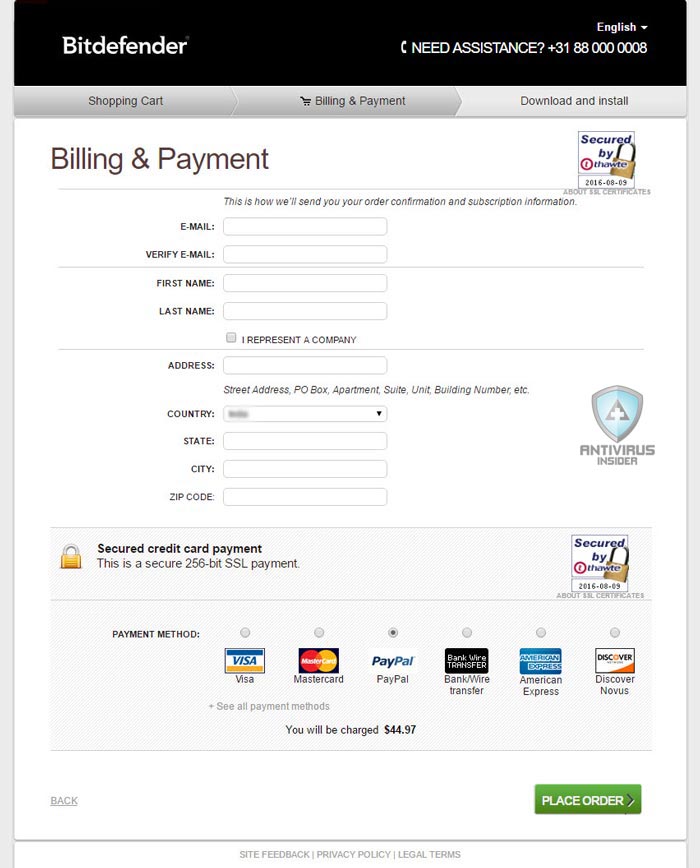 Step 5 : Payment Confirmation
If you have done all that right, you can see the confirmation page from Bitdefender. It will say that you have successfully placed the order of Bitdefender product. You can also see the message that a confirmation email — with necessary details about activation — has been sent to the registered email ID.
Step 6 : Check Email
Go to your email Inbox and you will find the email from Bitdefender. The process depends upon the payment mode you've chosen. In our case, we have chosen PayPal as the payment method. So, in the email, you can find an option to pay the amount and confirm your order.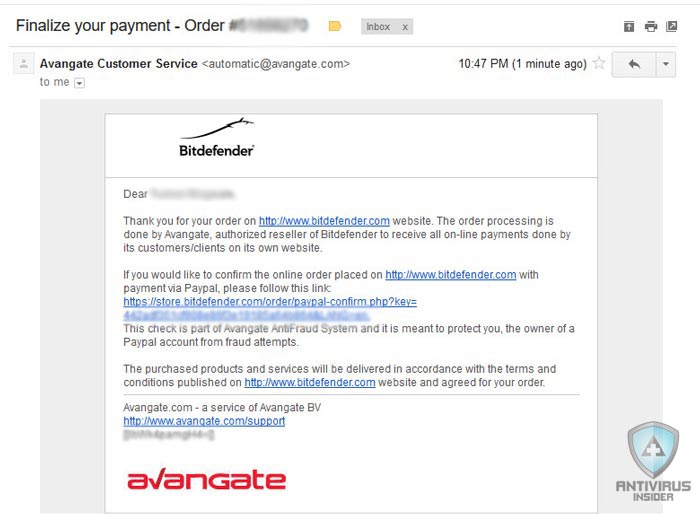 In the link, you can see the confirmation message from Bitdefender. It means that your payment has been verified and it is all set to start using Bitdefender Security products.
Final Step
Now that you have finished all those tasks, it's time to activate your product. To do that, you can refer the email you have received from Bitdefender. The email will consist of the actual process and the activation code. To do that, you need to create a Bitdefender Central account if you don't have one yet. There, to add a subscription, you can enter this Activation Code. In seconds, your subscription will be confirmed and you can download the corresponding tools into the devices.
The Final Word
So, this is how you can purchase and set up Bitdefender Security products at the cheapest rates possible. And, when compared to the traditional process, Digital Delivery option of Bitdefender is pretty simple yet effective. It needs to be noted that we have tried to include the best deals in the above mentioned link. In short, you will receive the best suites at the best price. After all, it's good to have awesome protection at reasonable rates, don't you think?