If you take a look at the product catalogue of Bitdefender Antivirus products, you can understand that it offers many kinds of protection suites for different devices. And, if we are to consider the case of products meant for devices that run on Windows, there are three suites — Bitdefender Antivirus Plus, Internet Security and Total Security. Out of the trio, however, there exists a major confusion when it comes to choosing between Bitdefender Antivirus Plus and Total Security. In this article, we're going to have a comparison of the Bitdefender Antivirus Plus vs Total Security so that you can choose well in the long run.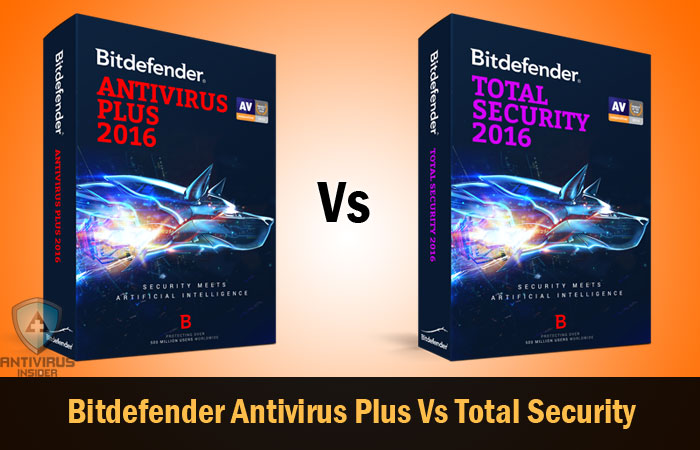 We will compare the different aspects of each security suite, such as pricing and the availability of features. We shall start, right?
Bitdefender Antivirus Plus vs Total Security
Bitdefender Antivirus Plus is the basic product in the premium range of antivirus products from Bitdefender. If you're not satisfied with the free antivirus from Bitdefender (or, any other antivirus suite), this is the option to choose. With this package, you get top-notch protection from the commonly-observed security threats and vulnerabilities that the device may have to confront. So, this is the basic option for comprehensive protection for your Windows PC.
Read: Is Bitdefender Free Antivirus Really Works/Worth?
As we come to the case of Bitdefender Total Security, it is the most advanced package in home security range; and it is offering all the Bitdefender-exclusive and standard protection features for the Windows PC. Obviously, the suite is claimed to protect your computer from both online and offline kinds of threats, which literally gets you the best level of safety. Frankly speaking, this is the most advanced option for advanced users also little pricey as compared to Antivirus plus.
The Pricing Factor
Bitdefender Antivirus Plus is priced at an affordable manner, to be noted. If you need to have the protection package for only one PC, the solution will cost you $35.95. On the other hand, if you upgrade the maximum installations to 3, the rate becomes $38.97, which is pretty convincing too. At maximum, you can install Bitdefender Antivirus Plus on 10 devices, and then, you will have to pay $159.95. So, this is the basic pricing structure of this protection suite.
Check Bitdefender Discount Deals NOW
When we take a look at Bitdefender Total Security, we can see a bigger difference there. One-PC version of this protection suite costs you $69.95, which may seem a bit expensive. However, if you use some sense and upgrade to the three-PC version, the price gets down to $58.47. The most expensive package of Bitdefender Total Security does let you do 10 installations at maximum and will need you to pay $229.95. You probably won't believe, but you can get up to 75% discount on them if you use Bitdefender coupon codes from our deal section. Check it our now.
Availability of Features
Now, we shall go through the major features of Bitdefender Antivirus Plus and Total Security. Before that, it has to be noted that both the versions comply with the Bitdefender architecture of antivirus. That is, both the tools consist of superb technologies such as Zero Performance Impact, One-Click Security and Windows 10 Compatibility.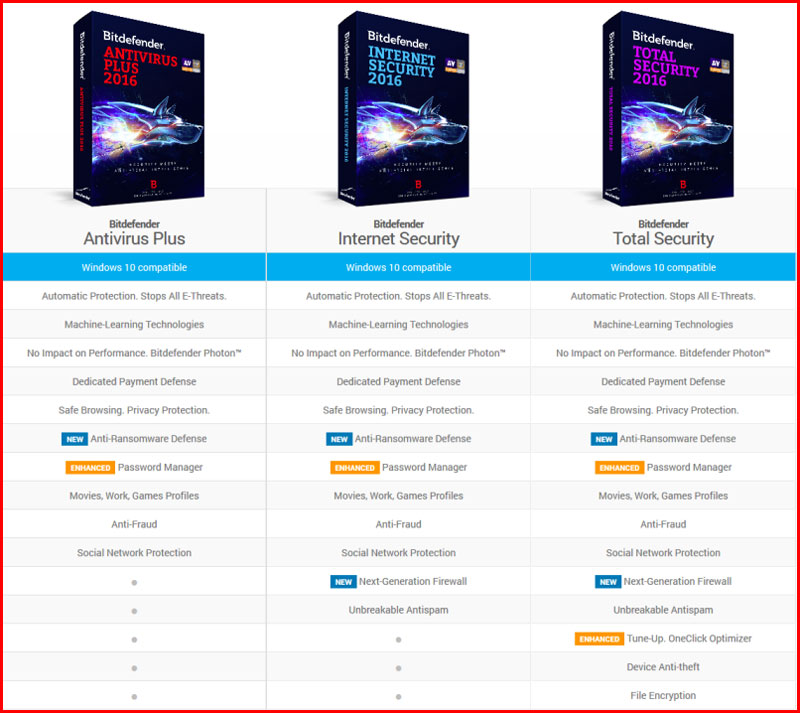 Just as we mentioned earlier, Bitdefender Antivirus Plus is envisaged to offer standard protection from general sorts of threat you have seen in devices. For instance, you will be given protection from malware, spyware, adware and an extreme amount of viruses. Other notable features of the package include anti-phishing, security reports, Safepay — a dedicated browser for sensitive data handling —, and a powerful manager. So, as it can be seen, although there are some online-based features, the main focus is on offline protection.
Check our other comparisons:
Bitdefender Total Security contains strongest options of resistance towards offline threats and online traps. That is, it is offering anti-malware, anti-virus, anti-spyware and anti-adware protection along with social network protection, a feature-rich firewall etc. In addition, when compared to the former, this one gives you better performance, thanks to the Bitdefender Photon Technology and System Tune-Up Options. Apart from all these, you get useful options such as parental control, anti-theft protection and file encryption.
The Verdict on Bitdefender Antivirus Plus vs Total Security
Taking the above mentioned points into the record, Bitdefender Total Security certainly has an upper hand. If we take the features into consideration, the pricing seems to be quite affordable; and convincing too. And, what make sense is that it's essential to have online-protection features in this era of internet. Also, the presence of file encryption as well as one-click PC tune-up is commendable. All in all, Bitdefender Total Security makes sense for advanced users. If you're okay with basic stuff, you can go with Antivirus Plus.