The world we live in may seem extremely ironical, especially when we see people using cracked antivirus solutions to protect their computers. Instead of having a better protection, they compromise their security as well as privacy and turn the story other way round. Because of these reasons, given that you are not ready to stick onto the basic level protection that is offered by free antivirus, it has become more or less essential to have a paid antivirus solution in a PC, so that you'd not have to be afraid of the various kinds of threats and vulnerabilities that we come across.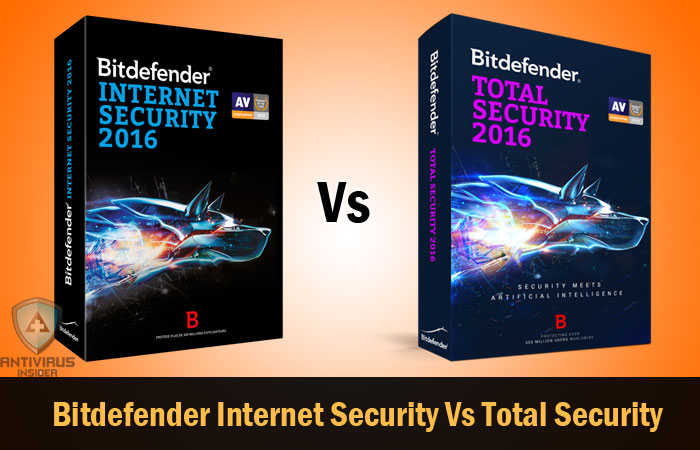 The Bitdefender Internet Security vs Bitdefender Total Security Scenario
That having said it's also important whether you have chosen the best antivirus software you get from the market. At the least, you have to choose one of the best. If you would like to comply with that, we think Bitdefender Antivirus is definitely on your short-list, quite obviously. However, if you have thought about purchasing Bitdefender, there are a lot of chances that you would be confused between the two popular variants of the same — Bitdefender Internet Security and Bitdefender Total Security. In case, if you were facing that issue, you'd have the answer here. Here, we'd be having a briefer comparison of both the variants.
Read:
Bitdefender Internet Security and Bitdefender Total Security — What's Same?
Well, there are some basic yet effective features and capabilities you get when you purchase all Bitdefender versions such as Total Security or Internet security. We shall have a look at those unchanged aspects between both of those variants for a while.
First, there is the automated protection system of Bitdefender, combined with machine learning technology, so that you are going to have the finest level of protection from threats and all.
You get Bitdefender Safepay for ensuring safety for your confidential payments while the enhanced manager for passwords is a big deal for those who need extra convenience and security.
The next-generation firewall of Bitdefender is meant to protect you from relatively-newer threats such as an extreme range of spyware and all.
Also, along with an unbreakable anti-spam feature, you get Parental Controls, in case if you wanted to know and control what your kids do on the computer.
Check features comparison from the official website: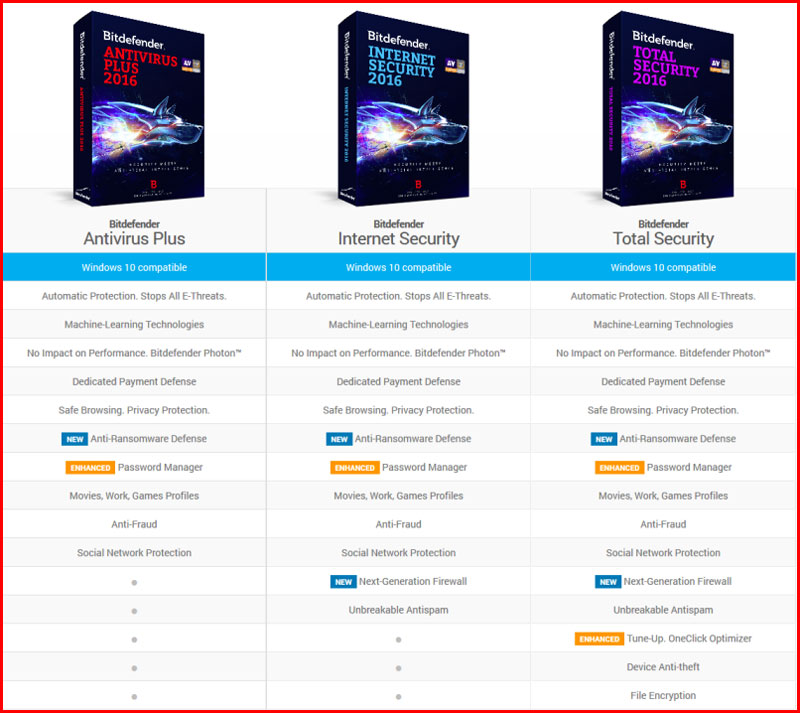 Bitdefender Internet Security vs Bitdefender Total Security — Extra Stuff You GET
Of course, the two versions are different and the Bitdefender Total Security is the one that's expensive and capable of offering more features. So, when you go with Bitdefender Total Security, there are some factors that you do have, and they are as follows.
The most important feature is the One-Click TuneUp feature of Bitdefender. Using this option, you'd be able to get the best out of your computer, by analyzing the problem-causing stuff and dealing them for the better speed and performance.
Next, we have the Anti-theft features offered by Bitdefender. Once set up, you can forget the fear of losing your device; even if you lose it, there are some chances to get it back, or to get the data cleared, completely.
Along with these, Bitdefender Total Security is offering a file encryption system as well. Using the feature, it is possible to make sure that the confidential data of yours doesn't get into the wrong hands.
The Pricing
Well, as you expect, there are price differences. The Bitdefender Internet Security is available for $51.97 if you do go with the 3PC for One-Year license plan. For the same plan, Bitdefender Total Security needs you to pay $58.47. we'd say the pricing is quite reasonable and convenient. By the way, if you can use some Bitdefender coupon codes, you'd be able to get it at a lower rate.
Check Bitdefender Discount Deals NOW
You may like this:
The Final Verdict on the Duo
So, considering the additional features you are assured, it's an awesome decision to go for Bitdefender Total Security and thus to get the other one out of the list. Of course, you cannot find a good substitute for the options offered such as the file encryption techniques or the tune-up solution. At times, all these features would be useful and the anti-theft option is just superb when you're a lazy person. In addition, it needs to be noted that the price difference between the two options is just less than $10, which is a compelling reason to go for the better option.