Everyone wants to have the best antivirus product for their computers – let that be a Windows PC, Mac or Android. But, as it turns out, the selection is nowhere near easy. That is, to be frank, it may take a few hours or days for you to analyse the different antivirus suites out there and to choose the best one. The major reason is that there are many antivirus suite developers that compete each other. McAfee and Kaspersky are undoubtedly the two names we can't take off. It's a great thing if you can get around the comparison of McAfee vs Kaspersky and choose the best one from this duo.
In this article, we shall have an in-depth comparison of Kaspersky Antivirus Solutions and McAfee antivirus.
An Introduction to the History of McAfee and Kaspersky
If you had started your digital life earlier, you have heard about McAfee, which has been a popular antivirus suite for long periods. The company, then named McAfee Associates Inc., started its journey in 1987, founded by John McAfee. It has its headquarters in Santa Clara, California, though the products are served worldwide. However, McAfee was acquired by Intel and it is now known as Intel Security. Currently, McAfee is an Intel Security company that comes up with a variety of digital security products – for personal and professional security sector. So, as in terms of history, we have enough reason to count on McAfee antivirus solutions.
Kaspersky Lab is an international developer of security solutions, based in Moscow, Russia. It too started the journey long before, in 1997 and has kept the monopoly ever since. When compared to the other antivirus solutions, Kaspersky Labs is more into research and inventions. The Lab, consisting of thousands of qualified specialists and employees, strives hard to find the prominent errors and vulnerabilities in computing. Such a great team of excellence is the real reason why this brand has been one of the most-used antivirus products. As you can guess, Kaspersky security products are available for personal, professional and enterprise purposes.
Extra Readings:
In short, we cannot simply grade down any company based on the history part. Both the companies have an unparalleled journey of computer safety, and have ventured into enterprise security as well. However, for the common users out there, it makes sense to judge both firms based on aspects such as pricing, security and availability of features.
Products and Pricing
It needs to be noted that we are covering the home security products only. Also, we have our focus on Windows Security.
In the case of McAfee Security products, you have three options — McAfee Antivirus Plus, Internet Security and the Total Protection package. Antivirus Plus from McAfee is priced at $59.99 per year and gives you basic protection for your PCs, Macs, Android devices and all. You also get options for transaction safety and file shredding. McAfee Internet Security has been priced at $79.99 per year and you get additional features of Anti-Spam, Parental Control and Password Management. The topmost option is named McAfee Total Protection, which costs you $49.99 per year — although the actual pricing is $89.99. In this package, you get an extra feature of Data Encryption as well. This is how the pricing structure of McAfee works.
Kaspersky Anti-Virus is the basic level of protection option, which gets you the standard anti-virus protection. It is priced at $39.95 per year, and you can protect one PC only. The second package, namely Kaspersky Internet Security, will need you to pay $59.95 per year to have better protection for shopping and social networking. In this, however, you can protect your Mac and Android, along with the Windows-powered computer. The last and ultimate option in Kaspersky Security line, which is called the Kaspersky Total Security, has a yearly price of $79.95 that brings safety for your PC, Android, Mac and iOS devices. In all these packages, there is the limit of maximum devices.
Security and Performance
Note: Security is definitely a matter of concern for majority of users out there. And, we can listen to the findings of AV-Test for getting an idea about antivirus performance and level of offered security. We are considering the tests done in Windows 10 PCs, dated April 2016. The results may vary as per platform changes.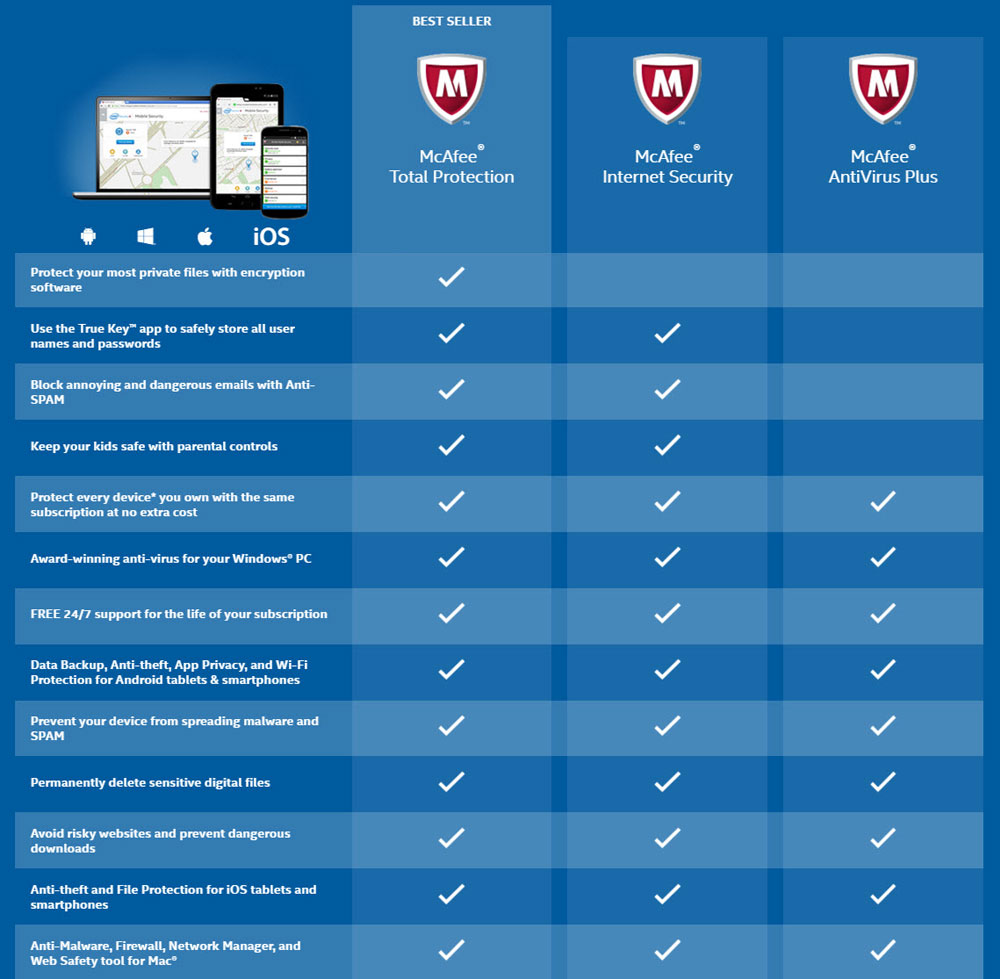 In terms of security, Kaspersky beats Intel Security in an unprecedented way. While Kaspersky has a score of 6.0/6.0, the other one is still sticking onto 3.5/6.0. It means that Intel Security is not able to detect and remove most of the zero-day threats. This is a concern for those who are exposed to malware stuff more often. The situation is pathetic as we come to the case of common threats as well.
The story is no different if we are to consider the performance aspect of Kaspersky and McAfee. While McAfee has 5.0/6.0 for performance score, the same of Kaspersky is 5.5/6.0. If you are concerned about PC lagging and resource consumption level, this small change can be of optimal importance. So, it's natural that you will have your PC at better speed if you use Kaspersky Labs software instead of McAfee.
Support for Other Platforms
It's clear that both Kaspersky and McAfee have support for various devices such as Windows, Mac, Android and iOS. That having said, only Kaspersky is offering the support for iOS devices like iPhone or iPad. Despite the similarity in support, a prominent difference is there. All the plans of Intel Security are multi-device, meaning that you can protect as many PCs or Macs as you like, with a single license subscription. On the other hand, when we come to the case of Kaspersky, you'll have to pay extra for more devices you opt in for.
Features Offered
When it comes to the availability of features, we have a tie between McAfee and Kaspersky. Indeed, there are differences according to the package you choose to go for. That having said, you can see that both McAfee and Kaspersky are offering basic features such as banking protection and password management. Also, it seems that the additional features that you get from Kaspersky are up to the mark, thanks to the heavy research team.
The Bottom Line
We are now here at the end of our Kaspersky vs McAfee comparison. Taking another look at the previously-discussed area of the comparison, it's clear that Kaspersky is the better choice if you need better protection. As you have seen, it holds an impressive score of performance, usability and security — against common and zero-day threats. On the other hand, though it allows unlimited device support, security section of McAfee is not impressive. So, the selection should be based on your requirements only. If you care for affordability and not security, you can go for Intel Security. But, if you ask us, we will highly recommend going for Kaspersky Labs products that ensure better privacy, security and features.