Often, you need to have an extra layer of protection for the various activities you're involved in! Suppose you are in the process of online transactions and purchases; or, alternatively, in the case of some professionals, they may have to handle some seriously confidential data, which if exposed or tampered can cost their lives. For those who do not like to take risk in these matters, the best thing to do is to get an effective antivirus solution. If you have thought of that, you would have heard of McAfee, which has been an industry leader for years. In this article, we are going to have a brief-enough overview of McAfee Antivirus solutions and McAfee coupons.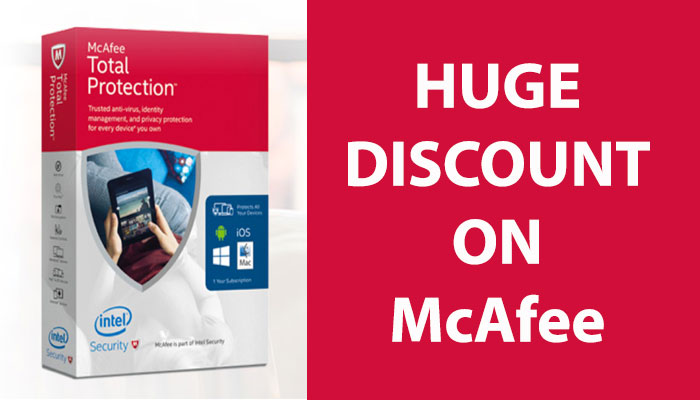 McAfee Coupon Codes
McAfee Discount Coupon Pricing
Now, as you all are concerned, we shall have a look on the pricing plans of McAfee antivirus solutions.
McAfee Antivirus Plus is the basic version of antivirus solution you can get from the developer. Despite the fact that there may be variations in terms of features, the tool is available for different platforms such as Windows, Android & Mac. Yearly plan of McAfee Antivirus Plus costs $59.99, but it has superb features too. You actually get one of those best anti-virus tools you can have for your Windows PC. It can also help you with deletion of dangerous files, and get you safe from the several cyber threats. In the case of Android versions, you get anti-theft and app privacy options as well. What has to be noted is that you have the freedom to find one of the best McAfee coupon codes and use it for saving some money from the wallet.
As we go to the second option namely McAfee Internet Security, the developer has added some extra features apart from the anti-virus protection and all-time support. There's an option named True Key that allows you to store your login credentials and use them safely. In addition, the anti-spam feature has been enhanced in this version. If you're looking for the Windows-specific features, there's the extra Firewall, PC Optimization tools and parental controls, for that matter. This package of McAfee Internet Security is available for a yearly price of $79.99. As we said, there's the presence of McAfee antivirus coupons, which will help you save handsome money while shopping.
Namely McAfee Total Security is available at an incredible rate of $49.99; though the actual price of the product is $89.99. It seems that McAfee has pre-activated some awesome promo codes in the package. As you can guess from the name, this package brings all the capabilities of former products and offers another one too. In this version, you have the option to keep your confidential files ultra-safe, via the virtual security space. If that's some legal document or something that needs to be protected, you can count on this feature of McAfee antivirus suites.

It needs to be noted that all these plans from McAfee are cross-platform compatible. It means that once you buy one antivirus suite, you can use it on different platforms such as Macintosh, Microsoft Windows, Android and iOS. So, it's an awesome deal, we suppose.
McAfee Antivirus — Let's Talk some History and Overview
Although we are using the common name 'McAfee' even now, the company is now officially known as Intel Security Suite, which aims to develop security software for different platforms and devices. Quite notably, McAfee is largest developer of security-oriented software, having started its journey back in 1987. In the journey of 29 years, McAfee has managed to become one of the trusted synonyms of uncompromised security, and now that Intel has made the acquisition, things have become stronger. It was after the acquisition by Intel that McAfee became rich in terms of superb features, such as True Key, which we'd mentioned earlier. In short, regardless whether you use McAfee or Intel Security as the name, you are going to have an awesome level of protection for your PC, Smartphones and Mac.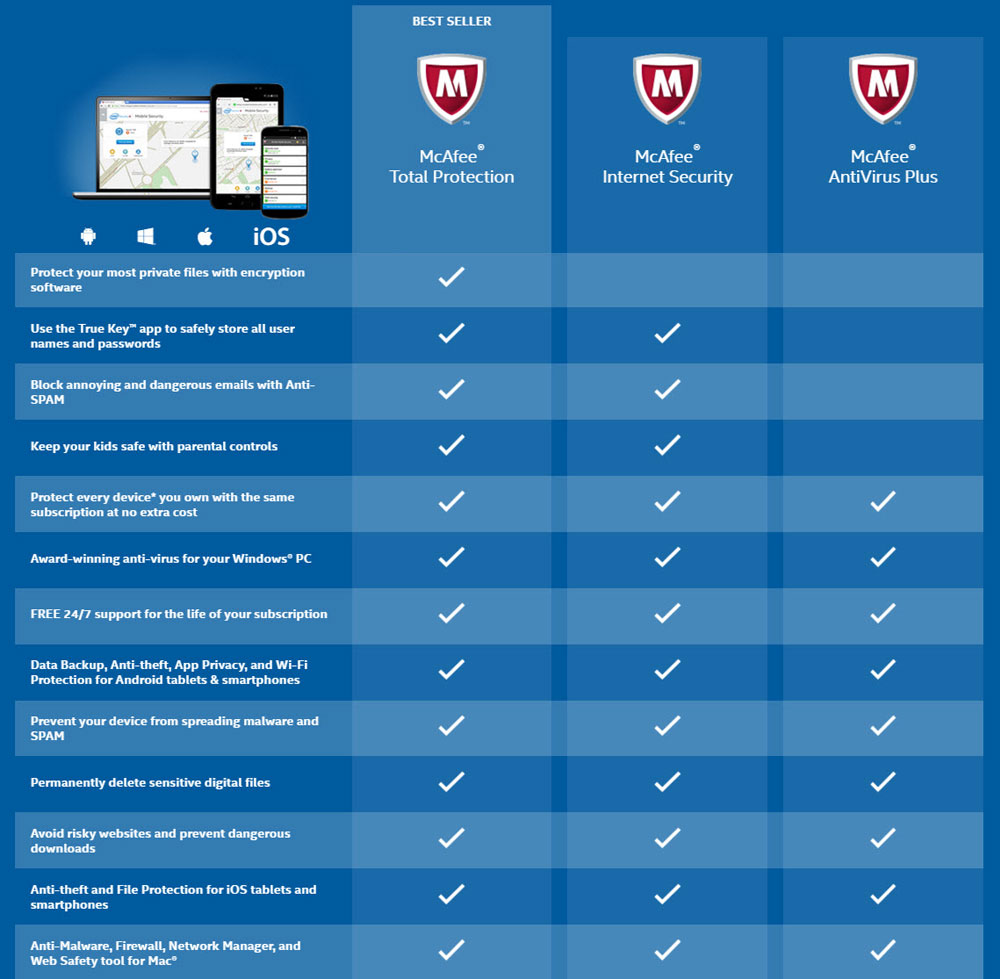 Talking of the products marketed and distributed by Intel Security, there are three packages with three levels of anti-dangerous stuff protection. The first one, McAfee Antivirus Plus, is for the common home users who make use of all the sectors of the PC. On the other hand, if you spend a lot of time on internet and are exposed to threats regularly, it is recommended to use McAfee Internet Security, which is a bit more expensive.  The most expensive option in list is McAfee Total Security, which is for the ultra-security-conscious users out there. You get options such as encrypted storage and all, which is a good thing. However, thanks to the awesome McAfee code you can get, all these plans can become affordable in the end.
It needs to be noted that Intel Security offers some additional options as well. There's a Virus Removal Service, which is a standalone option. They may seem silly but are useful in some situations.
Notable Features of McAfee Antivirus
True Key from Intel Security is a service that lets you log into different services with a single fingerprint or an instant capture of your face. This is useful if you are fed up with entering the credentials again and again. It's included in the Internet Security and Total Security packages from McAfee antivirus.
The McAfee discount coupons allow you to have a noticeable discount while purchasing products from the developer. Regardless the plan you choose, these promo codes can be utilized to save some money.
Scalability is another notable aspect of McAfee antivirus solutions. It means that, depending on requirement of yours, you can choose the appropriate package. For instance, if you need to use the same device for a few enterprise purposes, you can get into the package.
Pros of McAfee Antivirus
Developed by Intel
Good Parental Controls
Total Security is available at a cheap rate
Cross-Platform Availability
Cons of McAfee
The Verdict
Considering these awesome features — such as True Key, the useful discount coupons and the level of scalability, it's clear to say that McAfee Antivirus is one of the best options you can go for. Not only the cheapness, but the features are meant to be everyday-purpose-oriented. At the end of this McAfee review, we cannot resist talking about the awesome deal from McAfee that is bringing the Total Security package at a rate of $49.99. Don't you think it's awesome? Don't forget to check our awesome deals for Bitdefender, Kaspersky coupon and many other on deal page.