We live in a digital world that has more threats than noteworthy stuff. Every single day, we see the rise of at least one threat that will turn things upside down. It's impossible to have an ultimate list of threats, we know. Even when you know about some malware, there's no surety to protect your PC by looking at with your own eyes. Most of today's malware — as any malicious threat is called – are known for their silent operation. If your computer has been compromised in one way or another, you're not going to know about it unless your data and more are out of your hand. That's why we recommend the use of antivirus programs in your PC, as often as you can.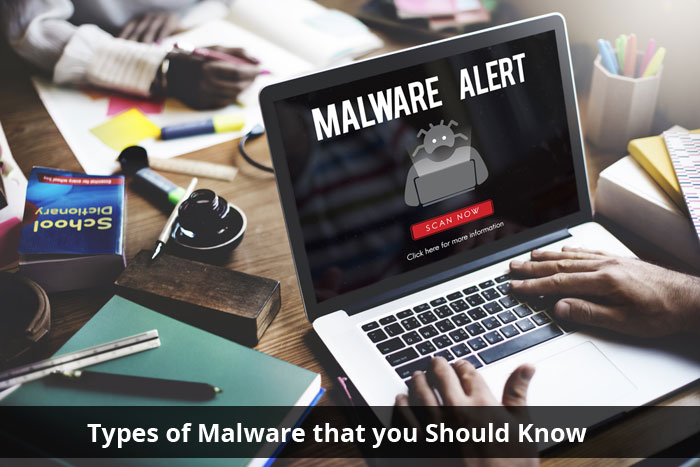 Then, there's another problem: having an antivirus program installed doesn't give you 100% protection. As per the particular malware that your device is infected with, specialized actions may be required in the long run. It's why you need to know about at least the major types of malware. All of these threats are different in one way or another. For example, we can consider the Modus Operandi or its impact on infected devices. In this article, we have created a complete list of the types of malware you should know about. This way, it's possible to understand what kind of threat has infected your system, right?
Before we move onto the cut-right classification of malware attacks and other threats, let's have some intro to the world of malware. Here, we can go through the different types of malware attack, a bit of history and a few major malware-related terms that you should know about. For the sake of newbies, let's clear doubts regarding the concept of malware — which is, as a matter of fact, quite different from the term Virus. Shall we start, then?
Malware – the Term and Concept
Both malware and software happens to have the same word-root, right? The term mal denotes something that's dangerous and harmful. So, malware is a type of program/software that is meant for dangerous needs and related purposes. Sometimes, it's intended for stealing your data; sometimes, for destroying one system or sometimes for spying on device activities. Depending on the prospected purpose, malware can be divided into different categories, which we are going to talk about.
Though digital threats have been active ever since the invention of computers, the term MALWARE was first used in 1990. Since then, cybersecurity databases have been getting rich with more and more threats. It's a stupid idea that only hackers and evil people are behind the creation of these malware. In fact, governments and corporate agencies have been developing and using malware for attacking their enemies. There's also a new term nowadays — cyber-warfare. In short, the world of malware is getting bigger.
It's a common tendency to equate the two terms virus and malware. However, it's a technically incorrect as well as misleading usage. While all viruses are malware, not all malware are viruses. Simply put, virus is just one type of malware. If you think with this thing in your mind, you can understand the futility of an antivirus program, which is supposed to protect you from major viruses only. Let's have that talk sometime else. Now, shall we move onto the types of malware attacks.
Types of Malware Attacks
Depending on how an attack is executed, malware attacks can be divided into different types. Let's have one quick-look into those types, shall we?
Zero-Day Threats: It's one of the most popular kind of malware attacks, which make use of a loophole or vulnerability that's not been disclosed. This vulnerability is almost always hidden until a number of devices are subjected to the attack. Protection from zero-day threats is considered one of the best features in computer security programs — especially when you have something confidential inside.
Exploit Attacks: Exploit attacks are different in the sense that they focus on an existing vulnerability. That is, a common problem might have already been reported by existing users or experts. This issue is skillfully used to have access to the device.
Blended Malware Threats: In the above cases, only one threat is employed. However, when it comes to the case of Blended threats, it's more of a package. There might be different kinds of malware in a package, targeting different areas and different purposes. For instance, one tool will be spying on your data while another one is encrypting files for ransom purposes.
These are the types of execution a hacker may use for a malware. And, it's different from the various types of malware you may come across. Now that you have an idea about these, we'll move onto the actual list of different malware. It needs to be noted that the list may consider some sub-classified malware too. That is, for instance, there might be different malware that belong to an umbrella category of Viruses.
The Different Types of Malware
Now, we will move onto the list of the common types of malware you should know. Keep an idea about the various types and you can follow the right removal/fixing methods if you think you're infected. In some cases, you may have to use different programs for removing the causing malware. For instance, removing almost all kinds of ransomware is a tough ask, and you need dedicated solutions for that. So, along with the type of malware, we'll try to mention the possible methods of threat removal as well.
#1 Virus
Virus is the most common example for computer malware, and they've been in the digital world for no less than a few decades. This oldness explains why almost every type of security issue is considered as a virus for most part. Technically speaking, self-replicating programs is another term that we can use for viruses. They are known for copying themselves in a frequent manner, even when maintaining silence.
Once the virus starts replication, it will also start sharing itself through possible mediums. Depending on the type of coding, internet, removable media or networks may be used. Viruses are further divided into various types, according to the specific purpose. As we said earlier, viruses are bad code and can be used for different purposes, by attaching the bad code or its actions to some particular software installed in infected devices.
#2 System Virus or Boot Infector Virus
Some viruses are meant to affect the system-level settings. Once it has infected a PC, the main area of impact would be the Operating System itself. Throughout the system running process — that is, between Startup & Shut-down —, the Virus will be quite active. Nevertheless, this particular type of virus is now hard to find. It is because most of today's Operating Systems come with in-built OS-level security.
Upon infection, however, removal of System-virus or Boot Infector virus will be a troublesome task, indeed. If you are running an old and unsupported version of Windows, there is a chance of getting in trouble. Even in that case, using an effective antivirus program should be enough for preventing the catastrophes. Putting all these together, System Viruses can be trouble for outdated PCs.
#3 Macro Viruses
Another popular sub-category of viruses, Macro Viruses were commonly targeting devices that'd Microsoft Office installed. For those who don't know, macros are a set of commands that are used inside a particular software — Office suite in this case. This type of virus would work by exploiting that possibility and getting an all-in-one access to the system. Once again, macro threats are also not so powerful in these days. If we take the case of Microsoft Office, it's coming with in-built options for prevention of macro viruses. Still, older versions can be a problem.
Dealing with Viruses: When compared to other malware, viruses are now rarely found. You can still count it as an option if someone wants to overload your system through resource overuse. An effective antivirus is quite powerful to prevent the impact of viruses.
#4 Trojan Horse
According to the current world of digital security, Trojan Horse is considered one of the most common and dangerous malware out there. If you have read about the War of Troy, you'd know about the reason behind the name Trojan Horse. It gets into the targeted device, disguised as a useful software. However, inside, you will find some seriously dangerous code.
Data stealth is the major reason why Trojan horses are now used. As we said, the working method is totally silent and the disguise of useful software helps this a lot. Depending on the hacker and the type of Trojan, the impact can differ. For instance, some Trojans create and activate certain key-loggers while others are to create certain backdoors for unauthorized system access.
Out of these, unauthorized system access is the best option for the attacker. After infecting the system with a Trojan horse, the hacker can set up a method for remotely controlling the targeted system and also to get sensitive information from the device. In the worst cases, Trojan horses are used as a disguise for setting up a ransomware attack.
Dealing with Trojans: Trojans, as we said, are made for different purposes, and the creation is often done by government organizations as well. Removal of Trojan horse can be done using dedicated anti-malware tools and even complete security suites.
#5 Worms
Worms are another kind of malware that have an intent of data destruction. Once a worm infects a system, the data can be corrupted, deleted and made inaccessible. The basic working principle of worm is also based on replication, but the copying process isn't dependent on specific files. If your computer is truly infected by a worm, your entire hard disk data can be at stake.
The commonest method of spreading worms is through computer networks, especially if connected devices have some flaws in the OS level. It needs to be noted that not all worms have data destruction capabilities. Some of them are meant to spread only, causing the rise in network activities and thus making some mess. If your system is up-to-date and have a secure network, there's nothing much to worry.
#6 Ransomware
Ransomware became quite popular in the recent times, especially after the catastrophe caused by the world-wide WannaCry attack. Simply put, a ransomware is a particular type of malware that encrypts your system and demands a ransom for accessing the files/system again. The money is accepted via Bitcoins and there's not many ways to track the hacker or to receive the system back.
Although there are some ransomware removal tools, none of them are 100% effective. That is, there will be no surety of accessing your data again once your system has been infected or encrypted. So, the best solution is to keep some precaution. It's highly recommended to have a security suite that comes with dedicated anti-ransomware protection module. Last but not least, the hacker isn't going to give you access even if you have paid the ransom — unless you'd come across a wholehearted hacker.
#7 Spyware
The term Spyware is self-explanatory, in many sense. It's a malware that is made to spy on infected systems and user-activities. Ultimate stealth is the common characteristic of this type of threat, and the whole set of operations will be silent. Except for the hype in network traffic, it's almost impossible to recognize presence of a spyware. Needless to say, you need to be worried about this malware, because not only your data but also your privacy can be at stake.
#8 Adware
Adware is definitely more than an annoying kind of malware. The primary objective of this threat is displaying ads in different parts of your system. Depending on the OS and the extent of the adware, you can see a lot of ads in your web browser, file browser etc. You can also find a lot of pop-ups once in a while. However, in the background, adware will be risking your privacy as well.
The way adware gets into your computer is important here. Adware are always combined with some tools that seems useful. The fact is, you might even allow the tool to install something that will later be turned to an adware. Out of the many types of malware you have seen, adware and ransomware are the most useful ones, as far as hackers are concerned.
Ransomware gives them direct money in terms of demanded ransom while adware gives them somewhat an indirect revenue via advertisements. We believe that you understand the possible privacy issues.
#9 Keyloggers
Keyloggers is another type of malware that is used for data theft and identity theft. Once installed in a PC, the keylogger will monitor all the keyboard-based activities in the computer. In the older days, hardware-based keyloggers were also used, but now, most of the found ones are software-based ones. At the same time, keyloggers are harmful for your privacy and money. It's because keyloggers are mostly used to steal your account details and passwords in an effective way. Needless to say, it all works stealthily.
There is no way to recognize keyloggers with your naked eye. You need dedicated tools to tell the presence of a keylogger utility. If you are using an anti-malware tool like Malwarebytes, however, there won't be much trouble to recognize the activity of keylogger malware.
#10 Rootkits
Last but not least, Rootkits are a quite dangerous type of malware you'd find nowadays. The major purpose of a rootkit attack is remote access of the infected device. A single rootkit would include many utilities and tools inside, which is a good thing for the hacker. Depending on the need, many actions can be carried out in the system. For instance, rootkits can be used for using internet traffic, file execution and even the installation of other malware in the system. Ultimate stealth is a common nature of rootkits, and that's why you need a proper security scanning utility to detect rootkits.
Wrapping Up
The eight types of malware you have seen above are quite common in the digital world. Quite often, you'd be able to see these attacks in terms of news. In the recent times, we have been seeing a lot of impact from ransomware and spyware tools. You know, we are living in a world where privacy and data are considered the best valued commodity. The sole reason we've given this much information about malware is for your own education. You can also decide what kind of protection you need at this point. For instance, if you are someone who spends a lot of time, you should have a dedicated anti-malware suite and security package. It is recommended to have one fully-fledged antivirus security suite and a dedicated utility for removing hard-to-deal-with malware. By the way, do you know anything interesting about the malwares that we've talked about here? Do let us know through your comments.