In some past articles, we had shared some introductory information about several malware types. Today as well, we have some other things to share about. In the past years, you may have heard of something called Rootkits. It's a widely-seen malware that infects different platforms.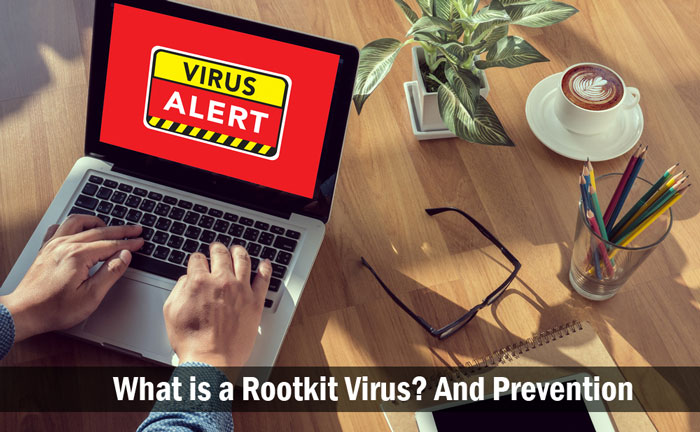 In this article, we will share some useful information about Rootkit malware and some effective way to prevent it from attacking your devices. Also, if you think your system is already infected with a Rootkit, you can follow our guide to remove it properly. It should all start with a brief introduction to Rootkits. So, shall we move onto the major parts?
What is Rootkit?
As we said, Rootkit is a particular type of malware. It's different from other types of malware such as viruses, spyware, ransomware, adware, etc. Rootkit attacks are basically about gaining access to a device. This device can either be a normal computer or a big-enough server. In either way, the attacker tries to gain root access to the targeted devices, through different methods. For those who don't know, root access is more or less a complete access to a particular device. Several system-level changes can be performed using this access. You would be familiar with this name if you have used Linux, or Android for that matter. That is, when you root an Android device, you're getting root access to the device and its file system.
Also Read:
In the case of rootkit attacks, however, the primary focus is on fully-fledged systems, running on Windows / Linux. As you can guess, rootkits can cause a lot of problems to your PC and your digital life. The important one is that the rootkit attack can be used as a disguise for other attacks. For instance, suppose the hacker is looking forward to steal your information from a web browser. Similarly, because there is root access for the hacker, he/she can easily encrypt your data and ask for ransom. In other words, if your system is infected by a rootkit attack, you're in one of the most dangerous situations ever.
Now, we will move onto the other noticeable aspects of a rootkit attack, including the symptoms and ways to overcome the attack.
About Rootkits – How They Work
Technically speaking, a Rootkit attack consists of several elements. It's because the attack is carried out in a systematic way. Obviously, it's not really easy to gain root access of any system. For instance, if we take the case of Microsoft Windows, there are some restrictions for allowing administrative access. You'd have seen a bunch of notification when a program is trying to make certain changes to your PC.
As the first step, the hacker will look for the several vulnerabilities that may be present in your PC. This can be so common if you don't update your software and OS regularly. Now that there are vulnerabilities, it is a relatively easy task to install an agent. Primarily, a non-root-access program is installed. However, in the big course of time, the program can grant itself — or another program — the full administrative access.
If we look inside a rootkit, you can find a wide variety of programs. Most importantly, there will be a program for backdoor creation. Using this backdoor, the hacker can remotely control and make changes to your PC, along with other tasks like data stealing and all. Other tools like spyware, keystroke logger and utilities for sniffing traffic. In other words, a rootkit has enough capability to destroy your digital life.
We hope you've a clear idea about the modus operandi of a rootkit attack. We will now move onto the ways you can follow for detecting and removing rootkits from your system.
Detecting Rootkit Attacks
Just like any other form of malware, Rootkits also work silently. Unless your data and system has been lost, you would not know about even the existence of rootkits. So, by looking with the naked eye, you cannot say if your computer is affected by a rootkit. It, on the other hand, requires a bit more attention and probably a hand of help from a scanning program. Of course, each method has its own advantages and disadvantages.
For instance, if we take the case of Rootkit Detectors, the job is pretty easy. You have to install or run that rootkit detector and it will notify you if there is a rootkit malware present in your system. It does so by proper analysis of the commonly-infected areas and all. The programs may also look and confirm if your computer is vulnerable to attacks in any way. Obviously, this is a sure-shot way to confirm the presence of rootkit.
Another method is to look out for the common symptoms of rootkit infection. As we had mentioned earlier, rootkits are used for various tasks such as traffic sniffing, data stealth, remote access etc. So, naturally, you can spot symptoms such as unnecessary internet traffic, heavy consumption of system resources and some mess-ups with files and folders. It's a good-enough reason to doubt the presence.
Well, what happens if you find that there's a rootkit on your system? Don't worry; we have a way-out.
How to Remove Rootkits from an Infected PC?
This is a simple question that has multiple answers, depending on the different factors.
As you can guess, the easiest and most effective method is to install one of the best antivirus programs out there. Those who are still doubtful should note that rootkits mostly focus Windows PCs, due to obvious set of reasons, including the extreme popularity. If you ask us, we'd recommend going for any of the popular as well as trustworthy antivirus security solutions — for example, Kaspersky or Bitdefender. Most of them come with an in-built rootkit remover. The best part is that the best antivirus apps can even notify you before the rootkit makes its progress. That's something commendable, we believe.
Another prominent option is to try some dedicated rootkit removal tools. However, we recommend using a too like Malwarebytes Anti-Malware, which is a popular solution for malware infections. And, as far as that tool is concerned, rootkit removal is something of prominent focus. So, if you think your system is infected, you can go towards Malwarebytes and it won't be a wrong choice. Still, you are not going to have the superb benefits of on-time notifications and other security boosts. So, if you ask us, it's always the first option that we recommend.
Last but not least, there's a manual method to remove rootkits and related files from an infected PC. To do it, however, you need one thing — a proper guide or proper knowledge about the genuine Windows process and architecture. If that's the case, you can explore the various areas where the different elements of rootkit may be present. Then, one by one, they need to be removed. As you can guess, you need a hell lot of time to do this, which isn't convenient for most users. So, the choice is antivirus for sure.
The Bottom Line
We hope you now have a clear idea about rootkits and how the work. Pretty much like the other malware, it cannot be found by naked eye. So, for prevention and removal purposes, the most recommend method is to use a fully-fledged antivirus security suite. Another common prevention method is to install the latest and most stable version of your OS. The same concern should be in the case of software as well. With these tips, you can surely keep your PC free from rootkit malware.