There are many digital threats we should be beware of! There's viruses that spread themselves, spyware that do spy on us, ransomware that demands money after locking up our data and there's adware that bring annoying ads. Apart from all these, there are rootkits — which play an important role in allowing other malicious stuff to infect your PC.
It is a fact that rootkits aren't considered that dangerous by common people. Nevertheless, if we take a deeper look in to it, we understand the reality is opposite. So, when your PC is infected by a rootkit, you should try your best to get rid of it, as earlier as possible.
About Rootkits
On its own, a rootkit may not be a digital threat. That said, as we come to the practical scenario, modus operandi of rootkits is pretty dangerous. Simply speaking, rootkits allow other malicious programs to infect your PC without your consent. Suppose there's a spyware that wants to infect your computer. Rootkits can help the spyware to mask itself as a useful program or utility.
Extra Reading:
In most of the cases, keyloggers and password-stealing programs use rootkits for concealing their entry and action. That way, until the data has been stolen, the user won't know about the infection. What is to be noted here is the fact that most rootkits are undetectable by the so-called antivirus suites. Most of the antivirus programs are made to believe that rootkits are good software.
There's a Rootkit — Now, What?
We hope that you have understood the working of rootkits and their issues. So, it becomes essential to get rid of the different rootkits to ensure optimal security. There are manual methods to remove malware but there's an easy way too. It's to use Bitdefender Rootkit Removal Tool, which is a free solution from Bitdefender Labs. Now, we will have a glance on the tool and the way to use it.
Bitdefender Rootkit Remover — an Overview
We already have seen reviews of Bitdefender products including discount coupons for Bitdefender. It's a completely free removal tool you can get from Bitdefender Labs! With this tool at your disposal, it's possible to remove different types of rootkits from your device. When compared to other tools, the working is pretty simple and does not require any previous experience. Obviously, this is not a replacement for the complete antivirus suite you are used to. On the other hand, if you think the status quo antivirus cannot protect you from rootkits; it is to be used — quite effectively. As of now, this rootkit removal will be able to help you get rid of the following kinds of rootkits.
Mebroot, TDL Families, Plite, XPaj, Whistler, Guntior, MBR Locker, Mebratix, Stoned, Yoddos, Zegost, Necurs and Ponreb
The list isn't a complete one of removable rootkits. As you know, there are new rootkits added to the inventory each day. And, Bitdefender Labs makes sure that all these rootkits are removable using this dedicated tool. Both 32bit and 64bit versions of Bitdefender Removal Tool are available in the official website.
Check: Bitdefender Free Anti-Ransomware Tool Review 
Installation
In simple words, Bitdefender Rootkit Removal Tool is a portable solution and it does not require an installation. That is, once you have downloaded the .EXE file, you can open it to launch the tool. You can download the setup file from the official site of Bitdefender Labs, Here.
Of course, this mode has advantages. For instance, if you want to fix your friend's system, you can get this setup file in the pen drive and open it there. But you have to make sure of the fact that you have a version that works fine with system architecture — x86 or x64.
How to use Bitdefender Rootkit Remover?
As we said, you can launch the removal tool by double-clicking on the setup file. Upon opening, you can see an ultra-simple interface.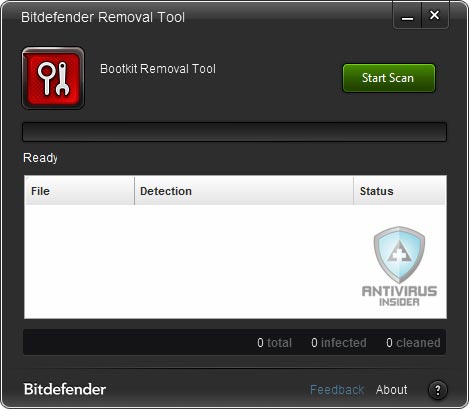 Here, to start the scanning process, you can click on 'Start Scan' button. Instantly, the tool will start analyzing the PC for available rootkits.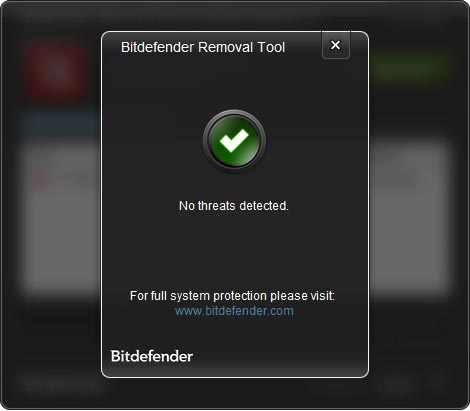 Once the scanning is complete, you can see a window that lists out the rootkits found in your computer. In case if it's no rootkits, you can see a 'Secure' pop up. In our case, there was not any kind of rootkit in our device. However, if it does detect a rootkit in your case, you will have an option to remove it instantly.
The best part of Bitdefender Rootkit Removal tool is that it does not require a Safe Mode reboot. That is, even in the normal PC condition, you can run the test for finding available rootkits. Doesn't that sound simple enough? And, it is to be noted that the tool won't work in Safe Mode — because some permissions aren't available in Safe Mode.
By the way, in case if you are still doubted, Bitdefender Rootkit Removal Tool does not find viruses. It's about rootkit infections only.
The Final Verdict
In short, this rootkit removal tool from Bitdefender is an effective way to get rid of different rootkit infections. In one single scan, you can find if your system is infected. If yes, the tool also allows you to remove them. In addition, since it is a portable security utility, you can use it anywhere — with no limits whatsoever. Talking of performance, Rootkit Remover is quite effective than the comprehensive security suites around. So, you can go with it, confidently.