Back in 2009, Microsoft had launched a completely free antivirus software to protect Windows PC from malware and other threats. It was noted for the simple User Interface, minimized resource consumption and most prominently, its tight integration with Windows OS environment.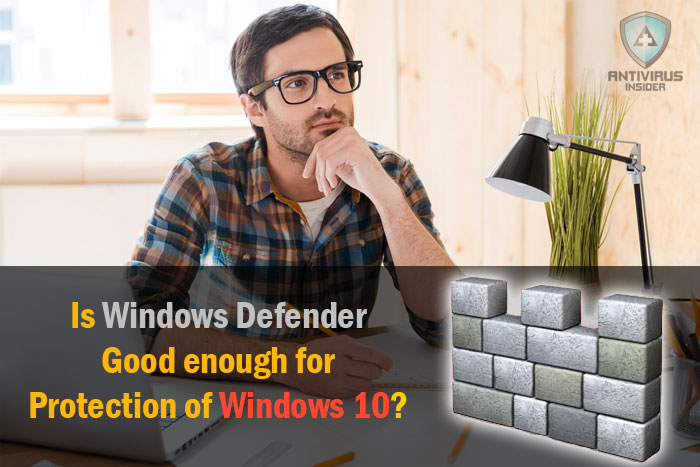 Starting with Windows 8, Microsoft Security Essentials became the default antivirus tool for all Windows PC — and it was renamed as Windows Defender. Now an official component of Microsoft Windows OS, it is packed with several features and is associated with protection sector of the OS. Despite all these, there exists a big doubt — is Windows Defender good enough to protect your Windows 8 or 10 PC?
In this article, we will talk about the different aspects of Windows Defender. We will have a look into its advantages, limitations and reach a final decision at last.
About Windows Defender
As we said, Windows Defender is a comprehensive antivirus solution that is available for Windows devices. If your PC is running Windows 8 or 10, it will be pre-loaded with the OS. That is, right after you start using Windows, Windows Defender will start protecting your device from different threats such as malware, viruses, spyware etc. All these features have been brought into an easy-to-use GUI, which is quite a lot better than other antivirus suites. The required updates — database updates, for instance — are done along with Windows Update. Obviously, offering fine features such as realtime protection, Windows Defender is rather a competitor to big brothers in antivirus industry. By the way, Microsoft has kept things quite transparent here. If you decide not to use Windows Defender and go for a third-party antivirus suite, Windows Defender will be turned off instantly. And, didn't we say that it's free? 😉
Read:
It needs to be noted that Windows Defender has both advantages and disadvantages. We will have a look on both, in order to make a decision.
Advantages of Windows Defender
Native to Windows OS: The most-noted advantage of Windows Defender is that it's an integral part of Windows OS. What happens with the third-party antivirus suites is that they lack access to some sections. However, in Windows Defender, the tool has the complete access to every area of your Windows PC. Scanning and real-time protection are too quick when compared to other security suites; not only that, you get support from Microsoft.
Completely Free: We said that Windows Defender is completely free to use. The scenario is not at all like the so-called antivirus suites you have seen. On the other hand, you won't have to face any of such irritating banners or advertisements. In short, it is possible to have a smooth-enough, non-exploiting antivirus experience in your Windows 10 PC. Sometimes people prefer to use free Windows Defender over paid antivirus solutions because of their limited computer use.
Extremely Simple UI: Furthermore, there are miscellaneous advantages of Windows Defender. For instance, we can take the case of its UI. It's too simple to use — actually, the simplest. Similarly, updates are taken care of by Windows Update itself; so, you don't have to worry about having outdated virus definitions. And, we hope we said that Windows Defender offers a lot of standard options such as real-time scanning and all.
Limitations of Windows Defender
In the first look, there may not be many limitations in Windows Defender. However, if you get a deeper look into the different aspects such as protection level, you will see some for sure. Now, we will see why some people believe that Windows Defender is not good enough for your Windows PC protection.
What Anti-Virus Tests Say?
AV-Test is perhaps the most standard when it comes judging the effectiveness of each antivirus suite. The collective is testing different antivirus suites with various devices and platforms. In most of the tests, Windows Defender is the one to have the lowest scores. According to the many tests of Windows Defender, the average score is 3.5 out of 6. It was able to detect and fight against 95% of zero-day virus threats found everywhere. In short, technically speaking, Windows Defender is way too ineffective when it comes to ensuring up-to-date protection.
P.S. Microsoft hasn't accepted this argument, but maintains that Windows Defender can give best protection for PC.
Talking of other limitations, there are many. For instance, in most of other antivirus suites, you can have features like social media protection, file encryption, parental controls etc. None of such features are seen in Windows Defender. Not only that, you lack options for specific file scanning or sand-boxing. In simpler words, Windows Defender isn't the scene for those who love more protection-oriented features. Check our tutorials to completely uninstall or remove Windows Defender from your computer.
Is Windows Defender Good Enough?
Now that we have seen both the advantages and disadvantages of Windows Defender, we can decide! It's a fact that Windows Defender is the less intrusive and totally crap-free antivirus suite you'd get. As if that wasn't enough, it has been accompanied by the perks of being a native solution. In short, you have perks in terms of performance, tighter integration of features etc.
These factors do not mean that Windows Defender isn't the perfect. The antivirus suite lags really behind when we consider the case of protection. Several antivirus tests have proven the same. This lack of protection intensity is a big issue if you are an active user. For instance, suppose you spend a lot of time on web and download a lot of torrent — that too from not-so-trusted sources. In that case, it's a bad decision to rely upon Windows Defender. Also, the lack of productive features is also a big deal for some users.
When we talk about an antivirus suite, we just don't mean some basic features. So, we will have to say that Windows Defender is not enough for comprehensive protection of your Windows PC.
Windows Defender Isn't Enough — Then, What?
So, given that you don't wish to continue with Windows Defender, you have one option to use a third-party security suite. However, you should pick the most effective and appropriate antivirus suite from the huge list. If you need to have superb features with minimum resource consumption, you can go for Bitdefender antivirus. On the other hand, if you don't mind spending some resources of state-of-the-art protection, Kaspersky Antivirus has a wider range of products. Also, there is Norton antivirus, which offers multi-device compatibility and productive features as well. It's really up to you to choose an antivirus suite; and, we are talking about premium antivirus, and not the so-called free ones there.
Read:
There is something else to be noted. A single antivirus suite isn't enough for the comprehensive protection of the PC. Apart from viruses, rootkits etc, there are other threats such as exploits and malware. To tackle them in safest way, it is necessary to use a dedicated anti-exploit and anti-malware tool. For instance, you can go for Malwarebytes Anti-Malware products. Malwarebytes also offers a dedicated anti-exploit program for better security results.
The Final Words on Windows Defender
So, we have seen the different aspects of Windows Defender, such as advantages, effectiveness etc. According to the antivirus tests and user-experiences, we can say that Windows Defender isn't that enough for protection of your Windows 8 or 10 PC. Even when you use additional programs with it, the overall protection isn't that commendable. So, for those who seek a better level of protection, it is necessary to go for a premium antivirus suite, which may cost handsome money. Still, you've promotions to use, for better discounts and all. As we mentioned earlier, Windows Defender will be turned off once you have successfully installed a third-party security suite. We repeat, it's up to you to decide — to stay with a half-boiled antivirus suite or to get a better one.