One of the major reasons why Microsoft Windows was criticized by advanced users earlier is the fact that the OS did come with no sort of advanced security measure! Even as Apple was trying to make its Mac OS as secure as possible, Microsoft stood still. Nevertheless, it is probably due to this fact that the tech giant introduced its Microsoft Security Essentials, which was a totally free antivirus solution that could be installed in Windows PCs, if they prefer it to other paid antivirus security suites out there. Following the impressive acceptance it received, Microsoft implemented the security tool in Windows 10 — namely, Windows Defender. So, when you purchase a Windows 10 PC, it comes with an in-built antivirus suite, which is a good thing from the first look.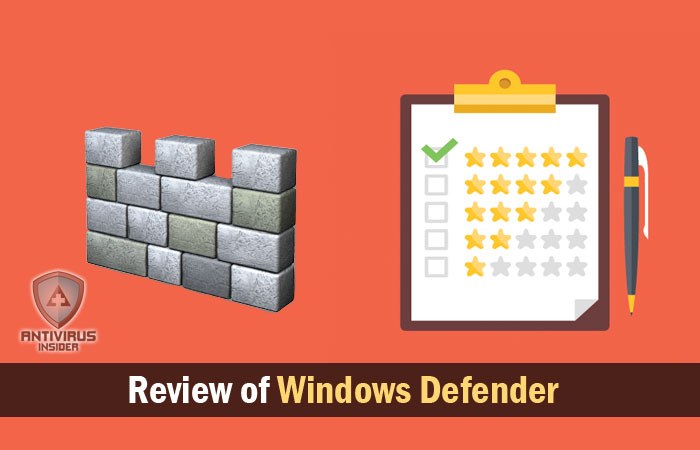 That having said, some people are confused about whether they should just go on with Windows Defender or get an effective paid antivirus with more features. Check our article on whether or not Windows Defender sufficient for your computer. In this review of Windows Defender, we have taken different aspects of this in-built security suite to the account so that you can choose well in the end.
About Windows Defender
Technically speaking, Windows Defender is a security product that has been developed to detect and remove all the kinds of malicious stuff a PC comes across. Earlier known as Microsoft Security Essentials, it was later integrated to Windows 10, as an integrated program. As of now, Windows Defender is available for Windows 7, 8, 8.1, 10 and the Windows Server 2016. Its availability also covers Windows XP and Windows Server 2013. It means that you can get it for almost all the Windows-powered devices out there. As we said, Windows 10 contains it by default, with all those proclaimed features and continuous upgrades from Microsoft. Talking of the current situation, Windows Defender is having a bunch of noteworthy security-oriented features that make sense for the common user.
But, our question is — whether the tool is worthy for the advanced user? To answer that, we shall discuss its various aspects in the coming sectors.
Antivirus Protection
This is perhaps the most important section in this Windows Defender review, because people are really concerned of the protection they get from malware. As of now, since we cannot test all those antivirus suites, we shall have to rely on the cross-antivirus protection tests done by expert communities and security researches. According to those tests on Windows Defender, however, the antivirus has a really poor situation when it comes to antivirus protection. The scores are very low and pathetic, from the advanced user's point of view.
If we take the case of AV-TEST results — which is the standard when it comes to antivirus protection scores —, it has given 3.5/6.0 for Windows Defender, which is really poor. Even while other antivirus suites, such as Bitdefender, are able to find around 100% the commonly-found threats, Windows Defender misses some, bringing its score to rather around 99%. For the common user, once again, this isn't a big deal. However, when you are handling with some best kept secrets and confidential stuff with you, you cannot really depend upon the antivirus protection capabilities that are available for Windows Defender.
Summing up, we can say that the antivirus protection of Windows Defender is just decent — nothing more, nothing less! For the advanced guys, this isn't the safe scene.
Installation & Integration
As we said earlier, there is no process of installation if you are running Windows 10, there is no installation required for running Windows Defender, although the previous version may need you to. Even when you're required to do its installation, it's going to be a piece of cake. You can finish the installation in around a few seconds or minutes. So, we will give it a five-star for the easiness of installation.
Again, if we take its case of integration, there's high-five for Windows Defender. Being a security product that's built by Microsoft, it can work well with Microsoft Windows environment, in an impressive manner. Once installed, it gets into the veins of your OS, thus ensuring protection on all the sides of it. Until the point you install a third-party suite for security, Windows Defender stays as the well-integrated security protector for your Windows PC. Regardless PC is Windows 10 or older; the power of integration is there.
Read: How to Completely Remove and Disable Windows Defender?
If we are to give a score here, that's 5.0/5.0 for Windows Defender.
Availability of Features
As an advanced PC user, you need additional features to have streamlined security — for offline and online worlds of yours. So, it is necessary to analyze the features that are offered by Windows Defender, to see whether it does well the job of extra protection. To see that, we need to compare the feature-list with a standard antivirus that is trusted, and we choose Bitdefender.
Even while the third-party antivirus comes with stunning features such as URL screening, email protection, website account manager, security-dedicated browser, password manager and different modes of support, we can't find any of them in Windows Defender. You are just left with the standard scan scheduling and real-time protection, as it has been offered by the antivirus. By some tweak you can block Adware using Windows Defender. Also, while the third-party antivirus solutions are offering security plugins for the other browsers such as Chrome and Firefox, Windows Defender wants you to stick on to Microsoft Edge if you needed bit of extra protection from web-based threats out there. And, to be noted, even that protection is not actually included in Defender, but actually is outsourced from Edge's SmartScreen filter.
Read: Use Windows Defender Effectively on Windows 10
In simpler words, the features of Windows Defender are not at all enough for the advanced user. In this scenario of internet threats and all, we cannot just move with the Real-time scanning and cloud-based scanning — never will we be able to do that.
User Interface & Usability of Windows Defender
We've already told you that Windows Defender does not have many options to offer as an antivirus suite, in spite of its scanning and scheduled scanning. Also, the developers of Defender know the design philosophies well.
It may be so that Windows Defender has an impressively simple and effective user interface. You are not left with buttons or sections, despite for the simple shortcuts. So, for the common users of Windows 10 or older versions, Defender will be the most simple and effective antivirus with an awesome interface to rely upon.
Bottom Line on Windows Defender
Here comes our final verdict to conclude this review of Windows Defender. Windows Defender is a secured-enough antivirus suite when you are a common user, exploring the favourite web pages, playing some tracks or making some Word documents. However, when it is taken to the professional situations, the lack of powerful malware protection algorithms and additional features is seriously an issue. The simple user interface and powerful integration are never a replacement for these bottlenecks. We repeat, it's not good for the advanced professionals out there. Otherwise, it may go in a satisfactory manner.