The Virus, Malware, and Spyware are the biggest enemies of your important data on PC. When you are using your PC to store sensitive data, then you need strong security software program installed. The Antivirus Software programs are really important to make your PC safe from external threats. If you are using a Windows PC, then you can use Windows Defender as a security software. The Windows Defender is an inbuilt antimalware and antispyware software. It is a free security software program provided by Microsoft. But, is it good enough to keep your sensitive data safe or you need any paid antivirus? To solve this question, we are doing a detailed breakdown of the features of Windows Defender vs Paid Antivirus software programs.
Read: Is Windows Defender Sufficient for Your Computer?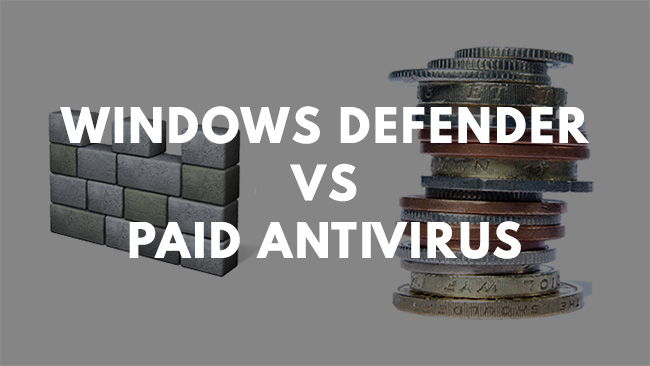 Windows Defender VS Paid Antivirus – Which one is a Good Choice?
Windows Defender
The Windows Defender is a free security solution from Microsoft. If you have Windows 7, 8 or 10 Installed, you will be able to use it. The Windows Defender is really good antimalware and antispyware software solution which is able to protect your PC from External threats. Here are the features of Windows Defender, which made it good software program to protect your PC.
Works in Background
The Windows Defender scans all documents, images, videos, downloaded files and external storage devices in the background. As it is working in the background, it runs easily without eating too much system resources. The silent background scanning of this security software will not disturb you while working.
Frequent Updates
The surprising thing about Windows Defender is it gets frequent updates from Microsoft. These Frequent updates are really important because they provide protection from newly known external threats, which can affect your PC.
Paid Antivirus Software Programs
Top notch protection
Paid Antivirus software programs are really worth to buy. They offer you a top notch security of your important data. If you are a business owner and need to keep your data safe, then any of the available Paid antivirus software solutions will be good for you.
All-in-one protection
Almost every paid antivirus software program offers you a complete protection from threats. Be it Virus, Malware, Spyware, Keylogger, Phishers and any other threat, paid antivirus software programs will cover every threat.
Verdict
Having Antivirus software installed in your PC is very important. Without any antivirus software, your precious data stored in PC becomes vulnerable to external threats. The Windows Defender is a really good software program to protect your PC from external threats, but it is not sufficient to protect your PC. The Windows Defender is a good program if you don't use your PC much.
The free Windows Defender provides limited security from Malware and Spyware. So, it is not sufficient to protect your PC from other threats. So, it is good to install any paid antivirus software program to get A to Z protection against virus, malware, spyware and other known threats. If you use Windows Defender along with any other paid antivirus software program, then your PC will be more secure than ever.