When you need an antivirus tool, you actually have a number of options to choose from! That having said, you ought to choose the best one depending on your requirement and the main purposes that you use your system for. Avast — an antivirus tool that is available for multiple platforms —, however, is one of the names you will have frequently come across when talking about trusted antivirus solutions. In this article, we shall have an overview of Avast antivirus solutions and Avast coupon for you. Shall we start it?
Avast Coupon Codes
Avast Discount Coupon Pricing
We do understand that you all are price-conscious when it comes to purchasing software, even when it's an essential protection suite for the computer. Now, as the first part of this Avast review, we shall have a look on the pricing part of several solutions available from Avast.
Pricing plans of Avast have been arranged in the simplest-possible manner. It is up to you to decide whether you like to stay to the free pricing plan or go to the premium range of solutions. Either way, Avast will have your PC covered.
Avast Free: First, here comes the free antivirus from Avast! It's loved by users for the simplicity and power of protection. Once it is installed, you can have protection from viruses, malware, etc along with network protection stuff. It also offers a password manager and a browser reclaim feature. While the first one helps you to use single password for logging into several websites, the second feature lets you remove unwanted extensions from a web browser you use. In many cases basic computer users can keep their system safe with just free antivirus.
Avast Pro Antivirus: In case if you wanted to have premium protection in the same area, you should try Avast Pro Antivirus — it's available for a rate of $39.99, if you purchase it for one year. That having said, if you can get an effective and worth-using Avast discount coupon, you can get the price down to $34.99. In the pro package, you get a lot of options such as Sandbox testing, SecureDNS, SafeZone and in-product support from Avast. Read Avast free vs paid.

Avast Internet Security: For those active internet users, Avast antivirus has a package namely Avast Internet Security, which you will get at an extra rate. Making the amount reasonable, several features have been stacked. For instance, it can let you find phishing websites, extra protection in eCommerce websites and some anti-spam options. Along with these, you can have protection from anyone who is trying to steal your privacy. With the use of Avast coupon codes you can get the Internet security package at a yearly rate of $39.99.
Avast Premier: If you don't want to leave a single trace of loophole to your data and system, you should better get the most effective plan of Avast antivirus. The Premier package is available at a yearly rate of $69.99, and it offers lots more than cyber protection and virus protections. You get the best chance to beat hackers around and there is a feature for deleting files with no possibility of recovering them. If you think the price is higher, you must have a look on the top Avast promo codes out there (Can get lower to $49.99 ), upon which you may change your mind.

So, this is how the pricing plan of Avast antivirus works! We think it's pretty much simple to use.
Avast — Overview & History
Founded 28 years ago, Avast is a security software company that is headquartered in Prague, Czech Republic. Earlier known as ALWIL software, this company serves worldwide with several software regarding security. Its solutions are available for different platforms such as Microsoft Windows, Android, Macintosh, etc. Talking of the different plans it offers, three different antivirus suites are available from Avast, as we had told you in the pricing sector.
The Pro Antivirus is for those who are not satisfied with the satisfactorily-well Avast free antivirus. If you think you'd need sandboxing and in-product support, you can have the premium antivirus from Avast, which is worth the deal.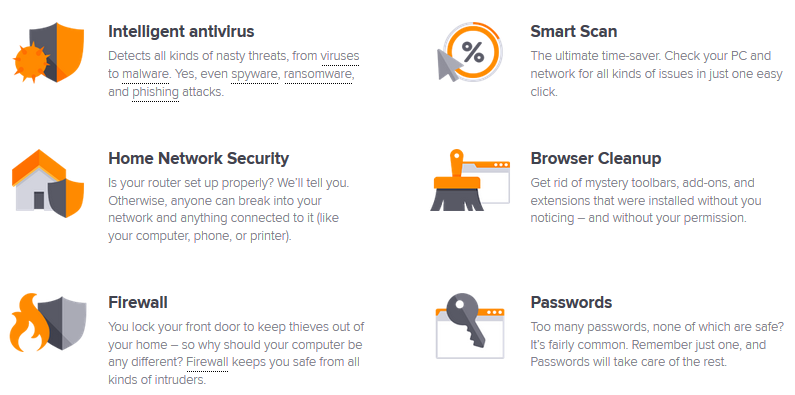 Internet security suite of Avast antivirus is for those who spend a lot of time online. By installing the tool, a user will be able to get protection from many cyber threats such as information stealing, eavesdropping, anti-spam and anti-phishing protection.
The third plan of Avast antivirus — Premier — is for those who need advanced functions than a typical antivirus! You get options such as data shredding and advanced protection from hackers out there. This is the most expensive plan from Avast.
Top Features of Avast Antivirus
Regardless the plan you choose, there are some features you can find in the antivirus suites from Avast. Now, in our Avast review, we shall have a look on the notable features of Avast.
Intelligent Antivirus & Smart Scan
These features will help you get best protection. Intelligent Antivirus protects your PC from different threats such as malware, viruses, spyware and some ransomware options. On the other hand, Smart Scan is meant to help you find main issues in your PC and network. Also, thanks to the Home Security option, you can secure your router — if you'd not done that earlier.
This feature helps you find the loopholes that exist in your web browsers. There may be some extensions that try to steal your data or get the things messy. In one click, Avast will find out the problems and fix them.
Firewall and sandboxing are quite useful when you are living in sensitive areas. That is, if you have the habit of using a lot of public networks, you should have the firewall. Sandbox is a safe testing platform, where you manage not-so-trustworthy software you come across.
Features list of different Avast products
It also has some miscellaneous features such as the Data Shredder, SecureDNS, Anti-spam, Automated updater and SafeLine.
Pros of Avast
Quite Inexpensive
Avast Antivirus Coupons that can save money
Easy-to-use Interface
Well-organized plans
Cons of Avast
The Final Verdict on Avast
Avast antivirus has everything you need from an antivirus! It has a reasonable pricing plan, backed by an easy option to choose the best solution! Similarly, you have the PC covered from different aspects such as cyber threats and off-line threats. Avast is surely one of the best options, we bet. Available for different platform, you can get same Avast protection in different devices.