One of the main promises Microsoft made when it launched Windows 8 is that users won't need an extra solution to get protection from viruses and malware! It was so because Windows Defender — a fully-fledged protection suite — was included in the Operating System, with ultimate sophistication. Windows Defender can protect your PC from the various varieties of offline & online threats. These having said, there are times when we find Windows Defender as a useless thing. It's when you have installed another fully-fledged anti-virus and protection suite in your computer. Then, having Windows Defender will become superfluous. It's also when you should know how to disable Windows Defender.
It has to be noted that the decision to remove Windows Defender will be dangerous if you have no other protection methods such as antivirus or anti-malware. On the other hand, when you have a complete protection suite, it's more or less necessary to get rid of the default software. For instance, for better security, you'd have installed Bitdefender or Kaspersky.  Also, in this era of internet, you cannot move on with a simplified protection suite. So, when you need a better antivirus solution along with superb capabilities, it's time to uninstall Windows Defender.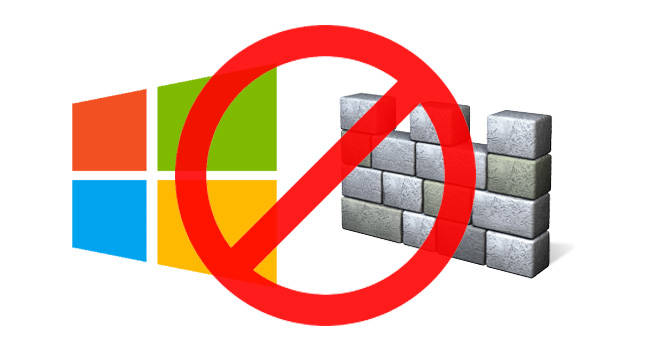 Note: In most cases, when you install third-party antivirus, Windows Defender gets turned off automatically. In some other cases, however, the software remains active and consumes a lot of resources. When you sense the working of Windows Defender, you must uninstall or disable the tool. It's because running two antivirus tools simultaneously is not good for PC health and may cause clashes.
Disable Windows Defender in Windows 10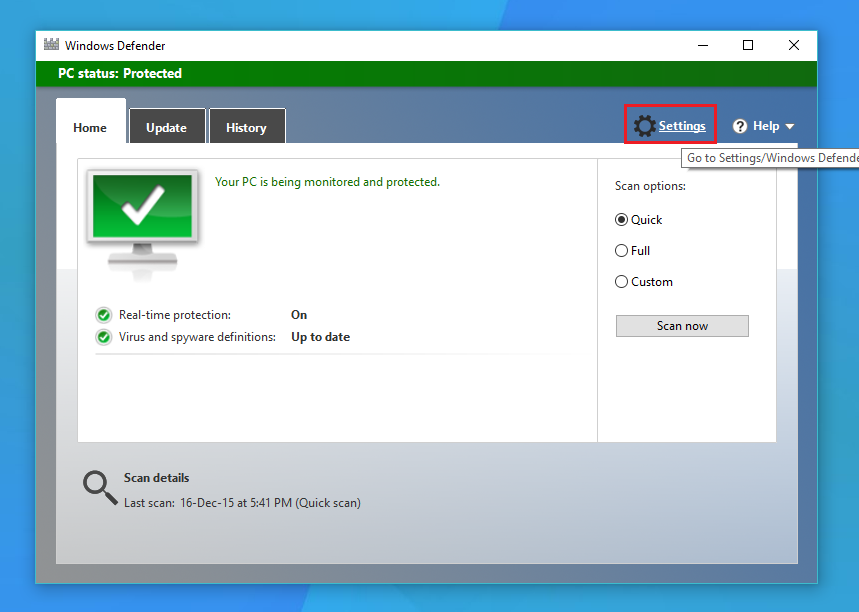 Search for 'Windows Defender' using Start Menu search; open Windows Defender from results
You can see a 'Settings' button in the top-right portion. Click on that button.
In the coming window, there are different sections in the sidebar. From those, select 'Windows Defender'
Depending upon what you want, you can turn off 'Real-time protection' or 'Cloud-based protection'
So, you have successfully turned off Windows Defender in your Windows 10-based PC. We think it's pretty much easy in Windows 10.
Disable Windows Defender in Windows 8 or Windows 7
Open Windows Defender through search option in Start Menu or from Start button (in Windows 7)
In the upcoming window, click on the 'Tools' button.
In that tab, you'd find a link named 'Options'; click on that link.
In the coming window, you can find a few options; if Windows Defender is active in the PC, a box named Use this program will be checked.
Uncheck the box to disable Windows Defender
Click on 'Save' button and exit
Right after you save, you will get a notification that Windows Defender has been turned off. Now onwards, you can see the current protection status of the third-party antivirus you've installed in Action Centre.
By the way, there are chances that Windows Defender may become active at some point. To prevent that, you've to follow the steps given below.
Open Services panel through Control panel, or you can type 'services.msc' in the Run box
From the list, double click on 'Windows Defender'
In the next window, change 'Startup Type' to 'Disabled'
Click on the 'Apply button and then click on 'OK'
Now that you've disabled the Windows Defender service, it has been turned off completely! It also means that you'd have the responsibility of choosing the best antivirus for your PC.
Disable Windows Defender in Windows Vista
You can follow the same Windows 7 or 8 methods to disable Windows Defender in Windows Vista. However, there is another method as well.
There's an unofficial method to uninstall Windows Defender PC from your PC. It's developed by Raymond CC Tech, and can remove the registry entries and related stuff to get rid of Windows Defender completely. You can download Windows Defender Uninstaller from here. You've to use the tool at your own risk; once uninstalled, it's not that easy to get Windows Defender back.
So, we've shown you some effective methods to get rid of Windows Defender in your PC! To conclude, we would say that Windows Defender can be effective when the threats are small. If you use your computer for basic needs, you'll find the protection sufficient. However, when you're an advanced user who needs advanced protection, you would have to think about disabling Windows Defender and getting another antivirus. We repeat, you must uninstall Windows Defender unless you have a third-party antivirus installed in your PC.