There are several reasons why macOS is always faster than Windows 10, even when Windows 10 device may have better hardware resources. Among them, junk files play a noticeable role in slowing down your PC in a quite drastic manner. it was after such a discovery that we started to have cleaning software for Windows.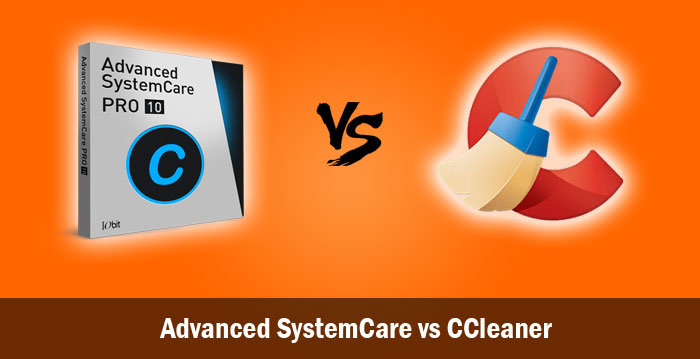 Such software is supposed to delete unwanted files and folders from your PC device, thus speeding up many computing processes. And, for many years, CCleaner from Piriform has been the standard name for cleaning your PC. Obviously, it was probably the only effective option too. Now, however, things have changed — as we have a bunch of superb options like Advanced SystemCare.
As you can guess, currently, we have a discussion on the topic, Advanced SystemCare Vs CCleaner. Some do argue that CCleaner is better while others say opposite. Anyway, it's time that we'd make the right decision through an effective comparison. So, shall we start our take on Advanced SystemCare vs CCleaner?
Advanced SystemCare and CCleaner – the Basics
If you have ever thought of cleaning your PC and enhancing performance, you would have heard about this amazing software from IObit. It has been a trusted and effective tool for overall system improvement, and not just restricted to junk file deletion. IObit, for those who don't know, is a popular developer of utility and security programs. In the recent years, they have come up with a bunch of patented security suites as well. Although it has been called a PC Cleaner and performance booster, Advanced SystemCare has its focuses on privacy and online security as well. We will cover the detailed feature in the later part of the article.
Also Read:
While Advanced SystemCare is a relatively newer name, CCleaner isn't. it has been in the world of computers for a long period of time, not to mention the popularity. It used to be included as the essential tools package for many computers while shipping. As the name says, Piriform made the software for cleaning unwanted & slowdown-causing content from Windows devices. it's supposed to take care of the different types of junk files that may be present in the Windows system itself. For the recent past years, however, we have had the option to remove junk files from third-party software as well.
Now, let's turn to the side-by-side comparison aspect for both the tools.
Installation and Getting Started
Although it's offering a whole lot of features, IObit Advanced SystemCare has a smaller footprint. And, there is nothing hectic about installing or managing the program in your PC. All you have to do is to download the setup file from official website of IObit and you can finish the installation in under a minute. Right after that, you can have the benefits of advanced system management and cleaning options.
We are really expecting a tie here, because CCleaner is as fast as Advanced SystemCare in this aspect. You'd not have any trouble in the installation process, because it's a cleaning software. In a minute or two, you can start the first scan with CCleaner. It's something useful when you have some job and want to clean your PC before starting it.
User Interface
Another possible aspect of a tie, UI of both Advanced SystemCare and CCleaner are amazing. You would not compare the design philosophies or anything, but the overall UI is impressive enough. In both cases, you do not need any introduction for performing scans or using other tools. Advanced SystemCare arranges the tabs on the top position while CCleaner keeps the same as a sidebar.
We would not say anything is better, but given the versatility, Advanced SystemCare UI is on to the point for sure. Suppose you wanted to move to the Toolbox tab suddenly. All it requires is a simple click and you are done. So, obviously, you have the benefits of a foreseen UI when you have multitude of features & options.
Pricing
Before we do a comparison of Advanced SystemCare vs CCleaner, you should know about the pricing plans of both software.
Advanced SystemCare is available in two versions, one free and the other one paid. As you can guess, its free version is quite basic and does the basic function of cleaning. You will be able to take care of the commonest types of junk files. Of course, the tool will be taking care of scanning for threats and optimization of system. That having said, if you are looking for the awesome features like real-time optimization, registry cleaning & automatic updates, you can just pay $19.99 and get Advanced SystemCare PRO.
Coming to CCleaner, Free version are accompanied by Professional and Professional Plus. The choice should be simple enough, because CCleaner Free is for basic cleaning purposes. In the Professional version, you can have access to the many options like real-time cleaning of PC and security from threats. You can even set up a schedule for the cleaning process. In short, the Professional and Professional versions are feature-rich if compared to the free one. They are priced at $24.95 and $39.95 respectively.
Features in Comparison
In terms of individual features, Advanced SystemCare and CCleaner are quite rich. Moreover, it's not at all a good solution to compare two software with the help of individual features. So, we should better have one overview of the features in offer. And for a fair review, let's consider the features offered by pro versions of both tools.
Advanced SystemCare offers a bunch of awesome options for your system speed and security at the same time. For instance, there are options for preventing browser tracking just as they is option for real-time PC scanning. Other utilities like file shredder and bulk program uninstaller are also included. Last but not least, you can have the benefits of RAM Booster and system speed up options.
CCleaner Pro, on the other hand, retains its focus on the cleaning aspects. You will be able to clean a variety of junk files from the different aspects, but they are just okay. You cannot expect the advanced options like privacy protection. That having said, CCleaner Pro offers the options like Disk Defragmentation, Disk Wiper and Disk Analyzer utilities.
The Decision Point
At the end of this Advanced SystemCare Vs CCleaner discussion, we can surely say that Advanced SystemCare is the better option in many aspects. Just consider this. You are paying more for CCleaner to have less set of features than what is offered by Advanced SystemCare. Moreover, we liked the fact that IObit has used a minimal User Interface and installation setup. At the end of the day, we would recommend you to go for a program that's value your money. And thinking from that viewpoint, Advanced SystemCare is definitely the best choice.