On paper, Windows can never achieve the speed or smoothness that is offered by Mac devices. While there are a bunch of reasons related to hardware, software optimization is a point here. In comparison, Windows creates a lot of junk files and uses resources for that purpose. The result is, you end up losing speed, smooth performance and other perks. And, that's when we have to use products such as IObit Advanced SystemCare 10 Pro.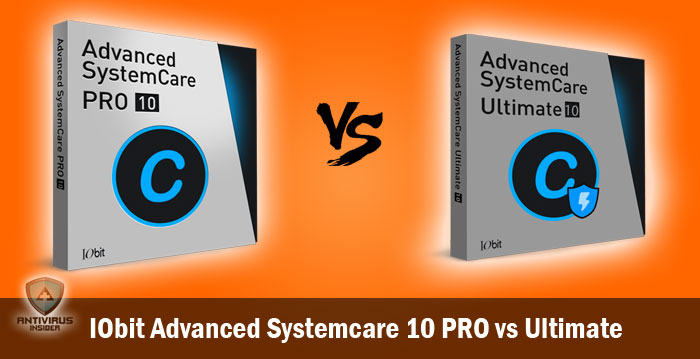 Commonly known as IAC, IObit Advanced SystemCare does the job as its name says. It takes care of your PC  – so as to provide better speed, performance and features. It acts as a tune-up agent for your system. Using this agent, you can release a huge amount of resources from the system, thus getting better speeds. When most people decide to go with IObit Advanced SystemCare, however, they come to another confusion.
IObit gives two versions of the same tool – IObit Advanced SystemCare PRO and IObit Advanced SystemCare Ultimate. And, the pricing difference between these two variants are pretty negligible too. As a result, most people are in this dilemma. So, to clear your doubts, we have a side-by-side comparison of PRO and Ultimate versions of IObit Advanced SystemCare. We hope it helps at the end of the day.
IObit Advanced SystemCare PRO – an Intro
In the simplest words, IObit Advanced SystemCare is a PC optimization tool for Windows. It takes care of the various factors that can possibly slow down your computer, and then fixes them. In addition to speed-boost and performance-friendly features, IObit Advanced SystemCare PRO offers some anti-tracking and security features as well. According to what the developers claim, by using IObit Advanced SystemCare Pro regularly, you can have 300% speed for your PC, accompanied by 200% faster PC startup.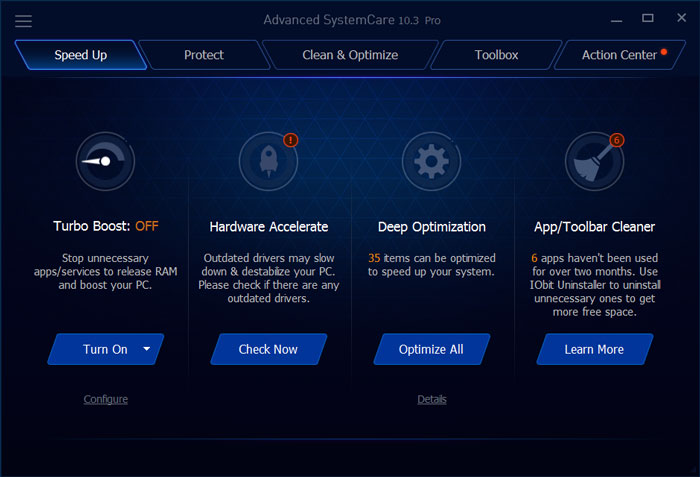 These are something superb when you have an old PC that takes minutes to boot up. Obviously, there are some additional features, and we will cover them later.
IObit Advanced SystemCare Ultimate – an Intro
When you upgrade yourself to the Ultimate option, there is a slight change of focus. Here, the solution tries to improve the security and privacy of your digital life and the many problems related to it. Quite amazingly, IObit Advanced SystemCare Ultimate comes with an ultra-simple package of 80MB. Still, the program will be offering the top-notch protection from different kinds of malware, not just limited to virus.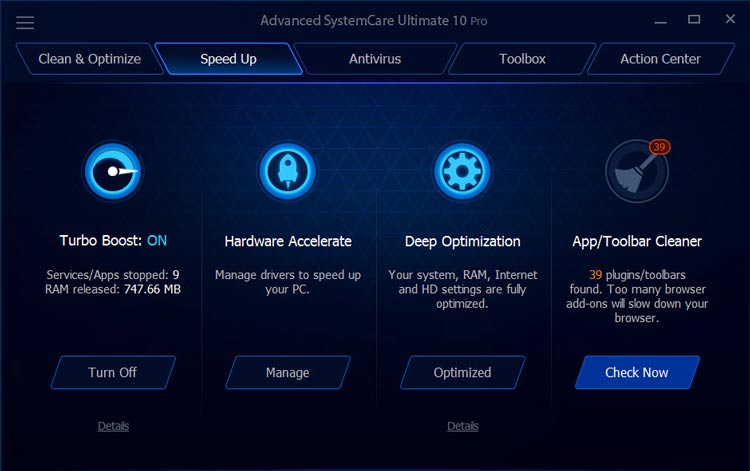 The best part is that you get the same performance-boost benefits like 300% faster PC and 200% faster startup. Thanks to its Real-Time Protection and Ad Controls, your digital life is going to be awesome.
Let's Talk About the Pricing
IObit Advanced SystemCare PRO, the first premium package, is available for $19.99, by using our IObit advance System Care Coupn codes. The pricing is for 1 year and you can install the program on up to 3 PCs. For those who are looking for a quick speed-boosting and performance suite, the amount is pretty reasonable and cheap.
Buy SystemCare 10 PRO with Discount
If you need to get IObit Advanced SystemCare Ultimate, however, you have to pay an extra amount of $10, making the final price $29.99. Once again, you need to note the presence of the extra features here. Here too, the subscription is for one year and the package lets you protect up to 3 PCs without paying further.
Buy SystemCare Ultimate 10 with Discount
Both versions are available for almost all versions of Microsoft Windows, from Windows XP to Windows 10. So, there's no need to worry about compatibility.
Advanced SystemCare Ultimate 10
IObit Advanced SystemCare Ultimate10 PRO 2017.
Verified 2 Hours Ago. Very Hot Deal. Only: $29.99
Advanced SystemCare PRO
IObit Advanced SystemCare 10 PRO 2017.
Verified 2 Hours Ago. Only: $14.99.
IObit Advanced SystemCare PRO vs Ultimate
We don't want to put a big list of features that are offered by both programs. However, the crucial difference is pretty clear. IObit Advanced SystemCare PRO is a tool that offers the best performance and speed from a Windows PC, by removing the unwanted stuff. Surely, you can benefit from the features like RAM Booster, Registry Cleaning and System Optimization. In short, you can have a faster PC and more storage space.
You can see the features comparison with various antivirus programs.

On the other hand, IObit Advanced SystemCare Ultimate is essentially a security suite. It's meant to protect you from the wide variety of spyware, ransomware, viruses and other types of malware. In addition, it gives some features for anti-tracking and privacy protection. These are quite useful if you spend time in the web. While the focus is on security, there is no lack of performance-boosting features either. Some other notable features in the Ultimate version are:
Protection from DNS-based Attacks
Ad-Blocking, Anti-Tracking Protection and Anti-Adware System
Automation Options for seamless, real-time security
To cut the story short, you are missing a whole lot of security features if you refuse to pay that $10. If you'd ask, we'd not recommend that decision. The reason is simple: we live in a world where threats increase day by day, quite dramatically. So, you need to take the right decisions to stay safe.
The Bottom Line
As you just saw, IObit Advanced SystemCare Ultimate is offering a bunch of awesome features along with an awesome performance optimization utility. In short, with the single purchase, you get performance and top-notch security. This is something commendable, especially considering the resource consumption aspect. If compared to traditional antivirus programs, IObit Advanced SystemCare consumes less resources, which is a perk indeed. So, at the end of the day, we would recommend everyone to go for the Ultimate version. Or, if you think you already have an antivirus program and don't need protection, IObit Advanced SystemCare PRO would suffice. A noticeable point is that IObit Advanced SystemCare does not interfere with antivirus programs you might already have in the device.