There are many reasons why people prefer Bitdefender Security products to others! Apart from its top-class security and usability, there is an option for easier device management. Regardless the security package you have purchased, Bitdefender offers a cool option to manage your antivirus subscriptions, devices and protection-oriented utilities. It's named Bitdefender Central, which is a web-based platform for Bitdefender management. It's noted for the intuitive, effective and moreover simple User interface and the plenty of available features.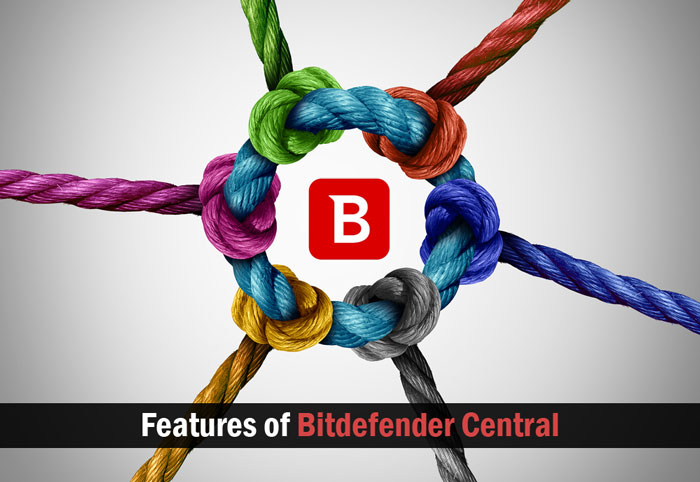 In this article, we will go deep into Bitdefender Central. We would discuss the prominent features of this web-based platform and how it can be used in practical needs.
About Bitdefender Central
Basically, Bitdefender Central is a web-based platform for Bitdefender Security products. It has been built with lots of purposes in mind. The main one is to smoothen the process of Bitdefender product management. As an alternative to the idea of license keys, Bitdefender had brought subscription system to the scenario, which we covered in one of our previous articles. Bitdefender Central is what makes subscription management really easy. By logging in once, it's possible to know the available subscriptions, time left and whatnot. In addition to subscription management, Central account also gives you the options of remote device management, parental advisor control etc. Now that you have a clear idea about Bitdefender Central and its purposes, we shall move onto its features.
Bitdefender Central: http://central.bitdefender.com
Device Management and Remote Control
Device Management is perhaps the most usable aspect of having a Bitdefender Central account. When you sign into the account, you will be welcomed by the Central dashboard. In the dashboard, you can see the devices that you are protecting using Bitdefender Security products. All the devices — including your Windows PCs, Macs and Android — will be shown as grids in the dashboard. From the drop-down menu of each device, you can do basic actions such as 'Remove' and 'Update'.
In addition to the unified device dashboard, Bitdefender Central has a multi-tabbed dashboard for each device you'd protect. Clicking on the device will lead you to the dedicated dashboard, where you can learn more about protection status and time left on subscription. It has different tabs such as Protection, Optimizer, Anti-Theft and Vulnerability. Of course, each tab has its own features. For instance, through the Anti-Theft tab, you can know about the location of your device. It also lets you lock or wipe your device. Likewise, Protection tab lets you run remote device scans. In short, through these different tabs, you can manage the different aspects of protected devices.

For instance, suppose you want to make sure that there's no virus in your computer. You can simply go to Protection tab of Bitdefender Central and hit the 'Scan Now' button. In a few seconds or minutes, you can have the scan results and a verdict on protection status. You have both scanning options like quick scan and full scan.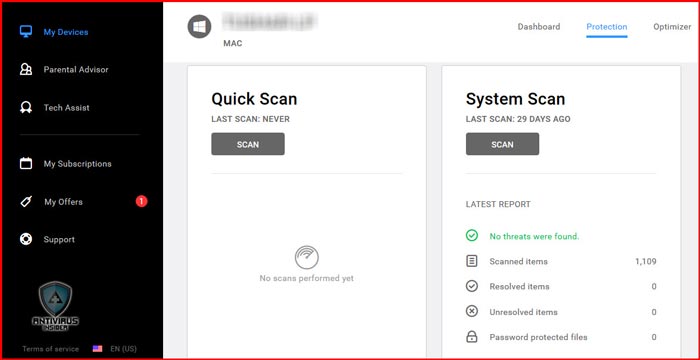 Parental Advisor — Analysis and Management
Do you want to know and restrict what your children are doing in their devices? Then, Parental Advisor is going to be the feature you'll love in Bitdefender Central. You should have enabled Parental Protection in your kid's device, and then the web-based platform would be enough for protection. In the Parental Advisor dashboard, you can see a list of protected devices. And, clicking on the single device will lead you to individual device management.

Here too, Bitdefender Central offers a multi-tabbed interface, which is quite simple. The different tabs are Activities, Interests, Friends, Places and Social. By analyzing what your kid is doing in the computer, Bitdefender Central can get you a comprehensive report on his/her web activity. In addition, you can control his or her interests too. If you don't want him to read about dangerous weapons, for instance, you can block such websites from being access. It also has an option to create Whitelists and Blacklists when it comes to website blocking.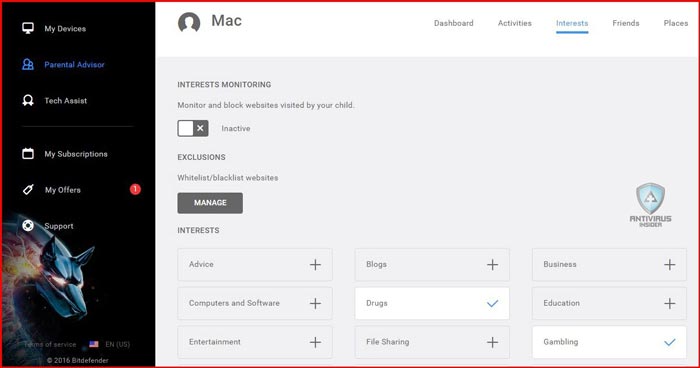 It's a matter of fact that Bitdefender Central's Parental Advisor section is way too impressive and user-friendly.
Subscription Management
Do you often forget the antivirus subscriptions you made and forget to renew them? If that's the case, Subscriptions Management section of Bitdefender Central is just a superb feature, we bet. When you click the My Subscriptions link, you will be lead to the fully-fledged dashboard that shows information about available subscriptions.
Here, you can know about the subscription name, the time left on subscription etc. For instance, you can have a look on the screenshot. In addition, the dashboard also gives you a list of protected device. You can also know how many devices can further be protected using the same package. In the screenshot, for example, you can see that two more devices can be protected via the Bitdefender Total Security 2016 package.
By the way, if you didn't link your product to the Bitdefender Central account, you still have an option. You can click on the 'Activation Code' button to do the job. Altogether, Bitdefender Central can do the job very well when we take the case of subscription management.
The Miscellaneous Features
Apart from the above-mentioned features, Bitdefender Central has some other features too. They are:
Tech Assist: Tech Assist is an awesome feature if you do not know how to deal with security stuff. Using the tab of Bitdefender Central, you can purchase Tech Assist packages from Bitdefender. For instance, you have an option to buy the Multi-Platform package. So, the Bitdefender team will visit your premise and install the package on your device.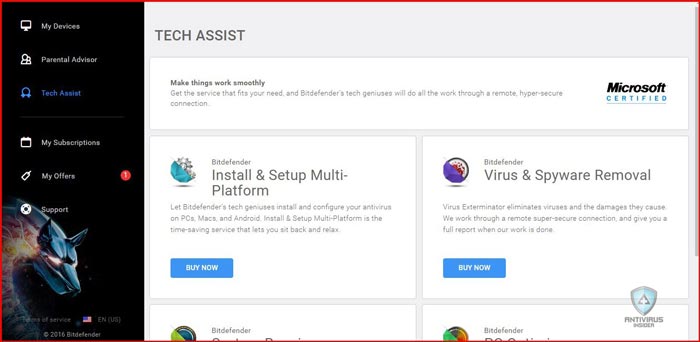 My Offers: Here, you get to know the different Bitdefender offers available. You may also get only-for-you offers.
Support: This is where you will find plenty of support articles. You can perform a search to find out how-to's for finding the right answers to your queries.
Check All Bitdefender Offers and Deals NOW!
Summing Up
So, you have seen the different features of Bitdefender Central. It's clear that Bitdefender Central is one of the best options to manage your subscriptions as well as devices. Moreover, it's better than the old scene with license keys and lengthy activation procedures. What do you think of these features, by the way?