It doesn't matter whether you're using your computer for watching movies or developing software, finding a virus in the computer means hell to you. If the virus is bigger, you would have to do a lot of things, and even when you have finished, the effect may remain — sometimes, a part of the virus itself may remain in your computer. And, the worst part is that viruses tend to replicate and spread throughout the computer. Therefore, as far as you need a computer that's working well — without losing your data — you should know how to completely remove virus from computer. In this post, we shall have a few step-by-step methods to let you do that, cleanly.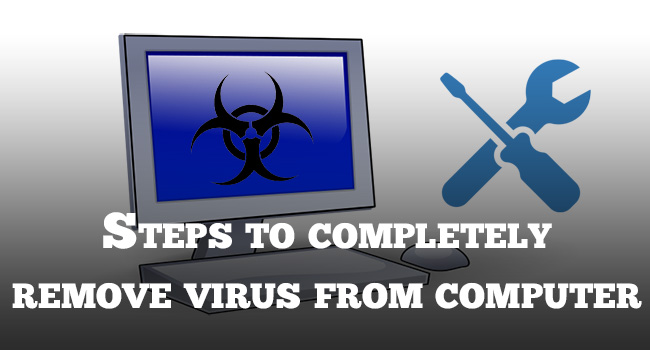 Note: Understanding whether there's a virus in your computer is important. Not all lagging will be caused by viruses. However, if you face consistent lagging, notable eating of bandwidth and resource consumption, you should have an essential check. Once you're sure about the presence, you can follow the steps mentioned below to get things straight.
Remove Virus From Computer
Step 1 : Load Safe Mode
To do that, you have to first turn off your PC. When it gets turned on, press F8 Key continuously. When the menu turns up, choose 'Safe Mode with Networking'.
Press Enter to load safe mode. In Windows Safe Mode, not all programs will be loaded, but only the necessary ones will be in effect.
Step 2 : Remove Temp Files for Quicker Scanning
Before we perform the malware/virus scanning, you can follow some steps to boost up the process. Removing Temp files is an effective method. To do that, Disk Cleanup Utility of Windows can be used. To launch Disk Cleanup Utility:
Start > All Programs > Accessories > System Tools > Disk Cleanup
If you don't want to follow these, you can enter "%temp%" in the Run panel. You will get a folder opened and you've to delete all the files in the folder.
Step 3 : Get Malware Scanner to Completely Remove Virus from Computer
We have to conclude that the existing antivirus program in your PC could not find the presence of malware. So, it has to be noted that you should go with another Malware Scanner. And, in this situation, on-demand malware scanner is preferred to a fully-fledged antivirus software. We recommend using Malwarebytes, which is an established solution to find and remove various kinds of malware. You can download the tool from HERE.
Step 4 : it's Scanning Time, using Malwarebytes
So, now that you have downloaded and installed Malwarebytes Anti-Malware from the official site, it's time to run a scan on your infected PC. Before you download, you have to disconnect the computer from internet. However, if you are asked to update the malware database while installing Malwarebytes, you would have to reconnect and update. Right after the update, however, you can disconnect.
So, after launching Malwarebytes Anti-Malware, choose the option 'Perform Quick Scan' and click on 'Scan' button. In the scanning period, you can know how many files have been scanned and how many of them have been found as malicious. It is to be noted that we are running Quick Scanning, which would take around five to twenty minutes.
Step 5 : Get the Text File & Do Further Things
Once the Quick Scanning is complete, Malwarebytes will generate a text file. In that text file, you get a list of viruses, which the tool has found and removed. However, there might be some viruses the tool cannot remove. To know if it is so, you should have a quick look at the list. Once you're confirmed, you're done.
Step 6 : Restart your PC
Once you're finished, you can restart your computer in the normal mode. If the removal is successful, you should see a notable speed in the performance. If you think there's no improvement, you should try doing a complete scan.
Another Option
If you follow the above-mentioned method, you will be able to successfully remove virus from computer of yours running Windows. However, using such a lengthy process would be a tiresome task for you. A viable option you can follow to recognize viruses and delete viruses instantly is to use a premium antivirus solution.
Check our recommended list of Antivirus Programs for 2016
As opposed to the free antivirus tools you use, premium AVs offer enhanced performance, stronger algorithms, and good customer support. You can choose an effective one from Bitdefender Antivirus, Kaspersky Antivirus or Norton Security.
To Conclude
So, we have shown you one of the most effective and proven methods to delete virus from your PC, completely. For those who don't have a technical tempore, this might seem a bit confusing. However, if you're patient and have the prerequisites mentioned, you can use this tutorial for this purpose. There are also some manual methods available, but we prefer this one. There's another thing: as a precaution, you can think of going with a stronger, professional & premium antivirus solutions.