Ever since the popularity of Malware and Digital Threats, downloading files from Internet has been a tough task. You don't really know if the particular file is malicious unless you download and open it. In the worst case, you can't know that unless you have been infected. But, there are some tips that will help you to download from internet without worrying about the viruses or other kinds of malware.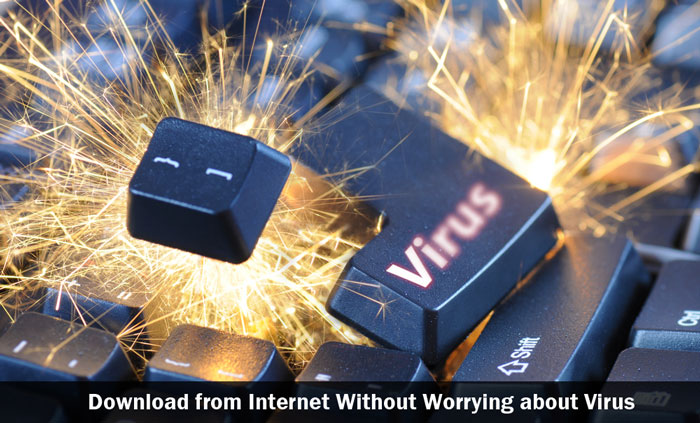 In this article, we will show you some of those effective tips for safe internet downloads. These tips don't offer absolute security for your devices. However, if used well, you can sense meaningful changes in the long run.
#1 Always Depend on Trusted Sites
There are two ways to download files from the internet. First, you can download from the official websites and trustworthy downloading platforms. Second, you can choose a random website and download files from that site. When you are much concerned about security and viruses, you should always stick onto trusted and official websites. Suppose you need to get Google Chrome for Windows PC. in the best case, you can go to the official website of Google Chrome instead of Google search results. This way, you can make sure that you get the authentic piece of information. And, the word of trust is the foremost factor that lets you download from internet without worrying about viruses. By the way, if you cannot know the trustworthiness of a website, you can make use of services like WOT. There are some online virus scaning website such as VirusTotal, where you can scans files or even URLs.
#2 Say NO to Piracy
Piracy feels good, doesn't it? It must sound good because you are getting premium products without paying much. It can be noted that piracy is much stronger when it comes to digital products like software, music tracks and movies. This is, of course, grounded on the hesitance to pay for digital products. But, there's a bigger hidden threat there: in most cases of piracy downloads, the risk of viruses is way too high. Whenever you download a pirated software or files, those files may contain malicious codes of spying materials. This malware will be installed in your computer, along with the software. So, if you really want to get rid of viruses while downloading from internet, stay away from piracy and pirated files.
#3 Mind What You're Downloading
Malicious files have a lot in common. First of all, they come in non-common file formats, with not-so-seen extensions. So, if you pay a bit of attention, you can know whether you are downloading a malicious file or a legitimate one. Also, when compared to the common files, these have smaller file sizes. It's so practically compressed that there would be no bigger change in the total file size. In that way, when people download other files, the malware too can be downloaded. This is seen often with P2P Downloads and hosted files. So, the next time you download a file from internet, make sure that the files are right, and not some unknown extensions.
#4 Learn to Distinguish between Ads & Real Buttons
This comes along with the basic digital literacy people need. You would have noticed this trend, if you download a lot of contents from internet: that, most websites show confusing advertisements along with the actual download buttons. Due to this, chances are, people will click on the advertisements. These advertisements, more often than not, lead you to many pop-up windows and undesired content. These may also download dangerous executable files into your device, bringing along a virus or other malware. So, before you are into rapid downloading, you should know how to distinguish between real and fake download buttons.
#5 Use an Antivirus Program — the Easiest
This is perhaps the easiest way to download from internet without worrying about virus. Most antivirus programs do come with link scanning capabilities. That is, these tools will be able to distinguish between safe and unsafe websites. Some of the well known antivirus products are Bitdefender, Kaspersky and Norton. So, when you are about to download from a non-trusted website, you will be notified. Therefore, it is highly recommended to use an antivirus package for additional safety. There are some extra safety actions too. For instance, you can perform scans before opening the downloaded files. This will help you get rid of malicious executable files from infecting the device. But, all the while, make sure that you run the latest virus definitions. At least once in a while, you should update the antivirus as well as malware definitions. Only this way you can stay away from newly-found malware.
Let's Sum Things Up
So, here are the five different ways to download from internet without viruses and other malware. As said, absolute isn't a word for security and privacy. That having said, you can have better results if you go by these rules. The easiest method is to install one of the premium antivirus programs. However, it makes sense and seems beneficial to have a good level of digital literacy. Anyway, happy downloading, folks.