You may not have any doubts about choosing Kaspersky for Home Protection. As everyone know, it's one of the most trusted names in the world of digital security. In fact, Kaspersky rules the world of security with a few other competitors like Bitdefender and Norton. So, coming back to the case of Home Security, however, there is another issue. There are three major choices for everyone – Kaspersky Anti-Virus, Internet Security and Total Security. We have listed them in the order of features, advanced systems and obviously pricing.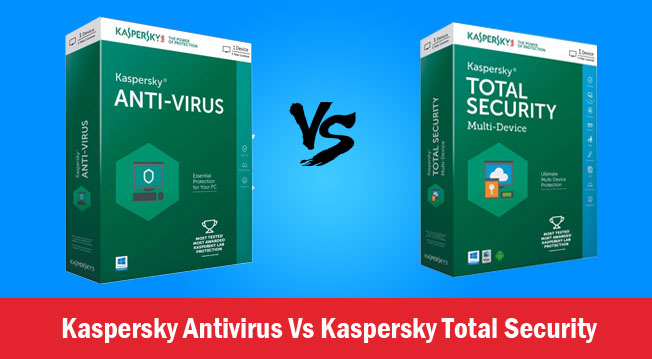 Well, in the trio, almost everyone comes to a confusion – between Kaspersky Anti-Virus and Kaspersky Total Security. So, at Antivirus Insider, we thought of doing a quicker comparison of both packages. So, at the end of the day, you can know which security suite is suitable for you. We will be comparing various aspects such as Features and Pricing.
Also read: Kaspersky Antivirus Vs Kaspersky Internet Security
An Introduction to Kaspersky Anti-Virus and Kaspersky Total Security
Kaspersky Anti-Virus is the first product in premium category of Kaspersky Home Protection. It is supposed to offer all-round protection for your Windows PC, from prevalent and newly-found digital threats. While it may offer some basic protection from online-based threats, Kaspersky Anti-Virus is made for offline security mainly. You should keep this in mind while checking out this review.
On the other hand, Kaspersky Total Security goes two steps further. In the single package, you can have the benefits of offline protection, online protection and several upgrades of performance and usability. Won't it be great if you have some additional privacy-protection utilities along? That's what Kaspersky Total Security does. It's a package for multiple platforms — PC, Mac, Android and iOS.
Now, we will have what's common and what's not in the features of both programs.
Common Features in Kaspersky Anti-Virus and Kaspersky Total Security
No matter which of the duo you pick, you will have the following features available in the package.
Award-Winning Protection from Kaspersky: It will protect your PC — other platform-based devices in case of KTS — from prevalent and zero-day threats. Kaspersky Labs is the trusted name when we consider digital security. So, with both software, you won't have to worry about 99% of malware.
Optimized Security: Kaspersky has managed to reduce performance impact of both security products in multiple platforms. Even when Anti-Virus and KTS are running, you won't feel much lag in activities in your PC or Mac.
Easier Control & Management: Both Kaspersky Anti-Virus and Total Security come with an advanced bunch of management option. This is enhanced by the minimal, simple User Interface and web-based control of protected devices.
If these are what you're looking for, we'd recommend following the choice according to your budget. Well, there should be some other concerns too.
What More Does Kaspersky Total Security Offer
This is an important question, but you should know another thing. There's another security package between Kaspersky Anti-Virus and Kaspersky Total Security – namely Kaspersky Internet Security. In fact, when you purchase Kaspersky Total Security, you get all the features included in Kaspersky Internet Security also. As we were saying, the extra features in KTS are:
Privacy Protection will protect you from several online threats such as Identity Theft, Phishing and a few non-common ones.
Kaspersky Money is for carrying out safe financial transactions. It works like an ultra-secure space to share your credentials without any fear.
Kaspersky Total Security offers complete Parental Control. You can not only see what your kids do in the Internet but also protect them from potential threats and misuses of the same.
Kaspersky Kids is an extended version of protection suite for PC, Mac and Mobile device. This would protect your kids while they are using such devices — from both online and offline threats.
Another feature in Kaspersky Total Security is the option to save Passwords securely. It's all encrypted and you don't have to worry about loss of theft of the same. It's a great thing if you have that habit of forgetting passwords.
Kaspersky Total Security also lets you Encrypt Important Files. It's done with high-level encryption as you don't have to compromise security.
Furthermore, Kaspersky Total Security is a multi-platform security suite. With the single subscription, you'd be able to protect your Windows PC, Mac, Android Smartphone and iPhone. Of course, there is a limit to the number of devices you can protect. By paying the necessary amount, you can get up to 5 Protected Devices in one package.
Let's Discuss the Pricing – Kaspersky Antivirus vs Kaspersky Total Security
If you want to purchase 1-PC license of Kaspersky Anti-Virus, it will cost you $39.95. You can extend its device support up to 3 PCs by paying $75.95. If you have multiple PCs at home, it would be a great upgrade. Still, a choice is restricted to Windows PCs only. You can check our coupons section to get latest 40% off coupons for Kaspersky products.
Coming to the case of Kaspersky Total Security, you choices are better. One-device version of Total Security is available for just $79.95 per year. If you want to increase the number of devices, you can pay $99.95 and protect up to 3 devices at once. What matters here is the freedom to choose the device.
Check Kaspersky Discount Deals
The Final Choice
Long story short, Kaspersky Anti-Virus is offering only the basic protection features. The protection is limited to Windows PCs, which isn't a good thing. On the other hand, Kaspersky Total Security is the ultimate option for all-round protection for both online and offline threats. If we have this idea of feature differences, we do believe that the pricing difference is somewhat negligible. So, at the end, we will recommend you Kaspersky Total Security. By spending something around $20, you are getting a whole new level of features of security.