There are plenty of options when you need a free yet basic antivirus protection for your PC! Quite ironically, there are a few options only when you need that protection to be effective and satisfactory. On that condition — of being a truly useful security solution —, Bitdefender Antivirus Free Edition is of course in the list! As you know, Bitdefender is one of the best antivirus software you'd get, at least in the current scenario. By the way, if you are a bit doubtful about it, you are going to clear it today. We will have a briefer review of this free antivirus solution.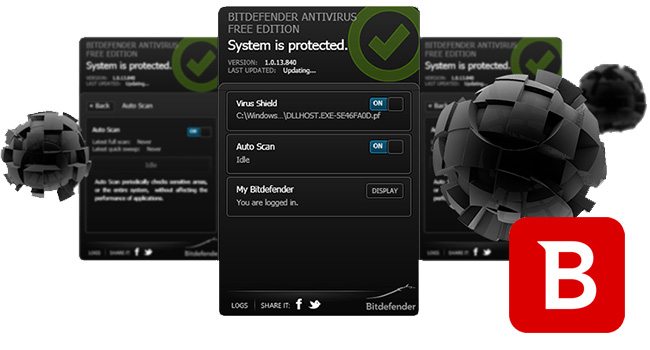 Getting Started with 
Bitdefender Antivirus Free Edition
As we said, Bitdefender Antivirus Free Edition is completely free of cost, to be installed in your Windows-based PC! It is possible to download the installer right away from the official site of Bitdefender Antivirus. For your information, it is ranked top by PCMag, one of the authority reviewers. Also with the latest discount from Bitdefender make it easy to go with paid version. So, getting this antivirus in your PC is quite simple. You have to download the above-mentioned installer file; in a few seconds or minutes, the installation process will be finished — it has no questions asked.
The User Interface
What happens in case of most antivirus solutions is that the UI becomes clumsy and you find it quite hard to get the basic things done. Bitdefender Antivirus Free Edition has broken down that cliché though. If you have a single glance at the control panel and related aspects of the tool, you could understand how usable and optimized its UI is. It has a smaller window, where the basic options are included, such as Virus Shield status and Auto Scan status. You can give additional capabilities such as integration with Bitdefender account, but it's up to your choice. So, as far as a newbie is concerned, Bitdefender Antivirus has one of the most simple, effective and useful User Interfaces — we have ever seen.
What it Offers
Being a completely free antivirus solution does not mean that the capabilities are limited! In any case, you're assured of up-to-date protection from commonest threats out there. However, some of the noticeable features are:
Real-time Shield & Active Virus Control
While you are dealing with the day-to-day tasks of yours, Bitdefender Antivirus will be watching out for various kinds of threats. At the same time, Active Virus Control feature of the solution takes the best steps to ensure that the virus or malware cannot make malicious changes to your computer. There is also an integrated option to detect intrusions made to your computer. This way, you will be able to apps that behave in an uncommon manner.
Better Scanning; Better Actions
Of course, there are some additional capabilities too. For instance, we can take the case of B-Have, which is a superb way to analyze apps and act accordingly. When the antivirus finds a suspicious app, the app is tested in an ultra-safer environment and once proved fine, it will work fine. Similarly, other options for scanning include HTTP Scanning and Anti-rootkit. While the HTTP Scanning can protect you from phishing and related threats, Anti-rootkit is powerful to protect the device from stealthy stuff.
Miscellaneous
Some of the other awesome features of Bitdefender Antivirus Free Edition include Early Boot Scanning & Auto Scan. Early Boot Scanning takes care of the threats that are present during startup while the Auto Scan deals with common threats you'd find. So, in short, basic protection is ensured.
System Requirements
Quite impressively, the minimum system requirements of Bitdefender Antivirus Free Edition are low. You will be able to install the solution on your PC if it's running Windows XP Service Pack 3 or later versions. Similarly, you just need a storage space of 700MB and 512MB RAM. However, the company recommends you to have 1GB RAM and 1GB free space in your computer. In both cases, we think it's pretty much low.
Our Verdict
Considering what we have said, Bitdefender Antivirus Free Edition has enough security options for those who are conscious about safety — both online and offline. You are not going to get a huge number of features, such as a kind of parental control or social networking protection. The basic functions are assured, we can say.