During the time of inception of computers and related technologies, there were only a few people who actively used computers for different purposes. Now, however, after more than a few decades, computers have become rather an unavoidable part of our life, from writing to printing and from office management to teamwork — so has the case of computer viruses and threats.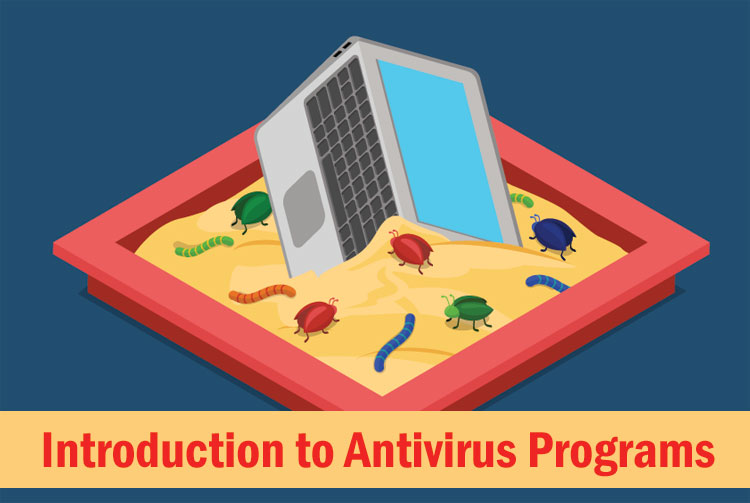 Each day, we come across a new vulnerability or virus, which turns out to be a notable challenge for data safety and your privacy. It was the dawn of such serious threats that people started thinking about antivirus software that can cover your computer and your data from various threats — both online and offline. Here, in this post, we shall have an overview and basic introduction to antivirus programs that are used for computers.
It needs to be noted here that we are talking about the antivirus software for computers only, and that there is an entire range of antivirus solutions available for lots of mobile devices, running on different platforms such as Android & iOS etc.
What are Antivirus Programs?
As we have mentioned earlier and what you can guess from the name, Anti-virus programs (Also spoken as Antivirus Programs) are meant to protect the computers from viruses. Viruses are particular kind of programs that tend to steal your personal information, use the resources for evil purposes and harm your computer technically. Therefore, when you install an antivirus program in your computer, it should ensure that your computer would not be affected by any kind of viruses & threats.
Nowadays, however, some antivirus programs come with additional capabilities. For instance, you will be able to get protection from online threats and other kinds of vulnerabilities out there. Of course, there are several kinds of anti-virus programs you can buy, which we will discuss later in this article. So, we were saying, antivirus programs should be able to detect the various viruses in your computer and destroy them at the earliest — so that your resources and your data would be intact.
By the way, Antivirus programs and Anti-malware programs are quite different from each other — depending on the function that they are supposed to fulfill. Lately, we had published an article on the major differences between anti-virus programs and anti-malware programs, which we recommend you to have a look at.
How Antivirus Programs Work?
Before you choose an antivirus program for your computer, you must get a clear idea about how antivirus programs work. In shorter words, antivirus program is all about continuous scanning of your files and computer for threats. It's a feature that is included in most of currently-popular antivirus and it is known as real-time scanning. In case of anti-viruses of old times, there was only optional scanning; that is, you can scan a particular file or folder or device when you think it has some viruses or malicious stuff in it. however, in the real-time scanning scenario, all the activities of a PC would be monitored all the time, so that no threats would attack your PC.
Apart from this real-time scanning technology, advanced scanning options are also available. For instance, there is an enormous difference between quick scanning and full scanning. In quick scanning, the antivirus program takes a brief analysis of the files and folders, whereas the full scanning analyses all the parts of your files when chosen. For more information on Quick Scanning vs Full Scanning, you can check this article.
So, now, we think you have a clearer overview on how antivirus programs work.
Can Antivirus Programs Slow Down Your PC?
This is a question asked by almost all computer users when they are recommended to use an antivirus program. It is quite a relevant question, too, for that matter. But its answer depends upon the features you get in an antivirus tool and the antivirus solution that you select from the list. However, there is a fact that is common to all.
Read: Can Antivirus Programs Slow your Computer?
As we said earlier, antivirus programs are based on the concept of regular scanning of your PC. Your system files and some other files would be under surveillance of the antivirus tool, which consumes your resources and related stuff. In case if you have chosen an antivirus solution with additional capabilities, the resource consumption would be lot more high — this is also quite natural. These having said, there are some antivirus programs that use extra kinds of technologies to enhance performance of monitored computer. For instance, it is seen that Bitdefender antivirus can have least impact on your system performance, as it is using Bitdefender Photon Technology and machine learning technologies.
Read: Can Bitdefender Antivirus Slow your PC?
So, we can conclude like this: there will be a standard presence of slow down when you install an antivirus program. It is, however, possible to lessen the impact by choosing one of the best antivirus programs out there.
Different Kinds of Anti-virus Programs
Recalling what we have mentioned earlier, there are several kinds of antivirus programs you can get nowadays. We'd have a look on the main categories.
You can find a free antivirus variant regardless the developer you go for — it doesn't matter whether you want from Bitdefender, Kaspersky, Norton or something else. In this package, however, you are quite limited and you can have only the basic protection from commonest offline threats. Also, there are some serious disadvantages of using a free antivirus instead of a paid one.
This one is the premium category of the antivirus programs, offering complete protection from commonly seen and discussed threats such as viruses, malware, rootkits etc. If you are just seeking protection from common threats out there, you would be satisfied with the first option in premium range — nothing more, nothing less.
Most developers have an Internet Security Suite of their antivirus programs, which offer protection from online kind of threats as well. For instance, you will have a powerful anti-spam feature or a fully-fledged firewall to ensure safety from network and online threats. Some developers also offer features such as Parental Control.
This is not seen in all developers. But in the package, you get all the features in previous packages. For instance, if we take the case of Bitdefender, you get options such as system speed up optimization and file encryption options. So, it can be selected according to your requirement.
Of course, as we go to the higher options, there will be a slight change in pricing. Likewise, if you are looking for one antivirus for your business purposes, you can choose the option accordingly.
To Conclude
So, we have given you a shorter overview and introduction to antivirus programs — such as the way they work and a few notable variants of antivirus solutions. Do you have any doubts on this? Do let us know through your comments.