When you need protection for both offline and online activities of yours, Bitdefender Internet Security 2016 is a name that you can trust, with not many doubts. Of course, in the current world where we often come across new kinds of web-based crimes, it is rather essential to get a shield for protecting your web-based activities such as the different kinds of account you manage and transactions you deal with. All these having said, some of you might be a bit doubtful as it comes to confirming Bitdefender Internet Security 2016 as the main security solution for your computer. After this review, however, we hope you can get rid of the doubts.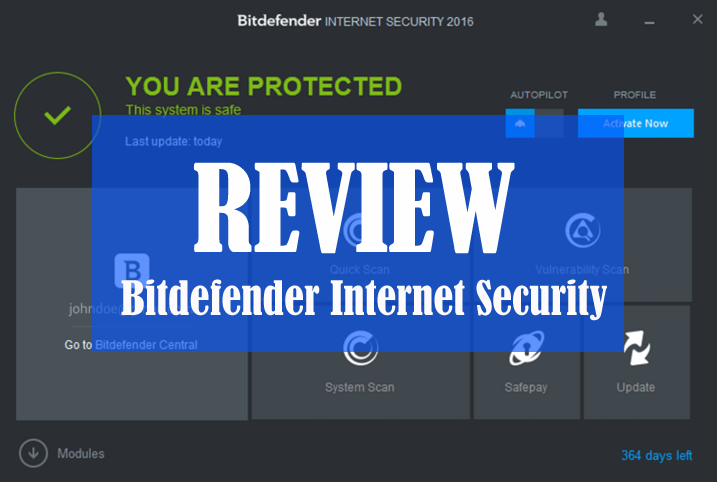 Bitdefender Internet Security 2016— What is It?
Bitdefender Internet Security 2016 is one of the most popular products in the premium range of Bitdefender products and it comes as an upgraded version of Bitdefender Antivirus Plus. Just as you can guess from the name, Internet Security suite from Bitdefender is up to the mark, not only in providing all-the-round protection for your computer but also to get things done when you come across cyber threats. When compared to the normal antivirus package that you get from the same developer, Internet Security is more suited for the active internet users out there. We have checking pricing of other products too and you can get discount offers form official store. Now, let's see what it has to offer in different aspects.
The Features you Get
Of course, there are so many features that make Bitdefender Internet Security 2016 unique, especially when we view it as an antivirus solution. Now, we shall have a quick glance over the most-noted features of the package.
Bitdefender Photon is there in the package to make sure that the protection does not affect performance of your computer, at any cost. Also, to enhance battery life of your laptop (or Smartphones, for that matter), its Battery Mode would be quite useful. When we add into account the different profiles available — such as a Work Mode, Gaming Mode and Movie Modes, Bitdefender Internet Security 2016 is just awesome.
One-click, hassle-free security has been ensured in Bitdefender Internet Security, thanks to the many superb features out there. For instance, there's Bitdefender Autopilot, which takes care of security issues using AI. It also comes with a Quick Vulnerability Scanner, which you can use for finding security compromises if any.
As we take the case of Internet Security aspect, there is a lot to be talked about. First of all, the tool utilizes a technology named Active Threat Control, which analyzes system behavior to find the evil ones. Similarly, it's offering protection from ransomware and spyware. At the same time, the brand-new firewall of Bitdefender Internet Security 2016 is useful when you are connected to less-secure networks. Also, there is the fully-fledged support for a Password Manager.
In case if you wanted to know what your children are doing, the Parental Advisor feature of the tool would be just awesome, we bet. You can not only monitor what is being but also take necessary actions to get rid of the undesired stuff.
In short, it can be said that Bitdefender Internet Security offers almost all features you'd require for the complete — both offline and online, as we said — protection of your computer from the everyday threats.
User Interface of Bitdefender Internet Security
Quite impressively, Bitdefender Internet Security 2016 uses an exemplarily simple User Interface. From the dashboard, it's possible for you to navigate to the different sections of security management. Even when you don't have good-level experience with antivirus solutions, you would be able to deal with Bitdefender Internet Security. Right after you've installed the tool, your computer would be protected, from all the possible aspects. What we love about the main UI is that all the features have been organized in the best manner.
Required System Specifications
All the versions of Microsoft Windows that came after Windows 7 Service Pack 1 are suitable for running this tool in it. Talking of the minimum requirements, the system should have a Dual Core processor with a clock speed of 1.6GHz and 1GB of RAM is also required in the long run. In addition, there should be free storage space of 1GB to have one smoother installation of Bitdefender Internet Security. The specifications are minimal enough to run in almost all PCs one would find today.
Pros and Cons of Bitdefender Internet Security
Pros
Easier UI
Availability of New-Gen features
Minimal resource requirements
Associated options such as Bitdefender Safepay and Bitdefender Wallet
Cons
Downloading and installing can take little longer than expected.
Summing Up
When wrapping things up, Bitdefender Internet Security 2016 is undoubtedly one of the must-have tools as of now. Not only does it provide awesome protection for your computer, but it also gets the online world safer than it really is. If you are an active internet, you should not hesitate to go for this security suite — as simple as that.