We do not know if you have noticed, but Bitdefender has an Auto-Renewal feature with all products. We hope you know that Bitdefender products are now sent via Digital Delivery; you don't have to manage those license keys or activation stuff. Talking of Bitdefender 2016 Automatic Renewal, there are different aspects to be discussed. And, in some cases, you may have to disable Bitdefender Automatic Renewal for obvious reasons.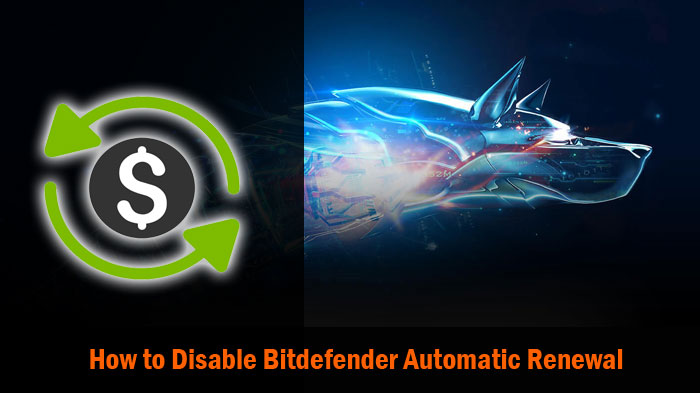 In this article, we shall give you an in-depth how-to tutorial to disable Bitdefender 2016 Automatic Renewal in the simplest manner. Before that, we will discuss both the aspects of having Auto-Renewal feature.
The Scene with Bitdefender Auto-Renewal
As the name says, with this feature, your Bitdefender products will be renewed automatically. The renewal takes place at the end of subscription period. And, you should be using your Credit Card or PayPal as the payment method. Of course, there are a bunch of advantages and disadvantages in Automatic Renewal of Bitdefender 2016.
The one and only advantage of Bitdefender Automatic Renewal is that you don't have to worry about product expiration, payment or extension anymore. As soon as the expiry happens, Bitdefender will renew the subscription, that too into one better solution. So, if you have connected your Credit Card and enabled Automatic Renewal, you can simply forget about extending protection every year.
At the same time, there are several disadvantages of using this auto-renewal feature. First of all, it's about the rates. When compared to the actual rates of Bitdefender security products, Renewal rates can be high. You may have to spend a few more dollars to get the same product. And, you cannot make use of any other promotions available at that particular time. As you know, Bitdefender is known for bringing up discount coupons and promotions. If Auto-Renewal is enabled, you will miss those price reductions. The second reason is that Auto Renewal takes us for granted. We don't really have a choice about selection. For instance, in the next year, you may be thinking about upgrading to a better package. With this auto-renewal enabled, this choice is no longer there.
By comparison, it's clear that Bitdefender Auto-Renewal has more disadvantages than advantages. Of course Bitdefender will send you emails before the renewal. And it makes enough sense to disable Automatic Renewal in Bitdefender 2016 package. Now, we will move onto the step-by-step tutorial.
How to Disable Bitdefender Automatic Renewal?
There will be two cases. One is you already have the subscription bought and other can be you are yet to buy one.
2) You already have a Bitdefender Subscription:
If you already bought the Bitdefender via official website, you can manage your billing account via Avangate.
NOTE: All Bitdefender products purchased via third party re-sellers are by default no auto renewal.
Click here to open the billing panel and create an account there. You can enter your order number which you have already in purchase email or simply your email address.
Once you enter the order number or email address which was used during purchase, you will get an email to create login password. Once you done with that you will see your purchased products as shown in the image below.
As you can see, I haven't activated the auto renewal while buying it. But if you had one then, you will get an option here to disable it. If in future they removed the option, you can always click on the support tab here and open a support ticket to do that.
1) You are about to buy a Bitdefender Subscription:
So, you need to disable this feature during the purchase of Bitdefender products. If you are going to purchase Bitdefender antivirus product, you can follow these steps.
Step 1:
Before you proceed, you should select the most appropriate protection package for your computer. For instance, if you'd like to have basic offline and online protection, you can go for Bitdefender Antivirus Plus. On the other hand, Bitdefender Internet Security gives extra emphasis for web-based protection. At the same time, Bitdefender Total Security is an optimal solution for those who need protection and performance boosting. Once you have selected the package, you can visit this page to find the most impressive Bitdefender promotion deal.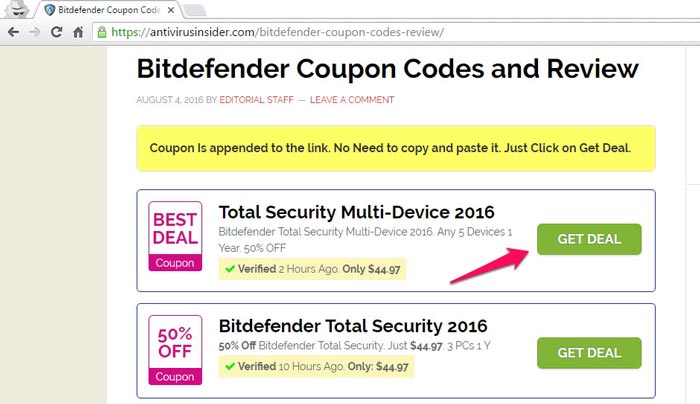 Step 2:
Now, you should be in the Product Confirmation page of Bitdefender. Here, you can see the payment details about the product you have purchased. As you have opted in for a promotional program, you will find the discount amount too. If you have confirmed these amounts, you can click on 'Balance and Billing Info' button shown below.
Step 3:
Once you have clicked the button, you will see a Pop-Up Notification in the page. As it can be read, you can select whether you want to enable Bitdefender Automatic Renewal for the product. Just hit the Disable Automatic Renewal button and move forward. Now, you can go to the further pages and deal with payment stuff.
In this way, you can purchase Bitdefender 2016 Protection and disable Automatic Renewal.
While wrapping up, it seems quite easy to disable Bitdefender 2016 Automatic Renewal feature. Obviously, it can save an impressive amount of money and let you re-think before purchasing. But, if you are ready to pay a bit more — and thus to forget the burden of purchasing again –, it makes sense to enable Auto-Renewal. What do you think?