When it comes to protecting your system from viruses, it is always recommended to get the best in the business. If you are searching for the best and reliable antivirus program, then Bitdefender Antivirus Plus 2016 might be your first choice.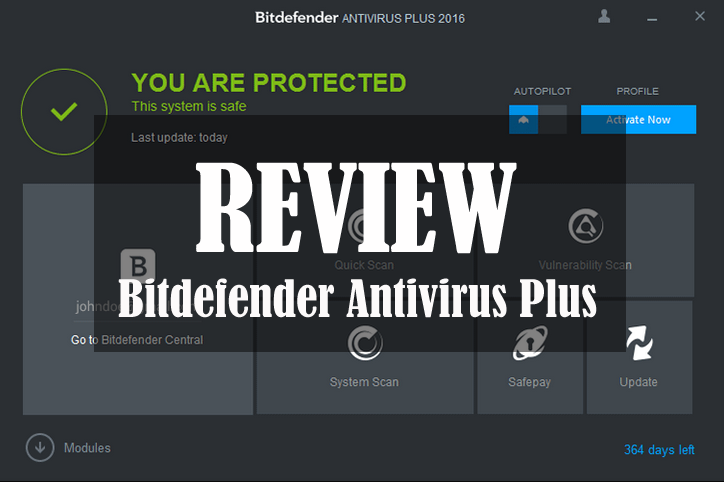 But you might be thinking that why you should choose Bitdefender antivirus plus over any other antivirus programs online? Does Bitdefender antivirus plus really work? Well, to answer all your questions, today I am going to give you in-depth insights and review of Bitdefender antivirus plus. By this, you can easily decide whether to install this antivirus program on your system or not. So now let us have a look at the overview of Bitdefender antivirus plus.
Review of Bitdefender Antivirus Plus 2016
When you talk about its performance, the virus detection feature works pretty well. This ensures that your system is not harmed by any kind of virus, especially when you download anything online. Its easy to use and the interface is sleek which makes it a perfect antivirus to use even for a new user. According to many resources, I have noticed that 95% of the times Bitdefender Antivirus Plus protects your system with ease. Of course, the 5% couldn't be neglected but this is the best of any antivirus program available online.
The CPU used by this antivirus program is not much as compared to other ones. Moreover, it gives your social profiles a secured network to surf online without any hassles. And if at all you are worrying about the phishing attacks, don't get tensed because, Bitdefender Antivirus Plus protects your system from phishing attacks pretty well. It is capable of providing real time protection and updates the antivirus at a blink of an eye!
The only thing which you will be uncomfortable is the set up process. It takes more time than other antivirus programs and previous Bitdefender versions. But don't worry, the overall process is straight forward and easy to understand. But before you install it on your system, have a look at the minimum system requirements to install Bitdefender Antivirus Plus as per the official website.
Recommended System Requirements
| | |
| --- | --- |
| Operating system : | Windows7/8/8.1/10. |
| CPU : | Intel core 2 Duo/ 2 GHz or equivalent processor |
| RAM : | 2 GB |
| Free hard disk space : | 2 GB with at least 800 MB space on system drive. |
It's the Best Antivirus Program
Bitdefender antivirus plus 2016 has been awarded as the "Product of the year". It uses machine learning in order to fight viruses and cyber threats without hampering the performance of your system. Also you can have this version of Bitdefender and all other variations such as Total Security or Internet Security at great discount using coupons. It is easy to use and the best part of this antivirus is that it automatically takes the security decisions for your system including secured payments, data protection and safeguard privacy.
Read: Bitdefender Antivirus Plus Vs Bitdefender Internet Security
Final Words
With all the features mentioned above it can be easily said that Bitdefender Antivirus Plus is a perfect antivirus program to secure your system from different malwares and cyber threats. So what are you waiting for? Get it today and access the most advanced cyber security program now!