When people have a choice, they tend to go behind free antivirus software for protection! It's a natural trend since it is common among majority to not to pay for digital products. In our previous articles, we did mention that most free antivirus solutions are limited in terms of security and protection. You may also face notable issues like annoying ads and privacy stealth etc. Despite all these, something is better than nothing. If you really can't afford buying premium antivirus, it's okay to have at least a free antivirus in your PC. Bitdefender Free Antivirus and Avast Free Antivirus are the two choices you should consider.
In this article, we shall have a comparison of Bitdefender Free vs Avast Free Antivirus solutions. We can compare the various aspects to understand which one is better for your PC Security.
Bitdefender Free Antivirus and Avast Free Antivirus — an Intro
Apart from the many premium antivirus products of Bitdefender, we have this completely free version! Obviously, its target is those who cannot afford paid antivirus suites. Despite that fact, Bitdefender Free Antivirus is packed with an impressive set of protection features. Used by hundreds of thousands of users around the globe, the free package has an intuitive User Interface on top it. Even while having many features under the hood; Bitdefender Free Antivirus is quite light as we take the case of resource consumption and impact on system speed.
Official link to: Bitdefender Free Antivirus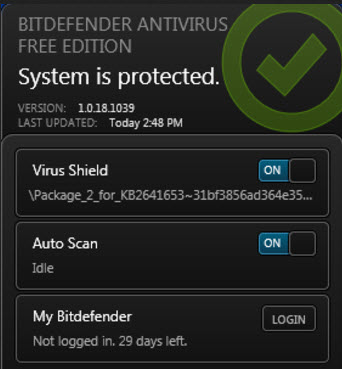 In the same way, Avast Free Antivirus is noted for the simple arrangement and richness of essential features. There's a huge reputation for Avast among those who love free antivirus suite. Avast had marketed the solution as one fully-fledged yet consumer friendly antivirus package. It also claims to have the SmartScan feature — which is actually one trademark feature found in Avast's premium software. Altogether, at first look, Avast is perhaps the best antivirus you can get for free.
Official Link to: Avast Free Antivirus
Protection Features
As we come to the case of Bitdefender's protection-oriented features, the package is very rich. To bring the best sort of protection for your needs, Bitdefender has stuffed some features. On top of all, there's Realtime Shield, which can protect you from threats realtime, before the threats get into your computer. Then, there's Active Virus Control that always keeps an eye on potential threats in your computer. Other features for protection include Intrusion Detection System, HTTP Scanning and Anti-rootkit. Another feature we found impressive in Bitdefender Free is called B-Have. It is used to analyze certain apps in a safer environment. Considering all these, protection sector of Bitdefender Free is quite an impressive thing.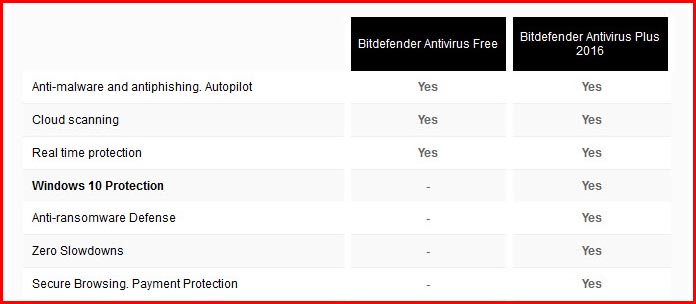 In fact, Avast does have many features under the hood. On the other hand, it has been packed with features that we can see on the front. For instance, there's the SmartScan feature that claims to offer top-notch virus scanning. Its Home Network Scanning and Software Updater are practically useful features from the user point of view. It also has a Password Manager that you can use for free. Avast has stuffed a Performance Scan as well. Considering all these, it can be said that Avast's under-the-hood protection isn't that impressive, although the frontline army says so.
Usability
Bitdefender is one of the most usable antivirus packages you'd ever find. The User Interface is quite intuitive and it's offering automated protection as well. From the screenshots, it's clear that Bitdefender Free does not require much of previous experience to move on. Apart from that, it is rich in terms of automation features. For instance, you get a feature named Early Boot Scanning, which would detect threats during the booting time itself. Also, there's its Auto Scan that scans your computer for common threats. In short, you don't have to be much conscious about security if you have got Bitdefender Free Antivirus.
Check Bitdefender Discounts NOW!
The User Interface is equally simple in Avast Free Antivirus, to be noted. You can get started with the antivirus suite in no time, but there are no automation features to talk about. So, if you are into just some usable stuff, Avast would do the job fine. Otherwise, you may be interested in going with the other one. Obviously, this is a point when Avast lags behind in the Bitdefender Free vs Avast Free duel.
Performance and Resource Consumption
Let's make the decision very simple! Many users say that their PC becomes quite slow after they have installed Avast Free antivirus suites. We had observed this with the premium package of Avast as well. In case of Bitdefender, however, it does not consume much resource. That is, even while the antivirus is performing well, you don't have to worry about the negative impact on system performance. In short, you won't have a lagged-down PC just because you have got it in your PC.
Recommended Reading:
Device Compatibility
There we have a tie! Both the free antivirus suites of Bitdefender and Avast are available for Windows, Mac and our Android. You'll be able to protect a variety of your devices. Availability of features may vary, but you get its essential protection for sure.
Final Words
In comparison of Bitdefender Free vs Avast Free Antivirus, it's clear that Bitdefender tops the list. It is having quite an impressive User Interface, a bunch of practically-useful features and resource consumption. We don't mean that the Avast counterpart is bad. We are just finding the better one and we have many reasons to recommend Bitdefender.
Despite all these, we don't really recommend sticking onto free antivirus packages. It's a fact that Bitdefender will be giving you basic features. That having said, there are some sections that are left unnoticed by free antivirus. And, you may also miss some necessary features such as anti-phishing and spam protection. Altogether, it's good to get a paid antivirus program. Thanks to the coupon codes we got like Bitdefender, Kaspersky and all, you can get your premium packages at an extremely cheap rate. It always makes sense to get better protection, you know.