Android Viruses are real — let's accept that fact. Along with the growth of Android platform, we have seen the growth of malware as well. And, now, we have different kinds of Android malware to worry about, including spyware, ransomware, adware and key loggers. If you are a careless Android user, chances are, your device is infected by Android viruses. It has to be noted that viruses cannot be found unless you take a thorough inspection. For that you would have to use a Mobile Security suite or dedicated malware removal apps. Once you have confirmed the presence of malware, you have several way-outs to fix that.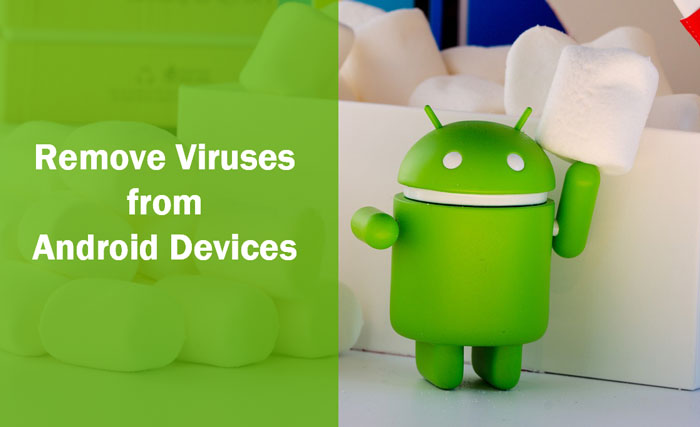 Yes, through some simple steps, you can remove viruses from Android devices you have. This is applicable for smartphones as well as other devices. In this article, we shall suggest some methods for Android Virus Removal. Each method has many advantages and disadvantages. So, you can choose according to your level of freedom. In the end, along with virus removal from device, we can suggest some ways to stay away from Android viruses.
How to Remove Viruses from Android Device?
Before We Begin
Before we remove the virus from your Android device, you should know something about the malware. The only way for infecting an Android device with malware is by installing a malicious application. Through execution of APK files, malicious files are added into your device. These files are then used for threats such as spying, ransomware attacks and key logging. So, when you confirm the presence of virus inside, you confirm the presence of a malicious Android app — something you installed from non-trusted sources.
Read:
So, for Android virus removal, we are actually removing the particular application from the device. Before that, however, you may need the help of a Mobile Antivirus Suite for finding the non-safe app. This is, once again, done with the help of clear-cut scanning algorithms and related methods. Once you are sure about the culprit app, you can move forward and follow these steps for effective virus removal.
Method #1 — via Safe Mode
Did you know that Android smartphones have a feature named Safe Mode? It's pretty much like the Windows Safe Boot. During this mode, only the manufacturer pre-installed applications will be active. User-installed apps won't be running in this particular mode. And, we can use this mode to remove the Android virus, without affecting your data or safety.
First, you have to boot your Android device into Safe Mode. To do that, you have to long-press the Power button. In the menu that appears, long-press the 'Power Off' option.
Soon, you can see a pop-up window named 'Reboot to Safe Mode'. As you can see, third-party apps are disabled in the mode and can be activated when you reboot again. Tap on 'OK' to proceed.
Once you are in the Safe Mode, you can go to Settings and visit the sub-section for Apps. Here, you should see the list of applications you have installed — which includes the malicious virus app too.
Pick the malicious app from the list and tap on it. Now, you will be lead to the app management page.
From this page, you can simply 'Uninstall' this particular application. Make sure that the Uninstall process is truly successful. If it leaves remnant files in the devices, the virus may become active again.
Yes, that's it, you have successfully removed the virus from your Android device.
P.S. Some Android viruses are so clever that they give themselves the Administrator privilege. In that case, you won't be able to uninstall the app simply. Before uninstalling, you can go to Settings => Security => Device Administrators. Here, it is possible to see the list of apps with admin access. If you see the infecting app in the list, just disable it. Go back to the Uninstall process and you can remove the app in seconds.
This is perhaps the simplest method for Android virus removal. The best part is that it does not affect your data or device. However, if you find this ineffective for removal, you can try the second method.
Method #2 — via Factory Reset
If the Safe Mode isn't applicable, you can try factory resetting your device for virus removal. This is also applicable if you need a confirmation of the no-virus-is-there scenario. So, if you don't mind losing some time and data, you can follow the steps given below.
First, you need to take backup of the important stuff here. But, this should be done with care. We mentioned that Android viruses are spread via applications. These apps may download and store dangerous files in the device. So, it's advised to back up only the necessary things like Contacts and Call Logs. Others can be left there.
Go to Settings à Backup & Reset
From the options, choose Factory Data Reset.
You can see a warning that this would delete stored information such as Apps, App Data, System Setting etc. You will, in short, get the device as though it's completely new.
Just hit the Reset button and wait for a few minutes.
You can have the virus-free Android device with you. As we said earlier, this method can make you lose your data. But, as per the priority standards, Security and Privacy are something much valuable. So, if the first method does not work, this should definitely help you for Android virus removal.
How to Avoid Android Viruses?
Here are some methods you can use for staying away from Android viruses.
Never install applications from non-trusted sources. In other words, you should install Android apps from Google Play Store only. Play Store apps are regularly checked for malware and privacy issues. But, when you download apps from other sources, those files may contain almost everything — from wrong code to privacy-bugging stuff.
Try to use a mobile antivirus solution. These Mobile Security suites will help you to detect Android viruses as they appear in the device. The detection algorithms are cool and you don't have to worry about intrusions. If you are going with paid Mobile Security, you can get features such as Anti-Theft and Link Scanning.
Last but not least, have a sense of digital literacy. Don't be fool enough to click when someone says you have won $1000000 for nothing. Understand that these are spams, to get your data and infect your device.
And, that's how you, in most cases, get rid of the risks of Android malware.
Extra:
The Conclusion
Now, you have some effective ways for Android virus removal as well as protection against such threats. The easiest way to get rid of Android viruses is to use a good Android antivirus and do the Safe Mode method. However, we really would recommend taking steps to prevent Android virus infections. Do you know any other method for virus removal in Android? We are eager to hear your comments.