Advertisement is undoubtedly the biggest earning source in World Wide Web. However, when we look at all these from a user's perspective, Ads are quite annoying. Not just that, on-going ads give us a feel that there is nothing like privacy in the world. It's in response to this not-so-user-friendly trend that Ad Blockers and Pop Up Blockers were introduced.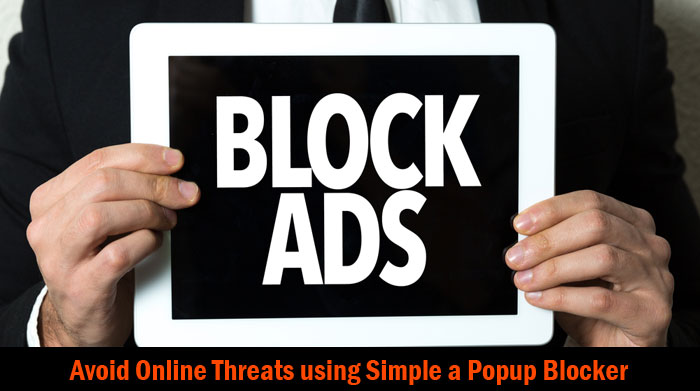 Both were targeted at the avoidance of annoying advertisement pop-ups that would not only consume your resources but put your web life in serious threat. But, have you ever thought of avoiding Virus and Other Threats via a Simple Popup Blocker in your device? Well, yes, there is this huge possibility too. In a single installation, you have an option to get rid of annoying advertisements as well as to protect your security. In this article, we will tell you more about Popup Blockers and how it's helpful for users.
Reasons to Get a Pop-Up Blocker or Ad-Blocker
There are many reasons why you should get a Popup Blocker utility or extension for the device you are using. Thankfully, it is available for PCs, Android and other popular platforms. If we take the case of Chrome and other browsers, majority of Ad-Blocking extensions will help you get rid of pop-up advertisements too. So, the reasons to get such a blocker utility are as follows.
Pop-Up Advertisements are unbelievably annoying from the user point of view. As soon as you click on some link, a lot of pop-ups become active and start slowing down your browser. If you are running a low-configuration PC or device, it can be a major reason for Browser Caching and Resource Over usage. So, even when we keep aside the part of annoyance, Pop-Up Blockers are useful for normal working of your PC.
As we said, Pop-Up Advertisements are widely used for spreading malware and other types of viruses. It works in a clever way, we would say. As you know, pop-ups and pop-unders may not be visible in the main screen. However, in the background, these windows may be doing a lot of stuff such as downloads and installations. As you guess, it is perhaps the best way to spread viruses and malware in the device.
So, these are the main reasons. Pop-Up Blockers are now available in different forms and ways. For instance, you can get a Browser-based Pop-Up Blocker, which can be installed as an extension. Alternatively, if you are expecting system-wide removal of pop-ups, it's okay to get a security utility or so.
How Pop-Up Blockers Work
The working process of Pop-Up Blockers is something impressive. Most of the tools are equipped with strong algorithms. These algorithms allow the extensions to find the malicious pop-ups from the list. Suppose there are 10 pop-ups that you come across. In most cases, malicious pop-ups have something in common. By analysing and finding the common element in all pop-ups, the Pop-Up Blocker will help your PC from threats. The best part is that, as soon as the extension finds one malicious pop-up, it blocks the pop-up.
Additional Features of Pop-Up Blockers
If you are going for an advanced pop-up blocker solution, however, you will get an additional feature of webpage scanning as well. Instead of focusing purely on pop-ups and pop-unders, the extension will analyse the webpage as well. So, with respect to the authenticity of the webpage, the pop-up can also be judged. This is a better way of extended protection for your browsing experience.
Read: How to Block Adware Using Windows Defender
What's more, Pop-up blockers can get rid of activation triggers as well. In most cases, pages don't show pop-ups default. On the other hand, there may be some buttons or text that activate the pop-up window. If you use a well-tested and built pop up blocker, the activation triggers also can be blocked effectively. So, you can get rid of the risk of clicking on those text accidentally and destroying everything.
In addition to these main advantages of working, there are some other features you can find. A well-built Pop-up Blocker can have the following features too:
It can delete malicious cookies, cache files and other dump stuff
dat files are also cleaned for protection
Most extensions come with some tools for privacy protection as well. At the least, you can get some cool ways to ensure privacy and digital anonymity.
Remove malicious toolbars and programs from Web Browsers
It needs to be noted that most of the Pop-Up blocker extensions are coming with in-depth integration with popular web browsers. To the list, we can add Google Chrome, Mozilla Firefox, Edge etc. It works so seamlessly that you don't have to worry about finding pop-ups ever. In addition to these, system-wide pop-up blockers are available. This is useful if you'd like to prevent those annoying ads and pop-ups from programs you have installed. As you know, some free antivirus tools may be showing advertisements for the sake of revenue.
The Final Words
Considering what we have told you above, there are many reasons why you should install a Pop-Up blocker in your device; let that be a Windows PC or Android Smartphone. They not only allow you to get rid of annoying ads and pop-ups. But, if we consider the fact that pop-ups are used for spreading viruses and malware, a simple pop-up blocker is a great addition for your security layer. After all, they don't cost much or consume much resources — even while giving you a better web.