An Android smartphone is nothing without the right apps. It does not mean, however, that you can install a random application without much thought. It's true that, when you download apps from Google Play Store, there won't be any serious malware in them. Nevertheless, it means you're still vulnerable! In case if you did not know, some Android apps require full-system permissions and have access to your private information. Needless to say, this can put you in trouble, especially in a world where data is much valuable than you will expect it to be. This is why we really need a dedicated solution for watching Android apps.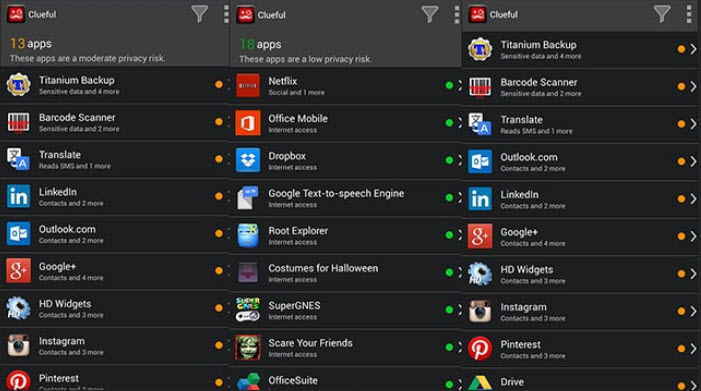 By watching, we mean an extensive process. The guard should have an eye on what an application is doing, the permissions it has and how the app is using your data. When you're a busy person, you don't have time for checking all these manually. It's in such a situation that we should consider a tool like Bitdefender Clueful. In this article, we are going to have an in-depth overview of Bitdefender Clueful and how it's helpful for the common Android users out there. We will be answering the common questions you may have, such as why you should use Bitdefender Clueful and what are the features you're going to get.
What is Bitdefender Clueful?
In the simplest terms, Bitdefender Clueful is a privacy guard for Android. However, it's more specific than a bunch of Android privacy guards out there. Bitdefender Clueful works as an in-depth analyzer for apps you've installed on the device. The software will monitor all the background actions of each installed apps, and see if something malicious is out there. For instance, if some application is trying to access your personal data, you will be notified instantly. Unlike most of you think, this is going to be quite useful in the long run.
Check: How to Install Bitdefender on Android
Why Do You Need Bitdefender Clueful?
We have already mentioned the reason before, but we will be a bit specific here.
If you are running Android v6.0 Marshmallow or later, you will be familiar with App Permissions. According to this, you don't have to check for required permissions while installing an app. On the other hand, certain permissions are requested when they are required. For instance, suppose you have downloaded a game. It will ask you Media Storage permission only when the app needs to store some files in the device. However, this isn't the case with older versions of Android.
Most people don't really care about the permissions they allow for each app. What they do is to continuously click on the permission prompt windows. This is the same even if you are running Marshmallow or later. So, although you might have given a seemingly-simple App Permission, it can be used against you and your data. Of course, you cannot always keep an eye on the permissions that you allow for apps, especially if you have 100+ apps installed on the device. And, that's where we need the AI support of Bitdefender Clueful. Note you can buy Bitdefender Total Security Multi-device with discount coupons and enjoy free Android version.
How Does Bitdefender Clueful Work?
There are a few steps you need to follow for getting the best results out of Bitdefender Clueful. They are:
As we said earlier, Bitdefender Clueful is powered by a powerful AI that can tell apart malicious and genuine apps you have installed. So, once you have installed Bitdefender Clueful in device, there will be a thorough device scan, in which Bitdefender Clueful takes care of all installed apps. Then, it would provide you a Privacy Score, based on the security of the apps you have.
Depending on the score, you have to take the necessary actions for security. For instance, if some apps are to be removed, you can manually uninstall them. Or, if you're running on Marshmallow, you can revoke the particular permission — so that the malicious activity would have to stop. Moreover, the Privacy Score will indicate how much of your privacy is exposed by the apps you've installed.
That's not it; there's more. Suppose you are installing an application while Bitdefender Clueful is on. Because Bitdefender Clueful is running in the background, you have to worry less. It will provide you necessary info & advises on the security problems each app may cause. That is, if an app is asking for unnecessary device & data permissions, you will be notified in seconds.
When you're in Bitdefender Clueful, you have an option to filter the results. For instance, if you just want to find the apps that send your identity to strangers, you can filter those results. In short, Bitdefender Clueful is the perfect solution for installed apps analysis and security advises.
The Bottom Line
Obviously, Bitdefender Clueful has now become a requirement for almost every Android user. No one wants strangers to have access to their devices or data, for that matter. And, in light of our experience, Bitdefender Clueful is quite an easy-to-use and powerful. You don't have to be a techie or Android geek to get started with Bitdefender Clueful. So, at the end of the day, we would recommend all of our readers to give it a try.