Unlike the old days, your Android Smartphone contains a lot of data! The list includes your photographs, documents, videos, notes and something even more sensitive. For instance, some of you would have stored your passwords and credentials in the device. Just like the case of other platforms, Android is being targeted by a lot of hackers and other evil hands. They do use viruses and malware stuff to steal data from your device.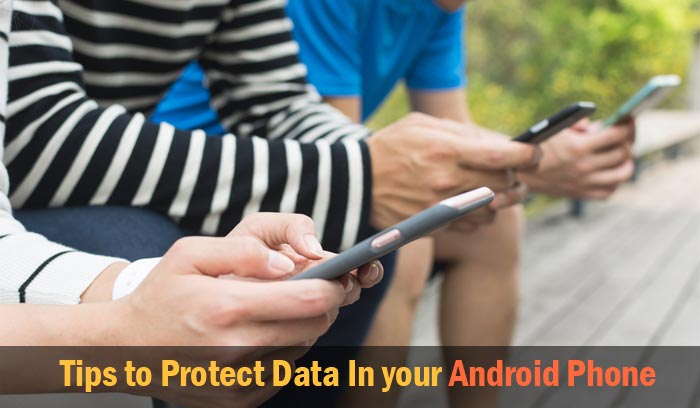 So, it's essential to take some steps to protect your Android phone's data from viruses and all. In this article, we are here with a few tips to help you.
Make Use of Android Screen Lock
Some of you may not like Android screen lock, personally — since it is annoying from user point of view. However, it is the first step towards protecting your Android device data from theft. Once enabled, the screen requires a user to enter a Password, Pattern or PIN to unlock the device. That is, without knowing the pass-code, anyone can't get into your device data. There are additional features available, such as Smart Lock — which lets you use your own face for unlocking the device. At the basic level, you can set the threshold time limit, after which the lock is activated.
Device Encryption
Encrypting your Android device is actually a better level of data protection. When you enable this option, all the data is encrypted using the proven algorithms. After encryption, the data is accessible only after you have provided a PIN or security measure. That is, every time you turn on the device, you will be asked to enter the pass-code. Although it may be tough in the first look, encryption brings ultimate security to your data. You can encrypt your Android device in the 'Security' menu. Talking practically, a stranger (probably, a thief) cannot access the data you stored in device — not until he/she enters the pass-code.
Don't Trust Third-Party App Sources
Nowadays, Android apps are available not only in Google Play Store. On the other hand, they are offered by many of third-party websites, in form of APK files. There's a problem when you download the APK files from these third-party sources. The files may be containing malicious stuff, such as viruses, malware, spyware etc. With the help of required permissions, such malicious stuff can access the data you've stored in the Android phone. This security tip will help you in terms of privacy and security as well
Don't Depend on External Storage
In your device, you may be using external storage options such as SD cards. Usually, they are used for media storage and not for sensitive data storage. It's not a good habit to store sensitive information in the SD card. When we are to compare internal storage and external storage, the former one is quite secure and can be encrypted. This is not the case of SD card. If your device is stolen, the evil hand can simply get the SD card and copy all the data! So, let that be your photographs or documents, don't store them in a SD card.
Say Goodbye to Rooting
Well, we do accept the fact that rooting your device can be good at times. You can get in-depth access to the device, with additional customization. That having said, rooting exposes your device to many evil hands, particularly those hiding behind applications. In a shorter time, a hacker/intruder can have access to the data stored in a rooted device, especially when compared to a locked one. In other words, you are risking security when you root a device. So, from the data security and privacy point of view, it's good not to root your phone. By the way, if you're desperate to have root access, you should take proper security measures such as Super User access control.
Use Android Device Manager
Android Device Manager is an awesome feature that's included in almost all new Android Smartphones. It's actually a web-based interface that lets you control your device and manage some data. Using the interface, you can locate a device, lock the device and wipe data you've stored in it. By enabling it, you are going to have safe control over data, even when the phone is stolen. Obviously, this is a good feature from security point of view. It requires an internet connection, though.
Use an Antivirus
An Android Antivirus suite doesn't actually limit itself to viruses. On the other hand, most tools offer extra options — such as privacy guards and app management. This way, you get an idea about what is happening inside the device. For instance, if an app is using more network resources, you can know that. You will also get options such as app lock too. Using the lock, you can prevent others from using specific apps. This is useful if you don't want an all-in-one device lock to be active. Although not from viruses, an antivirus can be helpful at times.
Extra Reading:
Summing up, we have given you some cool tips to protect data from viruses in an Android phone. Absolute security is still a distant dream, but these tips will surely help you to get a better Android. Do you have any more?