Out of the many terms we think while talking about Computer Security, there are two ultra-common things: Antivirus and Firewall. If you have been using Windows for a long time, you'd have seen at least one pop-up from the legendary Windows Firewall, and there's no doubt in that. Quite recently, however, another term has also made its entry to the list and that's called Internet Security. To put in other words, Antivirus, Firewall and Internet Security are considered the three buzzwords of computer security, especially for the common users. In fact, there are many who believe that the right combination of these tools will lead to a safer work environment for every system, and not just for Windows-powered PCs.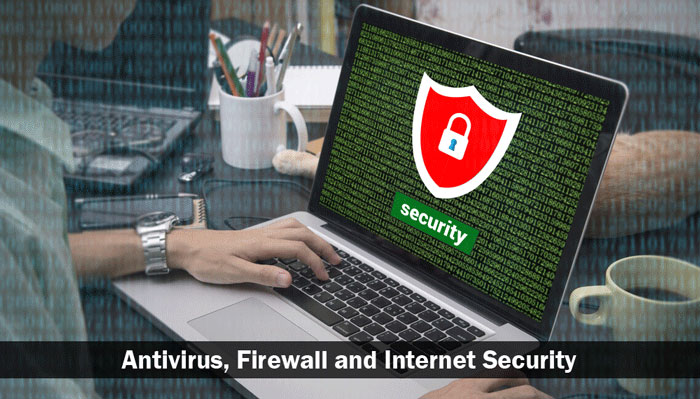 Despite all the buzz and fuzz, there's one point to be noted: not many people can understand the differences between antivirus, firewall and internet security. Although all of them are supposed to protect your system from a wide variety of threats, there's no way to put all of them to a single bowl. There are some serious and certain differences that matter in the long run. If you don't understand those divisions and choose in a right manner, you can be in a bit of trouble. The first step to all these is to understand the unique aspects of three security techniques. In this article, we will have a side-by-side comparison of Antivirus Vs Firewall Vs Internet Security. Shall we start?
An Introduction to Antivirus, Firewall and Internet Security
It's always better to start with an introduction to everything, right? For those who have no prior idea can get started from here. This will be brief, covering the basic concepts of the software/part.
Antivirus Software is perhaps the most popular one in the list, for many reasons. As you can guess, the whole concept of antivirus is centred around the concept of virus. Viruses, however, is a term that's used in a broad sense here. Technically speaking, viruses are a particular type of malware that is known for rapid replication. When it comes to the world of antivirus software, this security suite is supposed to protect your computer from almost all the type of malware, and particularly viruses. It's a matter of debate whether antivirus tools are completely effective in this process. Nevertheless, for the time being, let's believe that an antivirus suite can protect you from malware and most of the other offline-based threats. When we consider the current set of antivirus programs, though, there's a difference. Most developers have been including some additional features too, such as a third-party firewall, USB Immunizer, File Shredding, Ransomware Protection etc. That said, generally speaking, antivirus software is made for protection from offline threats.
When you see it from a deeper security point of view, Firewall is much different from antivirus programs you see out there. The first difference comes in terms of integration. It's a matter of concern how integrated the program to the system, right? In that case, Firewall is more integrated to your computer administration and has control over many advanced tasks. Before we begin, please note that there are two types of firewalls – OS-level firewall and a third-party firewall. If you think the default firewall isn't good-enough for the level of protection you're expecting, you can go for a third-party firewall. As we said earlier, some antivirus programs may have an option to enable its third-party firewall. As far as the concept goes, the duty of a firewall is to control the network traffic, both incoming and outgoing. That is, if someone/something is trying to make an unauthorized connection to your network/system, it should block the request. It should ideally tell apart trusted and untrusted networks. We're talking about software firewalls, but hardware ones too are there.
We hope you have a clear idea about Internet Security from the name itself. In many aspects, it's almost like an antivirus program. The reason is simple: most of Internet Security programs come with almost all those features you see in antivirus suites. For instance, we can take the case of Bitdefender Internet Security. You will find all the features of Bitdefender Antivirus Plus in the same package. That is, when you upgrade your security suite to an Internet Security, you're getting a lot of extra features and literally lose nothing. There are a few common features that you see in these programs. First of all, there will be Web Protection, which is for preventing you from malicious websites and services. Similarly, there will be anti-phishing modules and privacy protection ones. Lately, we have been seeing the addition of extra features like Financial Transaction protection, password management, spyware protection and adware protection. Altogether, when you go for Internet Security, you get double layers of protection, which is good.
Also Read: 5 Reasons why Internet Security Programs are Essential
Isn't that enough of an introduction to start the comparison?
Antivirus Vs Firewall Vs Internet Security – Why You Need Them?
Now, we should check out why exactly your computers need these programs, right?
Why You Need Antivirus Protection?
We live in the world of threats, both physical and digital. In the world of computers, however, the number of threats has increased so drastically. Right now, when you plug in a USB drive, the drive might contain the most dangerous viruses/malware out there. We mean, you cannot simply look inside the drive and say if it's having a threat inside. To do so, you need the help of a powerful algorithm, database and other techniques of detection. As long as we stick onto the offline world, an antivirus program would help you to keep your PC safer from almost all the threats. We already mentioned that you have access to some additional features such as file shredding and anti-ransomware protection. All of them are bonuses, basically.
Why You Need Firewall Protection?
Basically, a firewall is supposed to block unauthorized access requests that are made to your system. That is, if a hacker is trying to control your PC, he/she needs to create a Remote Control System. A firewall would help the computer to detect such unauthorized entries and prevent them on time. You can also have other advantages, such as blocking of unwanted content, making your online transactions safer and block other modes of online threats. Also, it basically depends on the type of firewall that you're using: third-party ones or the default ones. If you go for third-party firewalls instead of Windows one, you can have better levels of customization.
Why You Need Internet Security Protection?
If you really understood the reasons for using an Antivirus Program, you have enough reasons for using an Internet Security suite as well. Just have a look and you will have a clear idea of the dominance of digital, on-line threats over the offline ones. Starting from basic phishing to intense ransomware attacks, you are always in light of some threats in the world of web. For those who manage confidential data in their devices, it will make a lot of sense to use features like password manager, online transaction management etc. In short, an effective Internet Security Suite can offer you a 360-degree protection from threats. Furthermore, Internet Security programs aren't really expensive than antivirus programs.
Wrapping Up
Before we wrap up, keep this clear. In the current situation, you need the inevitable protection of a firewall, an antivirus program or an Internet Security suite. It's not at all recommended to go without Firewall, given that you regularly use an internet connection. Just think of this: even now, your existing firewall is blocking a lot of unwanted connection requests. Similarly, if you're running Windows, the Windows Defender system is silently protecting you from many threats. So, it's completely your choice on whether you should upgrade to a third-party, premium security program to get things done better. Do you have any doubts regarding the differences between antivirus, firewall and internet security? Let us know through your comments.