Though both companies had started their journeys in different times, Avast and AVG are two major competitors as it comes to the case of popular antivirus and protection solutions. Quite notably, both the firms had been able to have a good reputation among users — through the method of offering a fully-functional antivirus for no cost at all. When you are looking for a powerful antivirus than Windows Defender or the no-antivirus scenario, Avast and AVG are two names you can consider.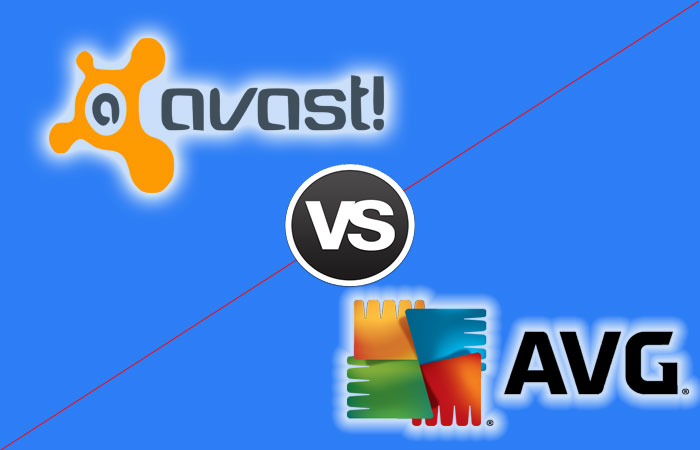 Nevertheless, as a matter of fact, people — when they want to select one — get stuck in an immense confusion in Avast vs AVG duo. In this article, however, we expect to have a comprehensive comparison of both Avast and AVG so as to help you with the selection. We won't say a particular antivirus is best or better. On the other hand, you may select depending on the requirement you have.
About Avast and AVG — the Developers
Avast Antivirus comes from a Czech-based developer, who has been in the industry since 1988. Earlier, it was named as ALWIL Software and later got the current name. A company serving worldwide, Avast develops and distributes big amount of security solutions, ranging from the standard antivirus to Email Server Security suites. In addition, it needs to be noted that the free and paid solutions are available for both PCs and mobile devices. For the home user, Avast is an inventory to find the most appropriate antivirus suite from.
AVG started its journey in 1991 — three years later that of Avast — and now AVG is headquartered in Amsterdam of Netherlands. Another worldwide provider of security solutions, different kinds of security suites are available from a common user's point of view. As we mentioned in the introduction of this article, AVG had been providing free-to-use antivirus solutions for the public along with the feature-rich full antivirus packages. Altogether, this company too has some impressive options for the common user.
Well, having the roots in Czech Republic, Avast and AVG has several reasons to compete. Now, it's time to check how well they perform in different sectors. We are considering the different options available for Windows PCs, as of now because the entire range is too big.
Plans and Pricing
For the Windows PC, three plans are available from Avast — Pro Antivirus, Internet Security and Premier Security. Its features vary and each package is meant to give particular kind of protection. Avast Pro Antivirus, priced at $34.99, is offering options such as high-speed scanning, Sandboxing technology, SecureDNS, network security and an option to manage passwords. The second package, Internet Security, costs $39.99 and gives you online-protection options like SafeZone for secure transactions, SecureDNS, Anti-spam and all the features of the Pro Antivirus package. By paying just $49.99, you can have Avast Premier Security, which gives not only ultimate protection but also improvements in terms of performance. You will find all Avast coupon codes on this page. Features such as the extra firewall, data shredder, automated program updater etc are noted.
As we come to the case of AVG antivirus solutions, two packages are available there. AVG AntiVirus Pro is a standard solution that is priced at $39.99 and features such as complete antivirus protection, link protection for lots of social media sites, online shield, data encryption and free support are in the package. The second package, namely AVG Internet Security costs $54.99; apart from the antivirus Pro features, available options include anti-spam, better protection from eCommerce threats etc. You will find all AVG coupon codes on this page. AVG PC TuneUp isn't really an antivirus but it is indeed a useful tool you will get from AVG. This tool helps you to improve the speed of your PC, thus unleashing the performance out of it.
Mobile Devices Support — Avast vs AVG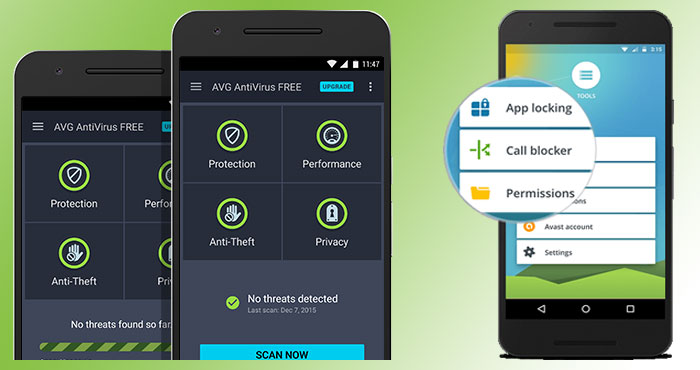 If we take the case of compatibility with mobile devices, there's a tie between Avast and AVG. Antivirus products are available for Android from both Avast and AVG. However, both companies don't offer a dedicated antivirus suite for iOS devices. That having said, if you go with Avast, you can get iOS-oriented solutions such as the SecureMe Public Wi-Fi Security and SecureLine for ultimate encryption. It also has Wi-Fi Finder, which helps the user to find the secure Wi-Fi hotspots around him or her. If you have an inclination to above mentioned options — which would work in many platforms —, you better get going with Avast.
Performance and Resource Consumption
Avast Antivirus products are always noted for the simplicity of installation and ease of use that is offered in the total protection actions. Once you have installed the tool, it gets integrated to the PC and works quite smoothly; it is only when a threat comes to the PC that you come to know the quick actions taken by Avast antivirus. It's quite surprising to know that, despite all those features offered, Avast antivirus can be a smoothly-running options for the users out there.
When compared to Avast, however, AVG lags behind in terms of performance and resource consumption. If you ask users, they will tell you how AVG is making their system to slow down — let that be PC or mobile phones. Either way, you have to dedicate a lot of resources for AVG, which isn't good for performance of other programs. And the ease of use of the tool isn't that commendable either. Altogether, AVG isn't advocated in terms of performance.
Level of Protection
If we rely upon the tests conducted by AV-Test, we can say that both Avast and AVG are offering decent level of nice protection from the various threats out there. In all the packages offered by the tools, we can find that the options for anti-virus protection and online threat protection are included, which is a good thing. So, if you were to pick one from AVG vs Avast based on the level of protection, you're in dilemma, once again.
Availability of Features — in Avast and AVG
Obviously, as we have seen in the above paragraphs, both AVG and Avast are offering top-notch protection options, covering online and offline threats you come across. However, we can now talk about the real usability of features.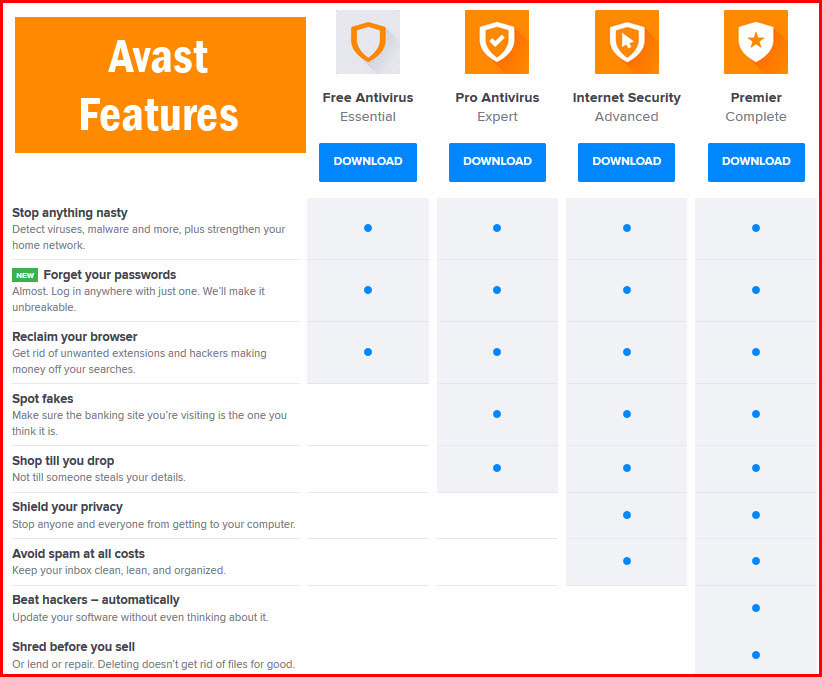 If we take the case of Avast, we can see that the features have been organized in the best useful manner. if we're to consider AVG AntiVirus Pro, for instance, the network security utility and browser cleanup options are quite good; in addition, its password manager also makes sense in the long run. As we go to higher plans, options such as an extra firewall are there.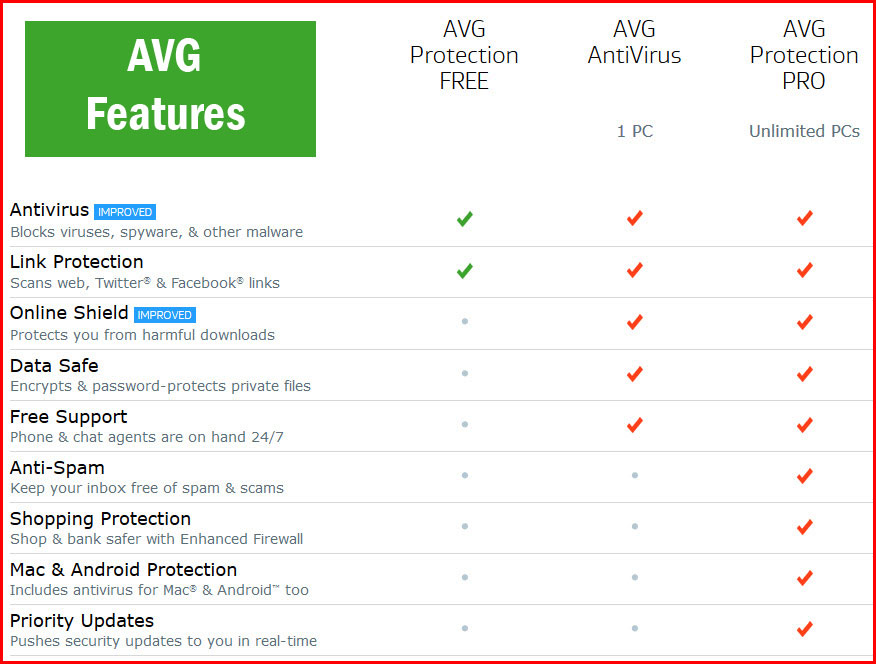 In AVG, however, they talk a lot about the available features, but most of them are not that useful. It needs to be noted that we are considering these features from the user's point of view. So, the features aren't that impressive, we would say.
Avast vs AVG — The Bottom Line
So, now that we have compared Avast and AVG from different aspects, we can now reach a decision, we suppose.
As we have seen, Avast is offering a quite affordable pricing plan, which helps the user to choose wisely. Also, it has to be noted that the availability of the multi-purpose suites makes quite sense. Also, all the notable features of Avast have been arranged in the easy-to-access manner. However, in AVG, these things are not that impressive. We never want to say that AVG is useless. It's just that Avast seems and proves to be more appealing and effective if we take a look from the common user's point of view.
Which one do you choose from the Avast vs AVG duo?