You have two major options to choose when you need an effective antivirus. First, you can choose one of the trusted and well-established antivirus suites such as Bitdefender or Norton or Kaspersky. The second option is that, if you want to have some innovative features and a rather low pricing, you can opt in for newer names. Suppose you've planned to go with the second option — then, VIPRE is one of the best choices you can make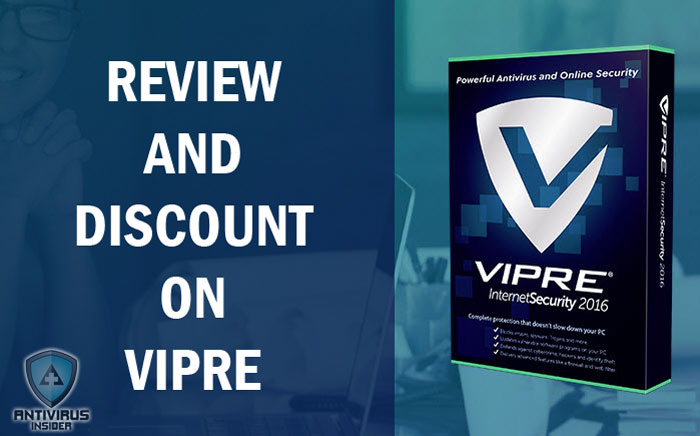 In this article, to things bit clear about the solution, we can have an in-depth review of VIPRE Antivirus. It needs to be noted that we are considering the VIPRE products that are available for home users; there's an entire range of products available for business.
VIPRE Antivirus Coupon Codes
VIPRE Discount Coupon Pricing
There are four antivirus protection products you can have from VIPRE. The pricing details of those products are given below.
VIPRE Antivirus is the basic antivirus protection package you get from the developer. It gives, along with exclusives of VIPRE features, the options for standard protection. That is, your computer will be protected from lots of threats like spyware, adware, virus and malware. It also brings email protection and low performance impact. This package costs you $59.99 if you purchase its 3-PC license for 1 year.
Next up, we have VIPRE Internet Security, which is a well-equipped security package for people who do spend major time online. Apart from all the features that have been offered by VIPRE in the previous package, VIPRE Internet Security can be effective when it comes to anti-spam protection, anti-intrusion protection, two-way firewall and the online features such as URL blocking and URL lookup. For the one-year subscription of 3-PC license, the package will cost you $69.99. VIPRE discount coupons are there to help, if you find the amount way too expensive.
VIPRE Internet Security Pro
As it can be inferred from the name, VIPRE Internet Security Pro is for those who need extra protection than what is offered in the Internet Security Pack. But, the upgrade is really worth it, because you get lots of features. You get its Advanced Active Protection, better behavioral analysis of system to get better protection output and its cloud-based scanning for threat detection and removal actions. When you don't use a VIPRE coupon code, this package costs you $79.99, but subject to the use of coupons, the price can be quite lower.
VIPRE Mobile Security Premium
VIPRE Mobile Security Premium is the paid antivirus suite available for mobile devices out there. As of now, Android is only covered by the suite, but you get features such as backup, activity monitor, privacy explorer, intruder alert etc for a price of $19.99/year for three-device license.
About VIPRE and its Products
VIPRE is actually a product from ThreatTrack Security Inc, a company that was established back in 1994. Since then, it has been providing top-notch protection for Windows devices out there, focusing on anti-virus and anti-spyware sort of protection options. VIPRE Antivirus range was launched in 2008, but the time has been enough to create positive impact among consumers. As we mentioned earlier, VIPRE now develops and distributes different security products for both home and business needs, letting you choose the intensity of protection required.
Source: Official Website of VIPRE, vipreantivirus.com
Talking of its products, VIPRE has three versions for Windows PCs out there. They are VIPRE Antivirus, VIPRE Internet Security and VIPRE Internet Security Pro. The availability of features depends upon the version you choose. If you are looking for online protection at maximum, for instance, you can go with Internet Security Pro. Otherwise, if its offline protection shore seems clean, you can stay there with VIPRE Antivirus.
Top Features of VIPRE Antivirus Products
Here are some superb features of VIPRE Antivirus products available for Windows PC.
Ultra-Simple UI and Installation
All the products of VIPRE are packaged with some cool UI and installation methods. It means that you will be able to do with the installation in no time. Also, the UI is so simple that you don't need prior experience with antivirus stuff. So, this is a big advantage.
Social Watch is a trademarked feature of VIPRE antivirus solutions — it watches your social life, literally. It isn't really a matter whether it's Facebook or Twitter, but VIPRE Social Watch will be watching all the links you stumble upon. It means that your web life can be much secure that it had been before.
Edge Protection and Zero Performance Impact
Edge Protection of VIPRE Antivirus takes care of even zero-day threats while the Zero-Impact on Performance is nice for the resource-hungry user. So, all in all, these make big difference when compared with the common types of anti-virus tools we see.
Pros of VIPRE
Simple UI and Setup
Intuitive Features
VIPRE Discount Codes to get discounts
Affordable Pricing
Cons of VIPRE
The Verdict on VIPRE
VIPRE is undoubtedly one of the worth-going-for antivirus solutions you've in the market. Not only does it bring cool, innovative features; but it also keeps the pricing under the 'affordable' limit. So, when you are planning to get a well-effective and feature-rich antivirus suite, VIPRE solutions make sense. In addition, the features have been arranged in the best manner, thanks to the simplified UI. Altogether, for the price you pay, it's the best.