AVG is, undoubtedly, one of the first trusted names as it comes to the scenario of antivirus protection for PCs as well as other platforms. Dependent on the platform and device you want to protect, AVG offers different antivirus packs, with different capabilities. So, if you are purchasing antivirus for the first time, you'll be confused about the plan you should choose. In this article, however, we shall have a brief overview of different antivirus suites from AVG and sets of superb AVG coupon codes — which can cut down the monetary efforts — you would find worth using. So, is it fine to start?
AVG Coupon Codes
AVG Discount Coupon Pricing
As you would be eager to know, we shall have the first focus on the pricing plans of AVG Antivirus Solutions. We can get a look at the different versions and the different features they have been packed with — and, of course, the price of those packages. It has to be noted that there are both small and big packages out there; therefore, we will cover the major packages only, so that you get a clear idea. Also, AVG is offering multi-device antivirus packages, where you'd have a set of security software, but as of now, we are going to talk about the single-device versions.
As its name says, AVG AntiVirus Free is the free-to-use antivirus package from the company. You get protection from viruses, spyware and different sorts of malware, for that matter. To bring the protection into web, AVG uses a thing that they call 'Link Protection', which scans the links you see in web and social networking sites. This free version has email protection feature as well. Check our article about risk of using free antivirus programs.
AVG AntiVirus is the starting product in the premium range of AVG protection suites! Along with all the features that we have seen in the free antivirus — such as anti-virus protection, link protection and email protection — you'll get a few more features. There's Online Shield, which detects harmful downloads and takes necessary actions to get your PC safe. It also offers Data Safe, which is an option to encrypt your confidential files using a password. If compared to the free version, AVG AntiVirus pro gets more regular updates, which ensures security. This package is available at a cost of $39.99 but you can use an AVG discount code to get the price down.

As in normal cases, AVG Internet Security is a complete security suite for those who spend a lot of time online, with a lot of stuff such as browsing and confidential transactions. It has to be noted that the protection isn't actually limited to online stuff. You get all those features promised by AVG AntiVirus, but there's something more too. For instance, it offers an awesome Anti-Spam feature that cleans your inbox from those nasty, useless and annoying messages. Its Shopping Protection feature makes sense when you want to do online financial transactions, and the extra firewall is always worth the deal. The package costs $54.99; if you think the price is high, try applying one of AVG promo codes and you may change your mind.
AVG AntiVirus for Android
So, in case, if you wanted to protect your Android Smartphone from various threats while enhancing security, you will love to have a look at AVG AntiVirus for Android, which is available free of cost. The features include anti-virus, anti-theft, app lock options, camera trap to get back your phone, device-lock for data wiping and app backup options.
AVG AntiVirus — A Brief Overview
The products we have mentioned earlier in this AVG Review is developed and distributed by AVG Technologies. It is a security software company that has its headquarters in Amsterdam, Netherlands. Found back in 1991, the company is noted for the various anti-virus solutions, available for different platforms as of now. Apart from the typical anti-virus protection, AVG offers some additional solutions too.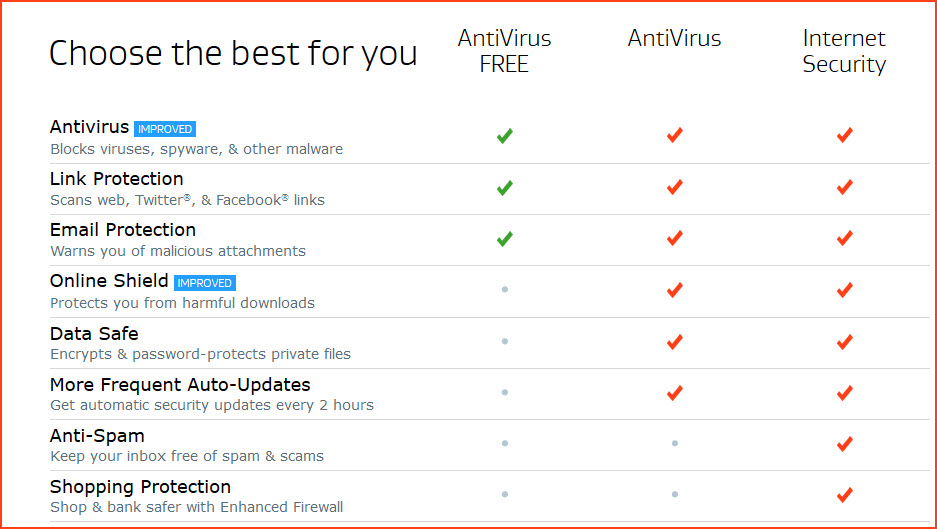 AVG AntiVirus is a standard antivirus protection suite that you can have from the company, offering protection from offline and some online threats. It has a free version, with some limitations in terms of features. This is for those who need standard protection for their home devices.
AVG Internet Security is meant to satisfy those active users of Internet, offering options such as anti-spam and anti-phishing options. There is also enhancement in terms of online shopping security, so that you can do all transactions with confidence.
In case if you wanted to have performance upgrade along with top-notch protection, you should have a look at AVG Ultimate, which is a compilation of dual features. It's a multi-device package and you can install the software in as many devices as possible, with no limit in terms of installations.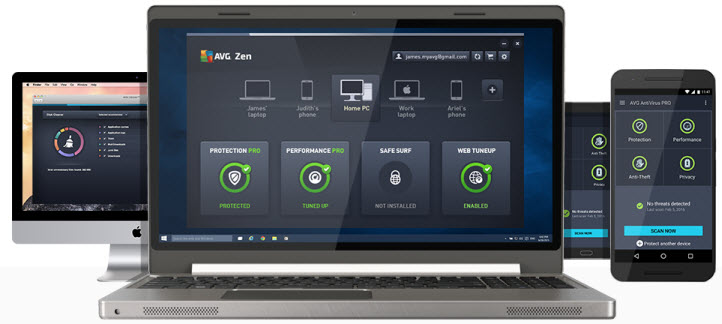 Other notable solutions from AVG Technologies include AVG PC TuneUp, AVG Driver Updater, AVG Cleaner that you can use in Mac and Android, HideMyAss VPN etc.
Top Features of AVG AntiVirus
There are several features that make AVG one of the best antivirus software. Now, we shall have a look on the top features.
Thanks to the Protective Cloud Technology in use, AVG AntiVirus brings top-level protection from offline and online threats. The virus definitions are updated on a regular basis and you will get rid of even the newest threats. It does also have a Community Protection Network, which is good when it comes to finding the bugs and loopholes.
Real-Time Outbreak Detection
AVG AntiVirus solutions make use of Artificial Intelligence to make sure that you know about malware issues at the earliest and can take necessary actions. Based on user-provided data, the efficiency of AI-based detection is given a boost all the time.
Privacy Protection Features
Other privacy-oriented features of AVG Antivirus include Wi-Fi Guard, Anti-Spyware, AVG Identity Protection & Data Safe.
Pros of AVG
AVG AntiVirus Coupons give awesome discounts
Simple User Interface
Purpose-based software variants
Cons
Verdict
In short, AVG AntiVirus has an impressive collection of antivirus solutions to offer! They range from its basic antivirus protection to the fully-fledged performance suite — namely AVG Ultimate. And, thanks to the awesome promotions you come across, you can have desired product at an incredibly lower rate. In addition, the technical aspect of AVG Labs is quite promising too. All in all, you have enough reasons to choose AVG over others. You can check our other discount for Bitdefender, Kaspersky, Norton and list of all other deals over here.