As you know, Bitdefender Security products come with a feature named Real-time Protection! It's a cool feature for those who browse a lot of the Internet. For instance, suppose you are about to visit a malicious website or web application. Will not that be great if you are protected even before visiting that page? Indeed, it makes sense for most users. However, in some cases, you will find this feature to be a burden.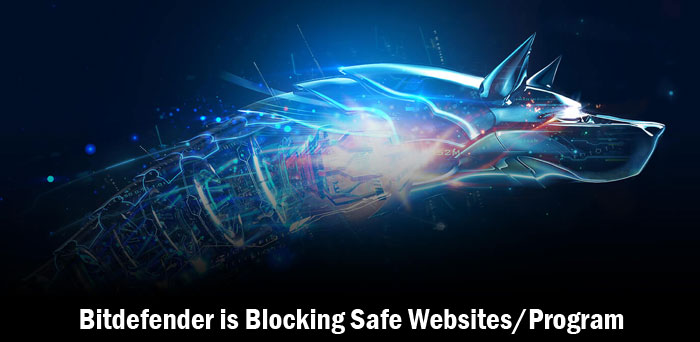 It's a fact that Bitdefender is trying hard to build an algorithm that distinguishes good sites and bad ones. In fact, there is a huge-enough database used for that. Furthermore, Bitdefender analyses the behaviour and characters of a website/app to learn whether it's malicious. Nevertheless, at some point, the algorithm may fail or they may be errors in the database. So, as it happens, some safe websites or programs may be blocked by the Bitdefender program.
Of course, it is a rarest of the rare cases. But if you find that a required website is being blocked by Bitdefender, you have to do the necessary stuff. Don't worry, you have an option to fix this issue. In this article, we will share a solution that you can use to fix the issue of Bitdefender Real-Time HTTP Scanning blocking a safe website or program. Shall we start?
Note: We are going to whitelist a particular URL in Bitdefender settings. In other words, we are going to teach Bitdefender that the particular URL is safe to browse. So, you should do this under your own risk. That is, you should whitelist a URL if you are really sure about the authenticity factor. At the least, you should be sure that the site / web app does not consist of any malware or malicious stuff. If you are sure on that, we are ready to roll.
Step 1:
Of course, you are going to change that in the Dashboard. So, first of all, you have to open the main interface of Bitdefender product you are using. In our screenshots, we have used Bitdefender Total Security 2016, which comes with all options of Web Protection. From the interface, you need to click on the tile named 'Modules'.
In the page, you can see the list of available modules of the Bitdefender Security program. Under the tab 'Protection', you can see a bunch of links. Near to the 'Web Protection' link, there is a Settings icon. Click on that icon to move forward.
Step 2:
Now, in the upcoming page, you can see a list of options such as Search Advisor, Scan SSL, Anti-Fraud Protection etc. In the bottom part of the window, you will find a link named 'Whitelist'. That is where you can add a particular URL to white-list of Bitdefender security product.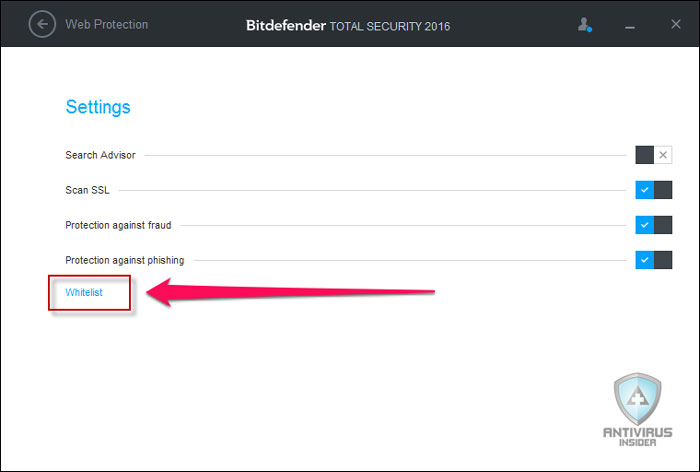 Step 3:
You should be seeing a pop-up window in the next second. Here, you can add the desired website to the whitelist of your Bitdefender product. You just have to type the URL there and hit 'Add' to finish the process. In the same way, you will be able to remove that URL.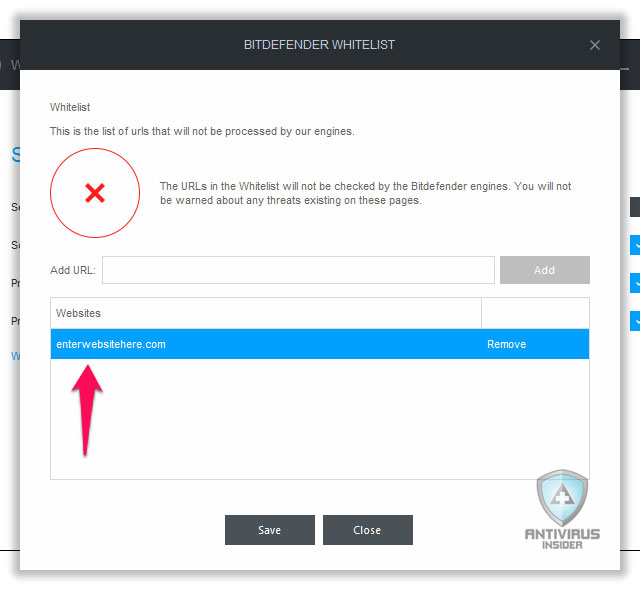 Once you have added one URL to the list, you can hit the 'Save' button. It means you have added the URL to whitelist.
Concluding
So, this is how you are going to whitelist a particular webpage or application in the Bitdefender Security suite. As we said, the process is pretty simple to understand and do. However, you should do this with ultimate care, if possible. Like we had said, adding a malicious website to the Whitelist will cause you a lot of harm than you imagine. Just think of having a phishing website to the whitelist and thus losing your security in the end. So, keeping all these things in mind, do this with conscious sense.