Many a time, your Android devices are posed to an extreme variety of threats. In the past decades, the total number of Android users has grown too drastically that we expect an overthrowing effect in the next years. From Smartphones to Smart TVs and from Watches to Cars, you can find the presence of Android platform, all thanks to the relentless effort of Google and developers. From the security point of view, however, it has another issue when Android becomes a multi-device platform. Just think about this: millions of devices have their core on Android, and the numbers don't cease to amaze us. Hackers, attackers and fraudsters have an all-new way of deceiving people here. With some optimizations and changes, they can use the same code to attack a huge number of devices, right?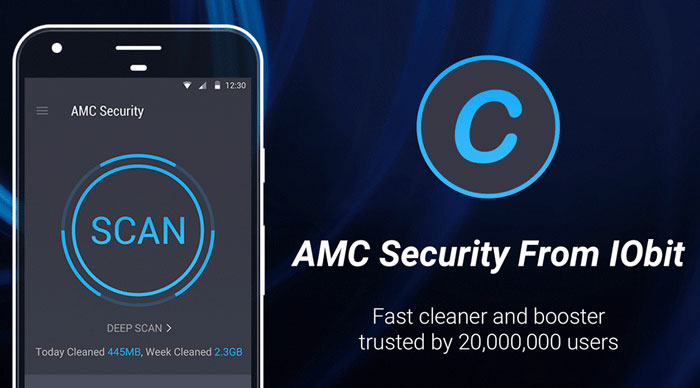 This is why we should start seriously thinking about a 360-degree & covering-all-aspects security solution for Android. Although we have heard about the program, we recently got a chance to try out IObit AMC Security — one of the most popular security suites for devices running on Android. We must say, we were quite a lot amazed to find an Android security suite that covered almost all the aspects of day-to-day security & privacy. As we dug deeper, we found a lot more interesting feature. So, we decided to come up with a comprehensive review of IObit AMC Security and help you decide whether you need it for your Android smartphone, tablet PC or some other devices. Shall we start with the review?
Getting to Know IObit AMC Security
IObit AMC Security, an Android app, is known as different things. However, according to the official website of IObit, AMC Security is an all-in-one mobile cleaner and speed booster for Android. It means, by installing and using the app on a regular basis, you can clean your device and even enhance the processing speed for many tasks. However, in actuality, IObit AMC Security offers some other features too.
That is one of the main reasons why the app is quite popular among Android users out there. To have more than 20,000,000 users, IObit has added some incredible things in this package. Through this review, we will have a clear idea on the major aspects of the app, such as Usability, Features and others. As we said, in the end, you will understand whether you need the program or not. Shall we start, then?
Also Read:
Features Worth Praising
As we mentioned, AMC Security for Android is known as an all-in-one mobile cleaner and speed booster. So, it's necessary that we should have a quick look at the cleaning and boosting features offered by the app. It's a way to know how much impact the app can have on your device, you know.
Clean and Deep Clean Scanning Modes for enhanced analysis of files and removal of junk files, privacy records, running apps, residual files and APK files. It's pretty useful if you are also planning to free up more storage space in the long run.
Phone & Game Booster: These two sections are made to enhance the total speed of your device — during normal usage or while playing games. The game-boosting system is known as Game Speeder and it can be accessed from the same interface itself.
Power Booster is a newly-added feature in IObit AMC Security. It is meant to prevent apps from using system resources, especially battery power. In a single tap, the app will find apps that cause drainage of battery and disable them.
Battery Saver section of IObit AMC Security comes with a bunch of battery modes you can choose. It includes Ultimate, Night, Day and Initial Modes. Depending on the features you need to retain and a normal expectancy of battery life, you can choose between the modes.
Privacy Locker feature of AMC Security lets you store your confidential files in a safer location, which cannot be accessed by strangers or other apps. You can even set up a password to open the secured folder so that ultimate privacy is ensured.
Coming to the Security section, the features a bit more focused and convincing. Even while staying as Clean and Boost software, IObit has managed to bring in some cool options for your own security and privacy.
Anti-Phishing Real-Time Protection is offered so that your web browsing experience is safe from a lot of fraudsters.
Payment Guard of IObit AMC Security is meant to protect you from bogus apps that may steal money from your payment methods.
Anti-Theft in IObit AMC Security can help you in times of emergency, of your phone being lost/stolen. You can lock, locate or wipe data from the device, using a remote-access interface.
Considering all these, the superb features of IObit AMC Security make enough sense for common user. While speaking in light of our experience, the features were no less than incredible.
A Simple UI
IObit AMC Security won't let you down in these aspects, we assure. When compared to other cleaner apps we have seen in Play Store, this one doesn't come with bells and whistles. Everything has been kept simpler and there's no need to worry about annoying ads either. If you look at the UI, the important icons are placed in the main interface. All the other utilities are accessible from the sidebar.
Performance Boost and Impact
After using IObit AMC Security for a few days, we've seen noticeable enhancement of performance in device. Launching of apps and many other common tasks became snappier, saving some time. Also, thanks to that Game Booster, even some heavy games are being loaded quite easily. This is something cool if you have an old, lagging phone with you. It's like you're getting rid of all the junk, for your own good.
Conclusion
Considering these features and our experience of around a week, IObit AMC Security is a must-have security suite for Android devices. It's completely free to use and the features seem to be effective in enhancing total speed and performance of your device. Check other product review and coupons like IObit Advance System Care and make most out of your computer. We've also noted that the privacy-protection features are top-notch, when compared to the other suites in town. While it's surely your call to upgrade for the premium plans, it is a worth-checking out security app that won't let you down.