Kaspersky Internet Security is one of the major solutions to choose when you need stunning technology and features to back your online life! Out of the many noteworthy features available, Kaspersky Safe Money is, perhaps, the most important, especially when we are facing a lot of web-based frauds and threats.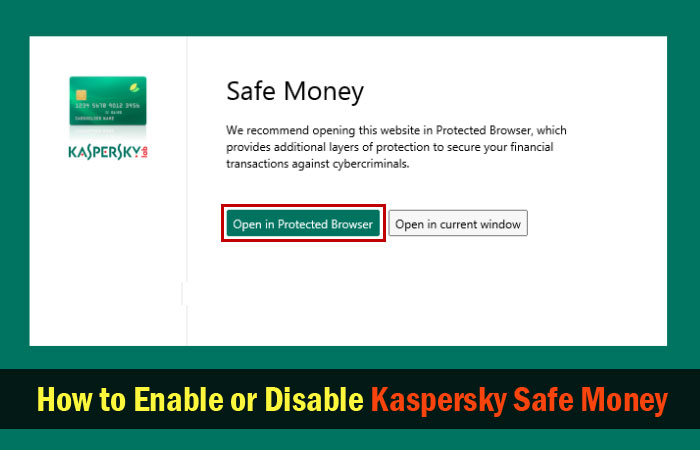 It is claimed to be a no-compromise solution to repel hacker attacks, phishing attacks etc. In this article, we will give you a detailed tutorial about how to enable or disable Kaspersky Safe Money in Kaspersky Internet Security. So, shall we start?
By the way, if you want to know the way Safe Money works and why it's useful, you can check out our previous post! Now, it's time to get going with the tool, right?
What's Safe Money — Briefly?
As we already have written an article on what is Kaspersky Safe Money and how is it useful? you can check. Kaspersky Safe Money is a web browser that has been designed to bring the safest online shopping experience. If the entered URL consists of payment methods or requires identification details, the browser will be turned on. There, it's possible to deal with payment with optimal safety standards. When you're done with payment, you will be headed back to the actual browser. It's pretty much about Safe Money, got it?
Why You Need to Enable Safe Money?
There are many reasons why you need to enable Kaspersky Safe Money in Kaspersky Internet Security! First of all, it offers an extra layer of protection when you are dealing with confidential stuff, such as payment. That way, hackers won't be able to get into your activities much. At the same time, you can get rid of phishing attacks, because the URL is loaded from Kaspersky's trusted websites database. So, we were saying, if you want to strengthen the safety of all payments you make, you should enable this feature. Especially if you are in a cyber cafe or using a shared computer, it will be best to have Kaspersky installed on the system and you can ensure your sensitive data will be safe with the help of Kaspersky Safe Money.
Why You Need to Disable Safe Money?
Well, despite the fact that Kaspersky Safe Money is quite useful, it can be annoying at times too. You know, nothing is really perfect and there are faults in Safe Money too. First of all, in the heavy using scenario, the browser isn't that fast, especially when compared to Chrome or Firefox. So, you may have to face some lagging at times. Another issue is that you have to add individual URLs when you want to open those sites using Safe Money. We find that few websites, especially bank and payment gateways websites don't work properly with Safe Money. May be that not Kaspersky's issue but those websites are causing issue. Some users prefer to disable it if they are on their own computer.
So, it's up to you to enable or turn off Kaspersky Safe Money. However, here you go with our tutorial on that.
How to Enable or Turn off Kaspersky Safe Money?
Step 1:
Open your Kaspersky Internet Security dashboard
Step 2:
In the bottom-left side of the window, you can see a link named 'Settings'. Click on that link or depending on the version of program you are using you may find direct shortcut on the main window of Kaspersky.
Step 3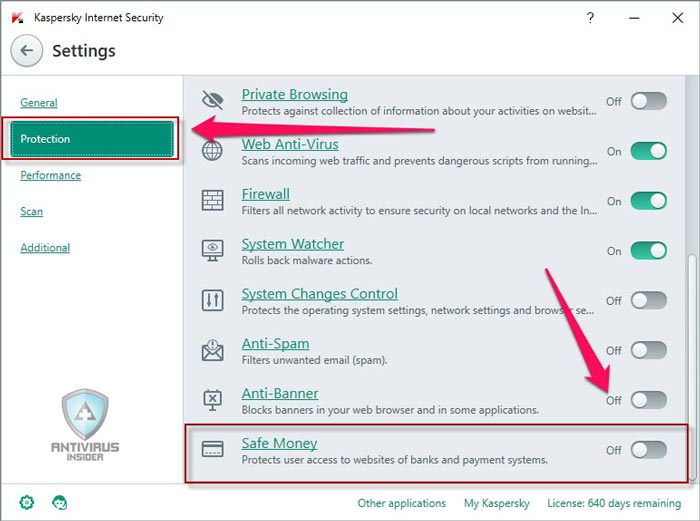 You will be lead to the Settings window. There are many tabs in the window. From the list, hit 'Protection'. Scroll down until you see an option named 'Safe Money'.
Step 4
You can tick the trigger on the right side to enable Safe Money in your browser. In the same way, you can come here to disable Safe Money.
You will find above advance options there.
Extra Reading:
Concluding
So, we have shown you the in-detail tutorial to enable Kaspersky Safe Money and disable the same. At times, you've to disable the service for better convenience. However, we really recommend it for enhanced security, especially if it does not make an issue. Certainly, it's one of the best features you'd get in Kaspersky Internet Security. So, we would say again — it's up to you to choose, but our help is here, either way.